10 Tips for the Best Christmas Experience
The streets are full of Christmas carols tunes now and then interrupted by clanks of the decorated Christmas Tram. The festive mood has come again to Bratislava and so have several Christmas events.

1. Life on the Danube
Twenty light mini stories located between The River Park and Eurovea are waiting to be discovered as a part of 2020 White Night– Christmas Edition. Light images by Slovak visual artist Nina Augustín Šošková and Róbert Farkaš, a lighting designer, create a so called "aquatic" stroll for children and adults to enjoy contemporary art in public spaces during Christmas time.
Dates and venue
Danube Quay between The River Park and Eurovea – from 5.12. to 20.12.2020
---

2. Christmas Market Hall with Slovenská sporiteľňa
Let's buy Christmas presents to support Slovak manufacturers and vendors who have currently lost a lot of business opportunities due to COVID-19. Along with the usual sellers from Grocery Saturdays, you will find sellers of other items such as design and fashion pieces, jewellery and books. Tune in to Christmas mood!
Dates and venue
9. 12. – 12. 12. & 16. 12. – 19. 12., Wednesday, Thursday, Friday from 12PM to 8PM
---

3. Advent Weekend in Rača
Winemakers from Rača will open their yards, cellars, wine shops and vineyards for you before Christmas. Visit them to support their hard work that is yet to come in 2021. You will be greeted by hospitality, cosy ambience, nice venues, lots of vintages, and food specials.
Dates and venue
Rača
11 – 13. 12. 2020
18. – 20. 12. 2020
---

4. Online Neighbourhood Advent
When you can't attend a cultural event, let the event come to you! Bratislava IV boroughs have prepared a small Christmas surprise. In December you will have a chance to enjoy a rich cultural programme from your home. Tune in to the right Christmas mood and enjoy concerts, dance shows, theatre performances and authors' readings online during Neighbourhood Advent!
Dates and venue
---

5. 2020 White Night – Christmas Edition
Bratislava before Christmas will glitter in the White Night Christmas Edition! All through December you will be able enjoy various light interventions in public areas during a comfy walk in the old town. Take a stroll between The River Park and Eurovea to discover the Life on the Danube by Nina Augustín Šošková and Róbert Farkaš, and Kuvyt installation by Luba Mikle.
Dates and venue
In the streets of Bratislava – from 29.11. to 20.12.2020
---

6. The Nutcracker Online in Slovak National Theatre
Sink into the world of child purity and endless phantasy. The Nutcracker ballet is a return to the traditional and best-awarded version of the Russian choreographer Vasili Vainonen. This performance is full of exquisite costumes and beautiful scene. You and your kin can watch it online this year. Make sure to prepare some mulled wine or a punch with it!
Dates and venue
Online here
18., 20., 23., 25.., 28., 29. 12. 2020
---

7. Charity Collection in the City Library
Christmas time is about charity and the City Library has decided to collect used laptops and tablets for those in need. Donate your non-damaged and functional devices and bring them to any of the City Library sites.
Dates and venue
City Library – Kapucínska 1-3, Klariská 16 or Laurinská 5
From 8.12. to 22.12.2020
---

8. Bratislava Christmas
An unusual year is asking for an unusual celebration of Christmas! This year you can enjoy it both from your warm and cosy homes and at various places in Bratislava. The shows will take place in Klarisky Studio and DPOH Theatre, you can watch it online or live get into Christmassy mood through concerts, discussions and other interesting events.
Dates and venue
Klarisky Studio online here – 29.11. – 20.12.2020
DPOH Theatre – 29.11. – 23.12.2020
---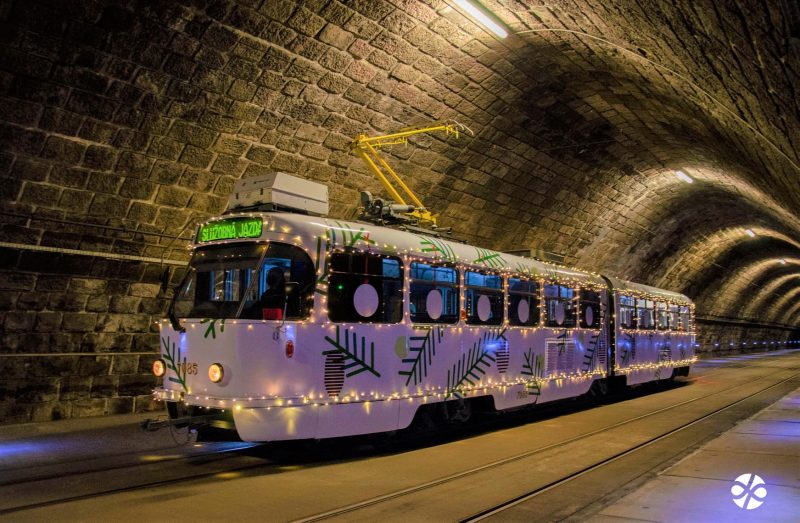 Foto: Facebook DPB
9. Christmas Tram
The most beautiful time of the year will be represented also by a specially decorated and lighted Christmas Tram. This year's theme is Culture, which can be seen both in and out. The tram will become an art gallery on wheels so that, along with the festive mood, your eyes can feast on Christmas decorations by Slovak artists and designers.
Dates and venue
From 6 December after 3PM until 30 December, Line 1 between the Main Railway Station and Námestie Ľudovíta Štúra.
---

10. Winter Gallery and Vianočné Vitríny Exhibition
Bratislava Christmas will bring art directly into the streets of Bratislava. Pieces of art have left the gallery to come closer to you. Street Exhibition by a writer and journalist Kata Strofová will make your stroll in the pedestrian tunnel on Klariská Street nicer while looking at illustrations from the book Kata Strofová And The Snowflake Secret.
Dates and venue
Winter Gallery – from 29. 11. in the streets of Bratislava
Vianočné vitríny – from 29. 11. to 5.1.2021 pedestrian tunnel on Klariská Street
---
Original Christmas Gifts
How about some rather unique gifts for Christmas this year? Connoisseurs will be delighted to find a UFO Restaurant voucher under their Christmas tree, while adrenaline junkies will most probably start jumping a little bit too early when discovering that UFO Observation Deck voucher. Give them a language course! And do not forget about The National Wine Salon that offers a hard-to-beat sampling programme – 72 Wine Samples in 100 Minutes.