Enjoy your stay in Bratislava as best as you can. Book your accommodation in a modern hotel with excellent ratings at the best price. We provide modern and comfortable accommodation close to the historic city center, the Eurovea Shopping Center. Parking lot at the hotel. We have the best technical amenities in Bratislava with high-speed Internet in the whole hotel for free.
Beautiful Bratislava – Weekend Easter Package for 2 persons (Friday – Sunday)
Included:
Accommodation with breakfast for 2 nights in a standard double room
Wi-fi
Fitness
On-site parking
2 x 2-day tourist discount card Bratislava CARD with many benefits
Price: 185 € / 2 persons / 2 nights
Address
Dunajská 26, 811 08 Bratislava
+421 2 2066 5500
hotel@danubiagate.sk
www.danubiagate.sk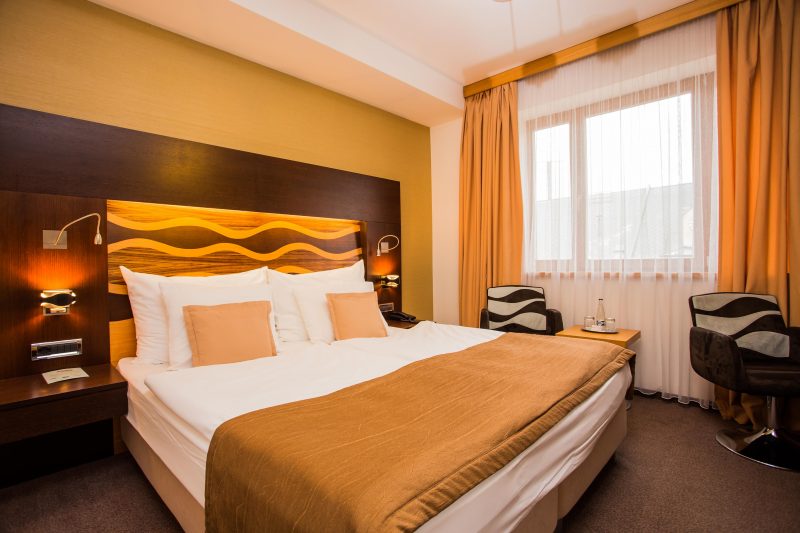 Park Inn by Radisson Danube Bratislava****
Newly renovated hotel on the banks of the Danube. Within walking distance of our hotel you will find the most popular attractions in Bratislava. Enjoy strolls along the Danube, discover the uniqueness of the St. Martin's Cathedral or spend an evening packed with culture in the building of the Slovak National Theatre.
Easter package for 2 persons
Included:
2 x accommodation in a double room Superior
2 x buffet breakfast
1 x 2-course dinner
Unlimited use of the spa centre & fitness centre
Free WiFi
Price: 189 € / 2 persons / 2 nights
Booking period: 1.1. – 31.3. 2019
Stay period: 17.4. – 23.4. 2019
100% upfront payment. Free cancellations are not possible.
Address
Rybné námestie 1, 811 02 Bratislava
+421 2 5934 0000
info.bratislava@parkinn.com
www.parkinn.sk
In the recreational area Harmónia near Modra, in the beautiful natural environment of the Little Carpathians, with the excellent climatic conditions and the spa resort tradition, a modern new hotel waits for its clients. The hotel combines the best of the local tradition, stylish and unique design, amenities of top-notch resorts, modern gastronomy and personal approach. Come to see for yourself!
Easter stay with half board, wellness and children's program for 2 persons for 2 or 3 nights
Included:
Accommodation in a double room Comfort in Hotel Avana****
Rich buffet breakfast per person
Themed 3-course menu dinner or buffet
Coffee and tea set in the room
High-speed internet connection
On-site parking
Entry to the wellness centre for 3 hrs / day
2 x 30-minute-long whole-body massage
Programme for children with an activity leader (egg hunt, competitions, etc.)
Programme for adults
Bonus
1 x 50% discount on sport activities (football, basketball, tennis, beach volleyball, petanque)
1 x 20% discount on wellness massages and sport equipment (electric bicycles, etc.)
Price:       € / 2 persons / 2 nights
Validity: 19.4. – 23.4. 2019
100% upfront payment. Free cancellation is not possible. A child up to 12 years of age free of charge.
Address
Harmónia 3018, 900 01 Modra
+421 905 894 052, +421 33 640 7790
info@hotelpodlipou.sk
www.hotelpodlipou.sk
A weekend stay with a romantic dinner for 2
Hotel Divoká Voda is situated in a pleasant environment on the banks of the Danube, in the middle of nature, yet close to the capital. The hotel offers its guests accommodation in double and quadruple rooms of standard and superior category.
Duration: 2 days / 1 night
Price:
option A (accommodation + dinner) 90 €
option B (accommodation + dinner + quad ride + wellness) 115 €
Address
Areál a hotel Divoká Voda
Vodné dielo – Čunovo
850 09 Bratislava 59
+421 2 6252 8002
hotel@divokavoda.sk
www.divokavoda.sk