Guided walking tour of the city centre
Do you know what treasures hides the Primate's Palace or why the tower of the St. Martin's Cathedral is fitted with a cross instead of a crown? You will learn more during an hour-long walking tour of the city in the Slovak, English or German language (tours in other languages based on availability of the guide for min. 2 persons).
Route: Primaciálne námestie – courtyard of the Old Town Hall – Hlavné námestie – Františkánske námestie – Biela ulica – Michael's Gate – Michalská ulica – Ventúrska ulica – Panská ulica – Rudnayovo námestie
Meeting time and place: daily at 14.00, Tourist Information Centre, Klobučnícka 2
Duration: 1 hour
Language: Slovak, English, German
Price: 14 € / adults
7 € / children
The walking tour is free for the Bratislava CARD holders.

Walking tour of Bratislava focusing on the Slovak Easter traditions. Walking through the charming squares, courtyards and narrow lanes of the Old Town we will see the most significant historical sights. We stop at the Easter Market  to get to know what is a unique about our Easter celebration, traditional meals you might even try to make your own Easter souvenir or at least to learn the technique. Booking required. Meeting time and place upon agreement.
Duration: 2 hours
Language: English
Price: 65 € / group of up to 10 persons
85 € / group of 11 and more persons
25 € / group / every additional hour
+421 907 683 112
info@bratislavasightseeing.com
www.bratislavasightseeing.com

Explore Bratislava by foot on a fascinating 2-hour tour led by an entertaining local guide. While strolling past the historic landmarks of St Michael's Gate, Old Town Hall and the Main Square, you'll learn just as much about the strange Man at Work statue decorating Bratislava sidewalk as you'll admire the famous coronation site of St Martin's Cathedral. Hear fun facts and tales about Bratislava's rich history, culture and people. Booking required.
Price includes: Bratislava Old Town highlights, honey wine tasting, local guide
When: daily every whole hour from 9:00 to 17:00
Meeting place: Radisson Blu Carlton Hotel or any other centrally located hotel
Duration: 2 hours
Language: English
Price: 79 € / group of up to 8 persons
+421 902 700 868
info@taste-bratislava.com
www.taste-bratislava.com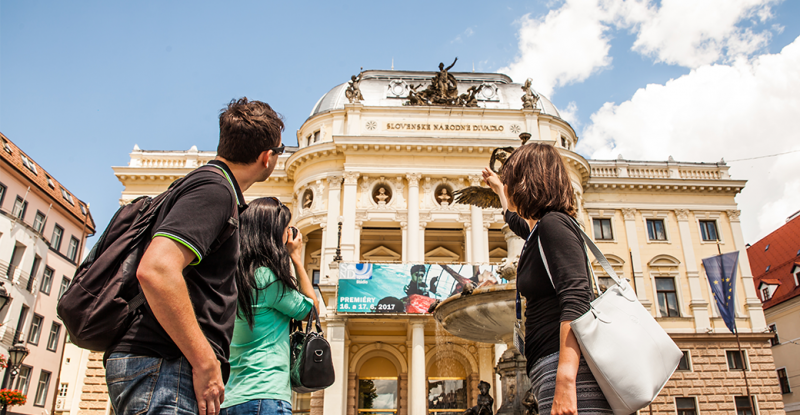 Other great offers:
City Tours by Presporacik Oldtimer®
Take a seat and enjoy the beauty and history on a wonderful city tours in Bratislava. A cabriolet styled oldtimer will offer you a perfect view of the city's attractions.
Easter prices: Old Town Tour 12 € / adults, 6 € / kids; Castle Tour – 10 € / adults, 5 € / children; Great City Tour – 22 € / adults, 11 € / children
Oldtimer Bratislava Castle Tour
Let us take you on a sightseeing tour in the glamorous old-timer and explore the most significant sights of Bratislava on a comfortable drive.
Meeting point: Twin City Gate (docking place HUMA 6), Rázusovo nábrežie (opposite Park Inn Danube Hotel)
End point: Hviezdoslavovo námestie
When: daily at 10:30 and 14:00
Duration: 1 hour (tourist bus tour) or 1,5 hours (tourist bus tour + guided walking tour)
Language: English or German, tourist bus with audioguide in 14languages
Price: 1 hour – 12 € / adults, 6 € / children; 1,5 hours – 15 € / adults, 7 € / children
+421 903 505 505
floratour@floratour.sk
www.floratour.sk
Would you like to discover Bratislava in an unconventional way? Take a part on an original retro ride with the legendary Veteran Bus!
Easter prices: 15 € / adults, 7 € / children
A minimum number of participants: 10
By a retro Škoda car or a minivan, we will take you through the industrial zones, socialistic housing developments, a residential area with the best views of the town, vibrant marketplaces, a line of military bunkers, and the former Iron Curtain.
45 € / 33 € / 25 € (2/3/4-7 people)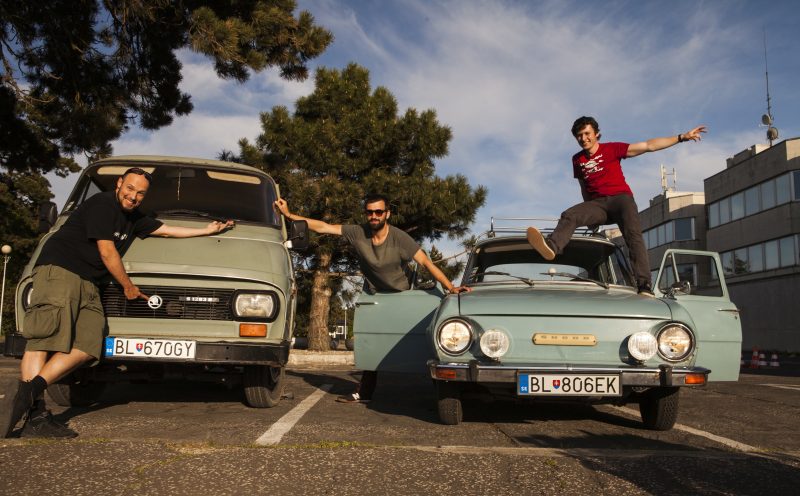 Not everything worth seeing lies hidden in the city center! Let us take you beyond the city borders and discover an exceptional place on a half-day trip with a professional guide.
Easter prices: 50 € / 2 persons, 55 € / person (group of 3 – 7 pax)
Develop your own preferences while tasting and identifying flavors in different beer styles, from crisp golden Pilsner and hoppy bitter India Pale Ale to dry American Stout.
Taste 6 different Slovak craft beers together with delicious meals from Slovak cuisine dominated by meat (especially pork), potatoes, dumplings and sauces.
Experience Bratislava from both sides of the Danube River. This tour comprises all of the most fascinating attractions into one amazing run. This run is a great way to get the best view of city, run up to have the city at your fingertips and then run down to have a close view of Old Town beauties. Booking required. Meeting time and place upon agreement.
Route lenght: 8 km
Language: Slovak, English
Cena: 27,5 € / 1 person, 22 € / person / 2 – 3 pax, 16,5 € / person / 4 pax
+421 911 025 688
bratislava@gorunningtours.com
www.gorunningtours.com