New Year's Eve 2018
If you are still hesitating about where to spend New Year's Eve this year, Bratislava is an obvious choice. During this night, the city is immersed in celebrating the New Year and many Bratislava businesses have special offers prepared for you. It certainly pays to come out into the streets of Bratislava and enjoy the music of popular bands in the center of the city.
Shortly before midnight, the festive atmosphere culminates and people count down the seconds which divide them from the New Year together.
When the clock strikes midnight, the sky over Bratislava begins with a spectacular performance.
Before the big show at midnight you can enjoy a warm-up party with a DJ at Hviezdoslavovo námestie square. The party will go on until cca 2 am.
The fireworks over Bratislava castle and their reflection in the Danube is a view that you'll love. This year the city will introduce a great light-laser show. The show starts at 23:50 on Ľudovít Štúr Square.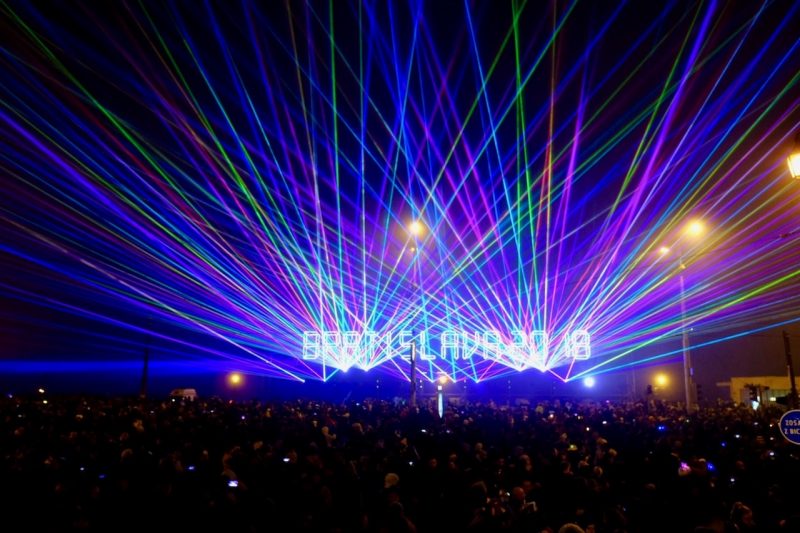 New Year's Eve Events:
Experience delicious New Year's Eve in River Park and enjoy real festive menu during the gala dinner or the new year brunch.
A luxurious evening where you can mix your own cocktails – that is the evening in the UFO observation tower. A unique space where you can enjoy New Year's Eve fireworks from a height of 95 meters.
After a festive dinner in Bratislava you can also enjoy the New Year's Eve parties. Try the famous Club or Channels.
Great DJs, a toast and a traditional cabbage soup on the terrace with a unique atmosphere – only in KC Dunaj.
If you want to experience the New Year's Eve unusually, there is a New Year's Guided Tour of the city waiting for you.
Would you like to spice your New Year's Eve up a little? Special Christmas Escape Room brings adrenaline and extraordinary experience.
The world of fantasy, singing and dancing can be found at the Red Cat Cabaret. On New Year's Eve the beautiful ladies of the cabaret will present a spectacular Varieté show.
Great music, welcome drinks and fabulous dinners in the great bars and clubs will make your New Year's Eve special.
SaSaZu´s Chef Ari Munandar has put together special New Year´s Eve menu. Precise combination of amazing tastes of Asia, extraordinary atmosphere, vivid colours, sensual scents and flavours.