Swing Christmas
Experience the magical atmosphere of the upcoming Christmas in the rhythm of swing
Let yourselves be carried away by a swing, learn one of the period dances and take to memory beautiful period Christmas gifts.
This year's last dancing evening in Bratislava's legend V-Klub with thematic Christmas and winter mood brings back the great atmosphere of famous dancing parties of the Golden Age era and will be again full of energetic hot jazz and swing music, dancing, goodies and not least a positive esprit!
Not even a jazz music can avoid the Christmas mood so you will hear a lot of great swing songs with Christmas or winter theme during this evening.
The Fats Jazz Band has prepared a special program for this evening, consisting of American, but also Czech and Slovak Christmas or winter melodies, which will, of course, sound exactly like the first jazz legends recorded in the 1930s and 1940s. The orchestra boasts a rare collection of historical musical instruments and an authentic interpretation of period recordings.
The repertoire from the album 'Swingin' Christmas' will be played. There will be known American Christmas songs such as 'Let It Snow', 'Santa Claus Is Coming To Town', 'Jingle Bells' or 'White Christmas', but not in modern arrangements, but as transcriptions of their first recordings from the 1930s and 1940s. So they will be full of pure authentic swing or sweet, but not sweetened, romantic tones. There will also be a famous Slovak song by Viera Racková 'Wait Until Tomorrow', which refers to Christmas and Czech songs 'Snow Silently Falls', originally sung by Jiřina Salačová in 1946 and 'As Last Year's Snow' recorded by Arnošt Kafka in 1941 with the Karl Vlach Orchestra. The romance of Christmas will be complemented by the hottest instrumental swing hits.
From charleston to swing, travel through time into the era of glamorous dance parties of 1920s – 1940s. Dress code is not mandatory, but vintage clothes will be appreciated. Whether you like to enjoy good music with a glass of wine, or you prefer to dance away the night as your feet cannot remain long under the chair, this event is for you.
As part of the evening, Fats Jazz Band will also christen their new calendar for 2023 containing photos of elegant ladies. And also sales exhibition of hats and accessories from the Millinery Marlet will surely please your eyes.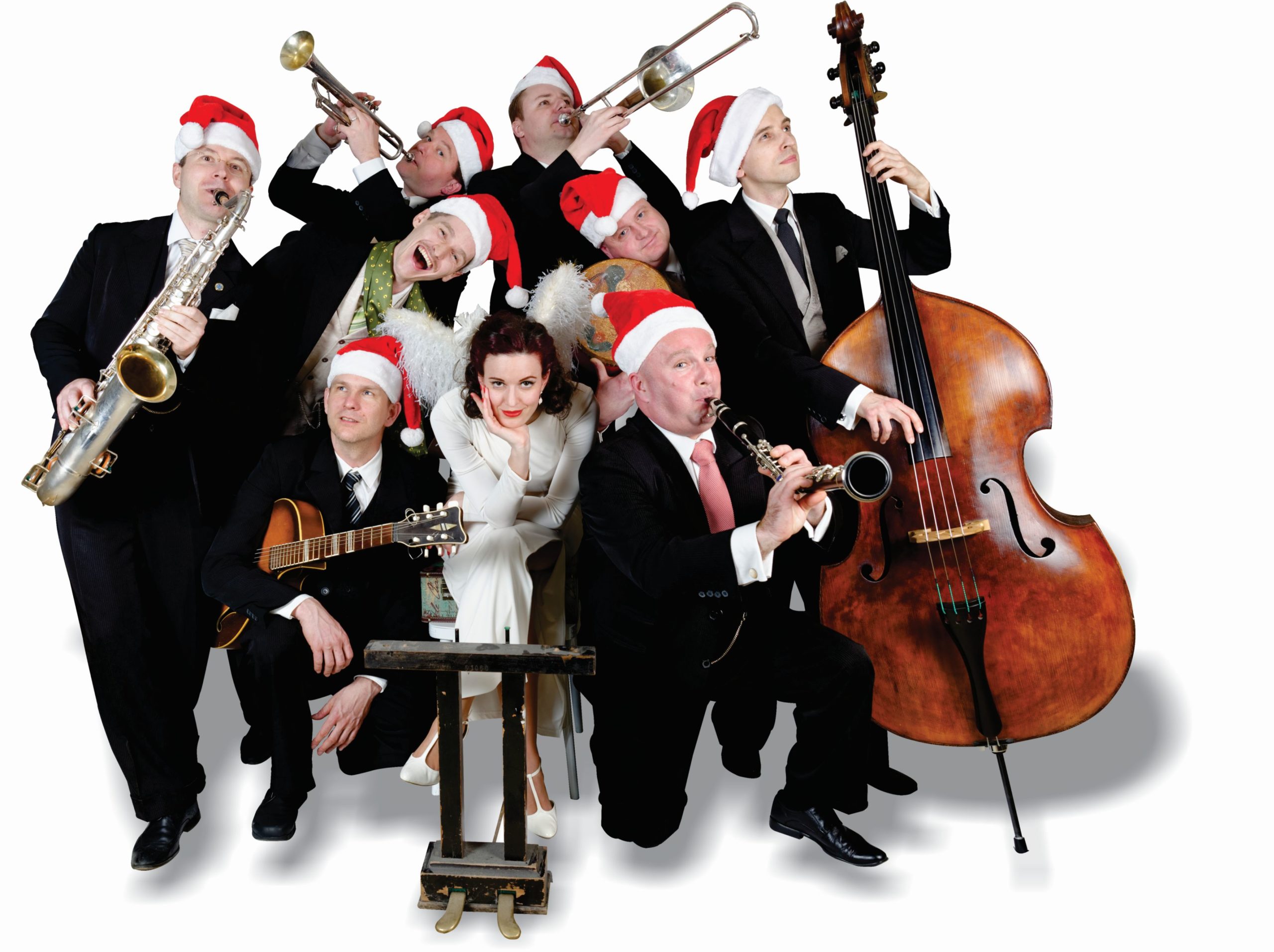 Fats Jazz Band brings oldstyle songs, which its authentic, stylish and spontaneous interpretation brings to the present. It was spontaneity that gave the music of this period its charm, and it will undoubtedly bring you to the presence of the Fats Jazz Band. The sound of the orchestra evokes something timeless in people.
Fats Jazz Band is a first class nine-member orchestra steeped in the hot jazz and swing music from late 1920s till 1940s. It was initiated by Ladislav Fanzowitz, one of the best present-day Slovak pianists. The orchestra plays original hot jazz and swing music which takes you to another world, makes your blood boil and brings you back in the time to the era of elegance, glamour gowns and hot parties.
Fats Jazz Band is authentic, Ladislav Fančovič transcribes carefully chosen tunes from old shellacs by ear to music scores. That's why you have a unique opportunity to listen to the original arrangements as they were played by early jazz legends in their time. Furthemore, the band also uses reconstructed array of historucal music instruments and stylish clothes. The whole impression of the orchestra fully grasps the period and style that this orchestra represents.
Click on the banner to see the Facebook Event Page:
Click on the banner to purchase tickets: