Wine Under the Stars
Drinking wine, eating, listening to music, watching the stars fall…
For the sixth time, you can once again watch the amazing theatre of shooting stars in the Pezinok vineyards under the Stará hora mountain with a glass of refreshing wine in your hand. During the first weekend of August, in addition to wine tastings, you will experience a lot of other pleasant things under the stars.
Especially well-being and romance, in the main role with quality wines from producers from the Little Carpathian Viticultural Area. Beautiful surroundings of Pezinok vineyards and shimmering stars. And quality music to complete the atmosphere.
You can look forward to local wineries, grilled goodies, excellent coffee or chocolate, venison stew, homemade cookies, homemade lemonades or cheeses from a local farm. All blended with the tones of pleasant music, both live and reproduced. Also with a theatrical show or relaxation. And with wine served until 1 a.m.
The most romantic wine festival in Slovakia can be found in the vineyards above Pezinok on August 5 and 6. Almost three dozen of winemakers from all over Slovakia and well-known festival names, including foreign performers, will be presented in the beautiful surroundings of the vineyards at the foot of the Little Carpathians. The little ones can look forward to a children's theatre. Four-legged pets will also be taken care of.
Amazing musicians such as Funny Fellows, Marián Mráz, Malalata, Korben Dallas, United Flavour, Bitter Slippers, Ronie, Wet Floor, Folk Music by Andrej Záhorec, Fallgrapp, N.O.H.A., Polemic in conjunction with Medial Banana, Saymi or DJ Vix will perform in here.
A fireplace with sticks for roasting will be prepared for those who want to roast something. And it's okay to bring a blanket. After all, you can sit on it, or you can lie down and have a better view. A telescope will also be available to observe the Perseids.
The main attraction of the festival are dozens of wineries from small to large Slovak brands. Wine Under the stars, however, will not only be about wine tastings of local winemakers, but also about gastronomic experiences. You will be attracted by the best gastronomic specialties ideally suited to good wine.
Wine Under the Stars also means less waste, contributing its "little bit" to a cleaner planet. This means that both visitors and vendors will separate waste during Wine Under the Stars. At the same time, they will try to produce as little waste as possible, because they will pour wine into glass glasses, which visitors will take home as a souvenir after the end. A nice idea helps to preserve the beauty and cleanliness of Pezinok vineyards in the following periods. There will also be a camp site. The man's best friend will surely be relieved by a dog corner, where your four-legged pets will be able to refresh themselves with a water. The eco-friendly paper pockets for collecting excrements and a separate trash will also be available.
Pezinok and Senec areas are regions of water, wine and fertile fields: the foothills and slopes of the Little Carpathians fragrant with vines; Sunny Lakes and their almost seaside atmosphere. The surroundings of Pezinok and Senec, as well as the towns themselves, are the materialization of modern life, in which the dynamics of the progressing world intertwine with the peace of valuable traditions. Part of the preservation of this heritage is also Wine Under the Stars in the meadow behind the Rozálka area in Pezinok.
Come with a blanket or a picnic basket and a good mood. If you do not get well stocked, you will be able to buy homemade cookies, coffee, chocolate, lemonades and refreshing wine spritzers from Karpatská muška.
Click on the banner to see the Facebook Event Page: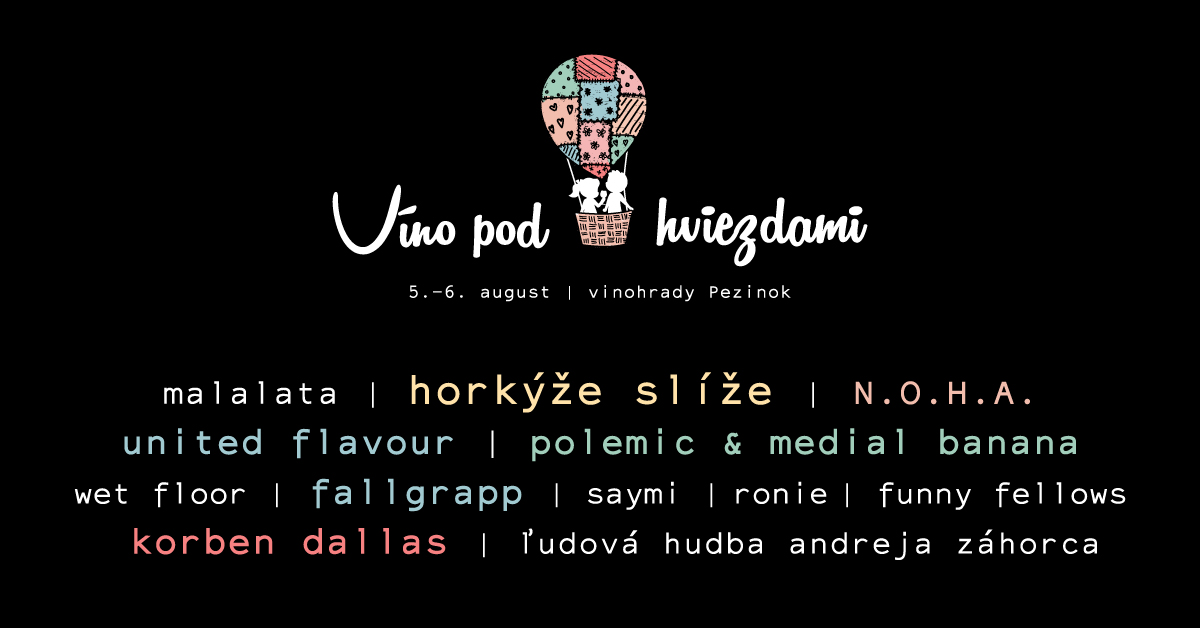 Click on the poster to purchase tickets: