ČSOB Bratislava Marathon
14th ČSOB Bratislava Marathon will be held in 2019 on now the traditional dates – the first April weekend (06.04. – 07.04.2019). Registration for individual event disciplines has already begun. Although the start of the event is still nearly five months away, the first preparing sports activities have already started. The nearer the Marathon is, the more sports activities you can join.
Those looking forward to the April event can test their abilities in the winter running races ČSOB Winter Series 2018/2019. There will be four runs this winter. Apart from three runs that you might already know you can look forward a new one – a December run in Dúbravka.
You can registrate for the ČSOB Marathon already now.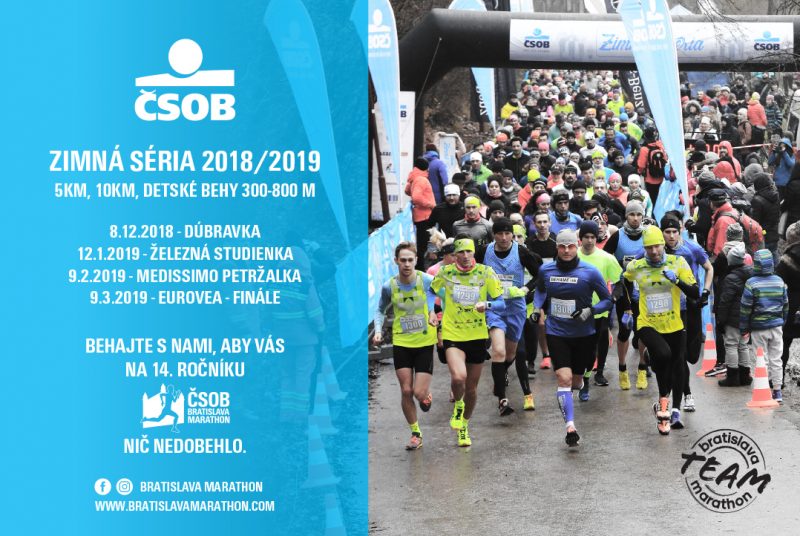 08.12.2018 – Dúbravka – NEW!
Run in Dúbravka is the first winter challenge the event organizers have prepared for you. With the active support of the city district Dúbravka and in cooperation with the Dúbravská Sport Commission, the second December weekend will see the event begin at the Rock Café Bratislava (at the Rosnička area). Five kilometers circuit combining a run through the park with a run in the woods will be run two times to the joy of runners as well as spectators.
12.01.2019 – Železná  Studienka
Železná Studienka, as the popular running location of the Bratislava runners, will be the second stop of ČSOB Winter Series. The interesting track through the woods starts and ends in the amphitheater.    
09.02.2019 – Petržalka
In February, Petržalka will welcome fans of running for the second time already! The track follows alongside the Croatian shoulder, Petržalská dam, through the woods between Malý and Veľký Draždiak, while the finish (and also the start) is in front of the Medissimo Clinic at Draždiak.
09.03.2019 – Eurovea
The last race of ČSOB Winter Series are non-officially called "El Clasico", as they will traditionally take place on the waterfront at Eurovea in March.
Organizers also thought about children and prepared for them three circuits with a length of 300 m / 600 m / 800 m according to age categories. Adults can look forward five and ten- kilometer circuits. We estimate around 800 to 1,000 runners at each event.