Easter in Bratislava
The variety of traditions in Slovakia is most distinctly manifested especially during the holidays. No wonder then, that Easter – the most important Christian holiday of the year – is accompanied by a large number of traditions that are unprecedented elsewhere in the world. Christians remember throughout Easter, preceded by the 40-day Lent, Jesus Christ's Passion, Death and Resurrection.
Colorful feast days
Fasting was associated with purity, the symbol of new life. Our ancestors were preparing for the feast days not only by tidying up their homes and dishes, where they were about to prepare and consume Easter dishes, but also through festive ceremonies.
On Maundy Thursday, men, women and adolescents went to wash themselves with morning dew. Girls believed that after such a washing they would be as fresh as swallows, that they would not have freckles on their face and if they wash their hair, it would grow faster. This color of this feast added the traditional consumption of green foods such as nettle, spinach, sprout and chicory. Good Friday – this day was ruled by the magic power of the earth. Christians eat fully only once a day while avoiding meat dishes during Lent. Holy Saturday was the day of preparing the ceremonial food, especially ham (eventually somewhere lamb or little lamb). People were putting ham ointment away for wound healing and many believed that it also protected them against snake bites. On Saturday, the "burning of Judas" was performed – the fire of the old year was burned and people were lighting the new fire in their households. On Easter Sunday after Mass, the food is sanctified, especially the ceremonial cake called páska in Eastern and Central Slovakia. The girls paint Easter eggs (so-called kraslice), so that they can give them as a present to the young men on Monday. The Easter meal also recalls Christmas Eve.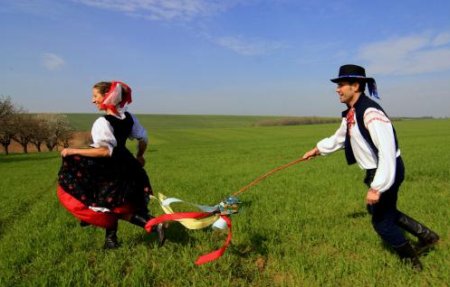 Whipping with a switch or pouring water?
Easter Monday traditions in Slovakia inherently include "whipping" and "water pouring" –boys go from house to house and pour water on girls and whip them with a switch made from willow withy. Whether visitors earn a feast and homemade cakes for whipping or pouring with buckets full of cold water depends on the region. The imaginary line divides the country "into the western and eastern cultural area". For the Bratislava region or for the West and Midwest of Slovakia up to the Liptov region whipping with a switch is typical. Even switches with a length of two meters are not an exception. Boys went for whipping in groups, carrying with them a sort of group switch in this region, which after a round hung on a pub wall or directly exhibited it there. Girls reward them with painted Easter eggs and colored ribbon on the switch. Small children are also whipping (boys and girls), receiving sweets for whipping, especially chocolate eggs and bunnies. Western and Central Slovakia, in addition to whipping, is characterized by Morena march, who symbolized the winter and by bringing "letečko" proclaimed the spring.
Events
You don't have to spend the holidays only at home! Get inspired with ideas for events that will make Easter time pleasant.
For families
Easter Sunday in River Bank
Easter Sunday at the River Bank Restaurant will be full of fun and good food. You can look forward to children's fashion show and Easter egg hunt.
Date: 27. 03.2016
Place: River Bank, Dvořákovo nábrežie 6
Festival of flowers and gardens
Come with us to celebrate the arrival of spring on our balconies, terraces and gardens. Get inspired not only by floral installations, but also ideas on how to improve and turn a part of your home green. Bory Mall will be converted into green oasis on 9th-17th April.
Date: 25. – 26. 03.2016
Place: Bory Mall, Lamač 6780, Bratislava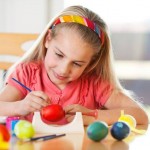 Easter camp at Klepáč
Enjoy workshops at Železná studienka in Klepáč mill (www.klepac.sk)
Date: 24. 03.2016
Place: Klepáč, Cesta mládeže 5, Bratislava
For the demanding

The Falkensteiner Bratislava Hotel invites you for an Easter weekend with a romantic touch at a price already from EUR 258 in the days from 21. 3. – 3.4.2016.
HIGHLIGHTS
Accommodation in Superior room
Romantic 3-course dinner of your own choice with a glass of sparkling wine at the Seasons restaurant
Fruit basket upon arrival
THE SERVICES INCLUDE: Overnight stay in the reserved room, Falkensteiner buffet breakfast in the American style and free access to the Acquapura City Spa.
Date: 21. 3. – 3.4.2016
Place: Falkensteiner Hotel Bratislava****, Pilárikova ulica 5, Bratislava
For alternative style lovers
Easter paradise@Basement
There is a magical land full of mashups and electronic music to the east from the Easter paradise where a surprise and two guides, Bobsan and Rick Fitz, are waiting for you immediately upon arrival!
Date: 26.03.2016
Place: Nu Spirit Club, Pasáž Luxor, Štúrova 3, Bratislava
Vegan dinner No. 65 (Easter Dinner)

Vegans and non-vegans, newcomers or old friends, ALL of you are invited! :) Feel free to come on your own for the first time. You certainly won't be alone during dinner! :)
You will be able to meet new people, get inspired, be entertained, learn new things, exchange advice and experiences and try new foods… ;)
A few "newcomers" are always coming to each dinner so you won't be an exception. ;)
Date: 26.03.2016
Place: A4 – priestor súčasnej kultúry, Karpatská 2 (YMCA building)