Winter Evenings in Slovak National Theatre
Enjoy special evenings at the Slovak National Theater. Autumn and winter will bring along two spectacular premiers (at the Opera and the Ballet). Come to enjoy a truly thrilling experience. Our recommendation:
THE BEST OF BALLET
Premiere
SND Ballet in collaboration with an international production team presents a new original piece about the legend of black-and-white film and one of the foremost artists of the 20th century, Charles Chaplin. Native of London, Chaplin made his career in the United States. He remains one of the major comedians, actors, directors and screenwriters in global film. Charlie Chaplin remains, in public mind, identified with the unforgettable kind tramp with a walking stick, a jacket too tight and shoes a size too large. We bring the dance portrait of the film and human genius in world première in the Spring of 2019.
Dates of the performances:  15.3.; 16.3.; 20.3.; 26.4.; 25.5. 2019 – always at 7 pm SND new building
The immortal songs of the legendary Beatles in Baroque arrangements under the baton of the world-renowned conductor, composer, arranger and keyboardist Peter Breiner. Experience the original evening and enjoy the performance of the SND Opera Orchestra. The cult hits of the English rock band come to life on the stage of the historic building of the National Theater, transformed into a performance by young as well as well-known choreographers (some of them work directly for Ballet SND).

Performance dates:  29.1.; 13.2.; 29.3.; 4.5.; 11.5.; 12.6.; 29.6. – always at 7 pm – SND historical building
Cesare Pugni, Vasilij Medvedev, Stanislav Fečo / by Marius Petipa
ESMERALDA
The immortal story about a beautiful and temperamental Roma girl whose beauty rivals that of Paris is an opportunity for every ballet house to present their brilliant dance techniques. The technological processes in the production of the scene largely duplicate the historical technological processes and thus bring an even stronger sense of authenticity. The performance is going to be a spectacular visual experience thanks to the costumes from workshops of renowned Russian artists from the Bolshoi Theater in Moscow Alyon Pikal and Yelena Zajcevy.
We present the ballet in collaboration with Petipa Heritage Fund St. Petersburg.
Performance dates: January 19, 2019, March 26, 2019 and May 18 at 7 PM, the Opera and Ballet Hall
Is everything allowed if there is no God?
A thrilling choreography augmented by three musical giants – Wagner, Musorg, and Rachmanin, suggestive design and top-notch performance – a promise of a great evening. The choreography based on Boris Eifman's choreographic genius was the first piece of his work staged in Slovakia. The production Beyond Sin / The Brothers Karamazov won the award Dosky 2018 for the best dance performance. The award was received by the dancer Adrian Szelle.
Performance dates:25.1.;8.2.;30.4. 2019 – always at 7 pm SND New Building
THE BEST OF OPERA
Giuseppe Verdi
DON CARLO
PREMIERE October 19, 2018 
Opera in four acts in Italian
This historic drama with dramatic music is one of Verdi's best works. The story about Prince Carl who desires freedom and justice. Instead, however, as the son of a sovereign, he finds himself in inexorable captivity. You can look forward to exclusive casts: Štefan Kocán, Peter Mikuláš, Ľudovít Ludha, Tomáš Juhás, Daniel Čapkovič, Andrea Danková, Adriana Kohútková, Denisa Hamarová, Monika Fabianová, Dalibor Jenis, Sergei Tolstov.
PLEASE TAKE NOTE THAT THERE WILL BE JUST 5 PERFORMANCES DURING 2018/ 2019 SEASON!

Performance dates: 23 February 2019 at 19 h at 7 PM, the Opera and Ballet Hall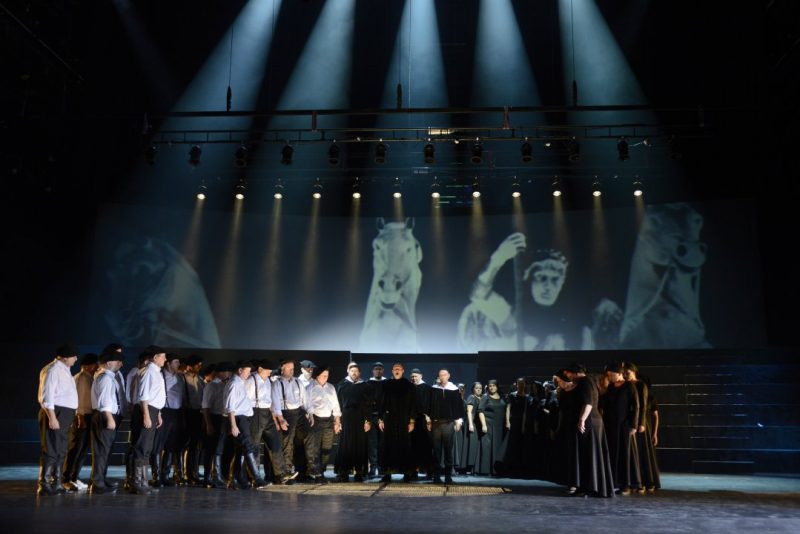 Oskar Nedbal
POLISH BLOOD
Operetta in three acts in the Slovak language
Farmer Bolek Baranski has found himself on the verge of collapse thanks to his fervent lifestyle and doubtful companions. There is a chance to improve his financial situation by making a good marriage proposal, as recommended by a wealthy friend, Zaremba, who offers him his own daughter, Helen. Since solving property problems this way was never easy, you can look forward to unusual complications, unexpected twists and funny situations!
Performance dates: February 26, April 13, 2019 at 7 PM, SND Historical Building
Opera in three acts in Italian
Immerse into the world of a woman who "deals love" – but when she really does fall in love, she goes through an unbelievable transformation. She loves without unconditionally until her untimely death caused by the cruelty of her beloved one and progressing severe illness. Major operas are usually based on fine literary works; in this case it is the work of A. Dumas Lady with the Camellias. Experience an extraordinary evening with the music by Giuseppe Verdi!
Performance dates: 12 February, 16 May, 17 June 2019 at 7 PM, the Opera and Ballet Hall

Photo: SND
Looking for more inspiration what to do on cold or rainy days?