Recommended Hotels in a Nutshell
In Bratislava there are numerous hotels around and in the heart of the centre. Many of them offer great cuisine in their own restaurants; some offering also wellness. Pick your hotel by style, location or view:
Hotel Mama's is located in a quiet residential quarter of the broader centre. The hotel appeals through its elegance, modern design and pleasant family atmosphere where you will feel right at home. If boutique-style hotels are your preference, along with quiet and calm surroundings, you have come to the right place.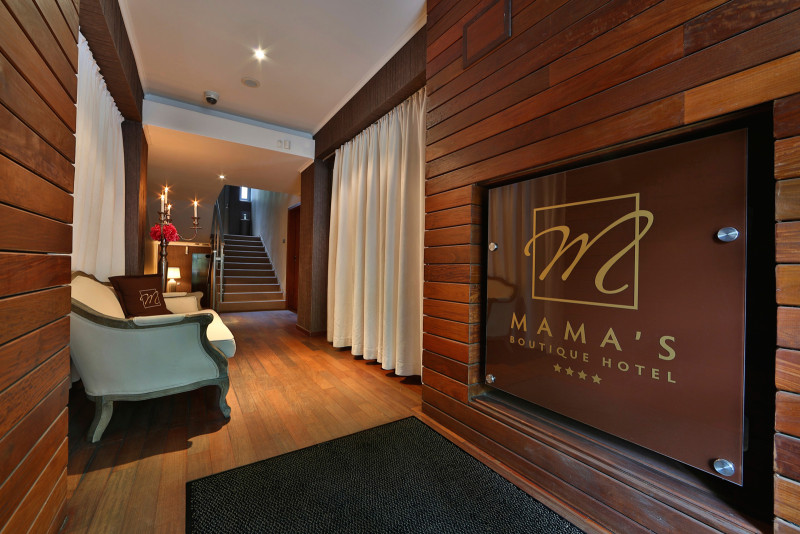 Crowne Plaza Bratislava is a first-class hotel in the heart of Bratislava. It combines its excellent location, comfortable accommodation and modern conference premises with perfect cuisine.  The hotel is situated in the city's centre with a view of the Presidential Palace, only a couple of minutes' walk from the historical centre and the famous Bratislava Castle.
Thanks to its exceptional location in the centre of the capital city of Slovakia, excellent services and traditional values, Hotel Devín is for just reasons considered an icon of Bratislava. It is a fixed star of the Bratislava hotel industry since 1954. Since then, Many famous people, such as movie legend Elizabeth Taylor, politician Alexander Dubček or movie star Jean Paul Belmondo and many others, passed through the corridors of the hotel. The legendary hotel on the Danube riverfront provides high-level services and is one of the hallmarks of Bratislava.
Only rarely does the moniker "stylish hotel" so aptly fit a hotel as it does the Falkensteiner Hotel Bratislava. The architecture and design create an atmosphere of peerless modern lifestyle – a refreshing breeze in the city's map of hotels. The extravagant style and top-quality furnishing of all the hotel premises, from the rooms through to the restaurant and bar to the relaxation centre Acquapura City SPA, give incomparable comfort pampering both business guests and holidaymakers.
Hotel Matyšák is located not far from the city's historical centre, in the vicinity of the Main Railway Station. It houses a unique wine restaurant with a capacity of 120 seats and archive wine cellar that, in combination with the restaurant, make it one-of-a-kind in Slovakia.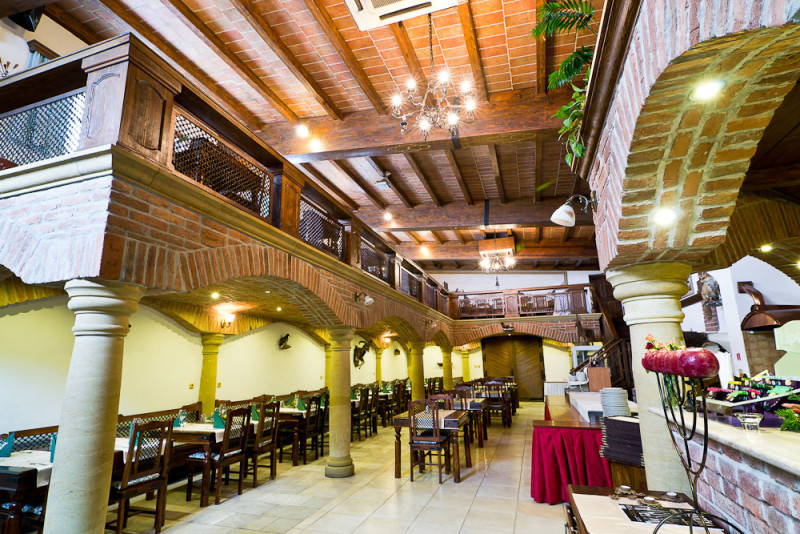 Combine staying in a modern design hotel with perfect location directly in the historical center when choosing AC Hotel by Marriott Bratislava Old Town. Offices, embassies and main tourist attractions like Bratislava Castle, medieval Michael's gate or river Danube waterfront are just few steps away. Hotel offers 333sq meters of modern meeting facilities for up to 320 attendees, all located on one floor with direct access from parking, perfectly designed for business or private events.
The Hotel NH Bratislava Gate One has for a number of years ranked among the TOP 10 hotels in Slovakia (TripAdvisor). A modern and smart 4-star hotel with unique architecture offer all a guest may wish for: quality service, modern design and professional staff. It is located near the airport and only a 15-minute drive from the historical centre of Bratislava.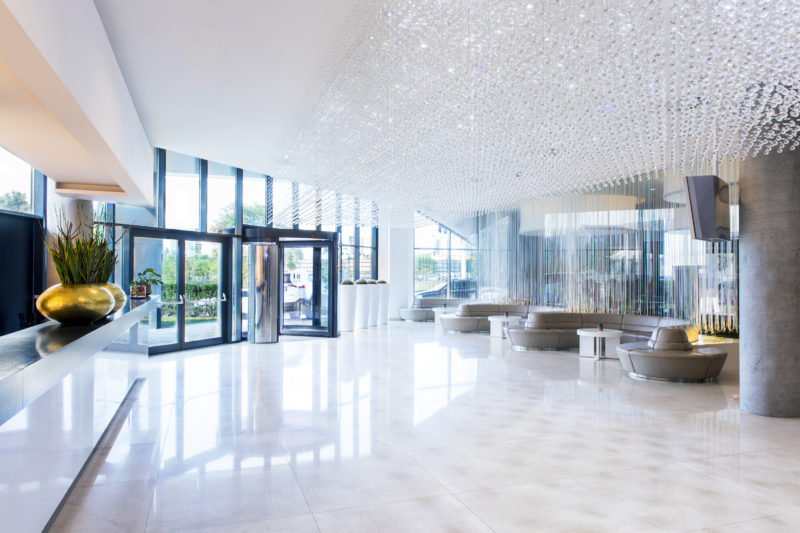 The stylishly casual Lindner Hotel Gallery Central is situated on top of the new shopping center Central, whose rooftop has been designed as a park. Most of the rooms and the bar and lounge offer guests a spectacular view of the historic part of town and Bratislava Castle, the city's landmark. Prominent location in a park located on the roof of a new shopping center. The historic part of the city is within walking distance and public transportation can be found close to the hotel. The hotel is centrally and conveniently located, not far from the airport and the motorway. 222 rooms, suites and corner suites, as well as handicapped accessible double rooms. The Outlook Bar & Lounge on the 13th floor of the hotel can accommodate approximately 60 people and offers a fantastic view of Bratislava Castle. Direct access to the shopping center with more than 150 stores and boutiques, as well as to a fitness center boasting a 25-meter indoor pool that is located in the building complex.
The newly-reconstructed hotel on the Danube bank. Within a walking distance from the best loved Bratislava's sights. Enjoy the walks along the Danube river bank, discover the unique nature of St Martin's Cathedral or spend a cultural evening in the Slovak National Theatre.
The legendary and prestigious Radisson Blu Carlton Hotel welcomes its guests in the very heart of the historical centre of Bratislava. The hotel is surrounded by restaurants, bars and cultural sights. The 1837 building has been reconstructed to its original classical style.
Roset Boutique Hotel is a beautiful, luxurious hotel, built in 1903 in the Art Nouveau style, and offers accommodation in luxurious, spacious and above-standard furnished suites and maisonette penthouses suitable also for long stays.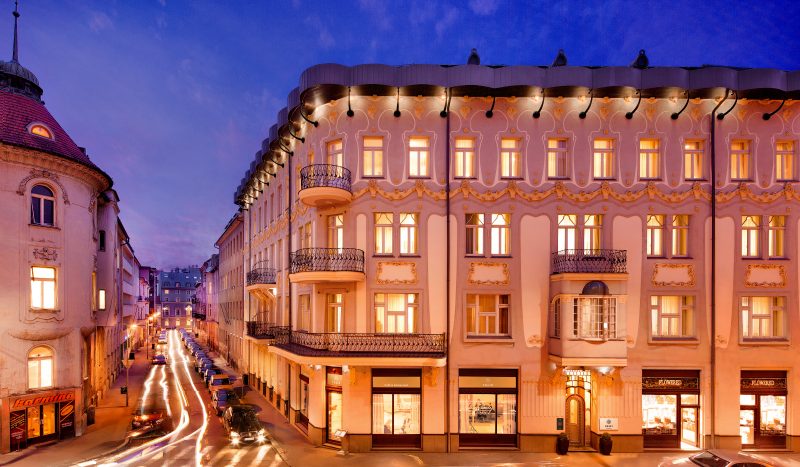 Located on the bank of the Danube River, as a part of shopping boulevard with promenade, entertainment, cultural and relaxing venues. Only 5 min walk from city center. Perfect point for exploring the city's iconic destinations. All 209 of the hotel's stylish and spacious guestrooms and suites offer Sheraton Signature Sleep Experience beds, complimentary high-speed internet access and extensive bathrooms. ZION SPA PREMIUM, complimentary to all hotel guests, offers 800 square meters of indulgent wellness including heated swimming pool, sauna, steam room and the professional body treatment with high-end cosmetic products and 24/7 fitness area. Both Port Wilson Lobby Lounge and Amber´s Bar are perfect for business breakfast, gathering with friends or an elegant pre or after dinner drinks, snacks, premium coffees, tea and wide selection of wines.
Enter a world of gracious design reflecting the modern perspective of ample as well as efficient space, serving both the dedicated business traveller and the adventurous explorer in search of discoveries and a whole new world. The distinctive hotel, located directly on the banks of the Danube River – a unique feature among Bratislava hotels – offers a captivating promenade area right in front of the hotel door. ZION SPA LUXURY offers 1 500 square meters of indulgent wellness and fitness area, including swimming pool, two jacuzzis and three saunas. The proximity of Vienna International Airport (35 minutes' drive) allows for an effortless journey and offers the highest standards of comfort. Repeatedly awarded the prizes for Best Hotel in Slovakia (Trend Top) and Slovakia's Leading Business Hotel (World Travel Award).
A modern renovated hotel with a long history. Since 1974 the hotel has been providing accommodation to demanding business clientele as well as tourist groups.
Botel Pressburg
Botel Pressburg is located right in the center of Bratislava, directly on the Danube Cycle Route Devin, only 600 meters away from the Bratislava Castle. It offers accommodation with a restaurant, lounge, sun terrace and free Wi-Fi in all areas.  All rooms at the Pressburg Botel feature a flat-screensatellite TV, safety deposit box, writing desk, wardrobe, telephone and refrigerator, and have a private bathroom with a shower. Each of the rooms has a view – some to the north to the well – known Danube Bridge with UFO, the rest of the rooms with the view at River Park and the Old City.
Address
Dvořákovo nábrežie, 811 02 Bratislava
+421 2 4319 1277
reception@botelpressburg.sk
www.botelpressburg.sk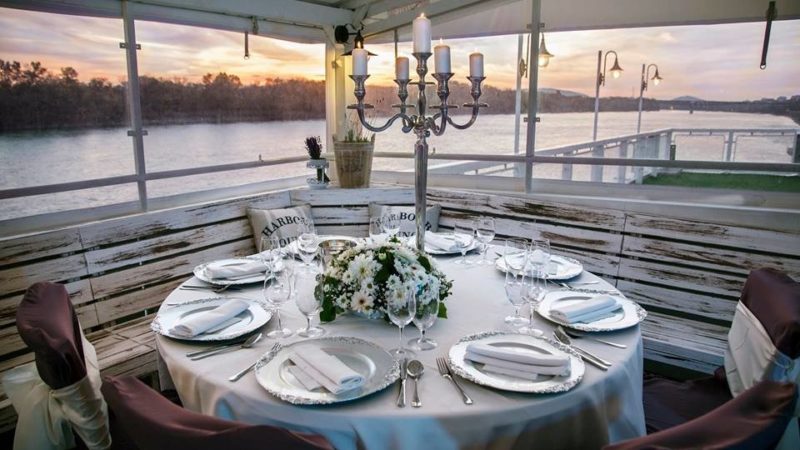 Hotel Plus***
The hotel is situated in Bratislava's part of Ružinov – Trnávka, just 2 kilometers from M. R. Štefánik Airport and about 700 meters from Avion and Ikea shopping centers. It is very easily accessible from the motorway's ring road as well as public transport from the main train station and bus station. There is a night bus stop right next to the hotel which provides links to the main train station and bus station as well as with the city center.
Address
Bulharská 72, 821 04 Bratislava
+421 2 4823 1920
recepcia.hotel@hotely-plus.sk
wwww.hotelyplus.sk
Patio hostel Bratislava – the most popular hostel in Bratislava with the best location and prices, as well as dorms & privates, a garden, a bar, parking, free internet, free laundry facilities & much more. Our kind, easy-going & well-informed staff are all natives & speak perfect English. All main attractions, pubs, restaurants & clubs are almost 'round the corner, so there's no need for taxis or public transport when sightseeing or pub-crawling.