Hilaris Chamber Orchestra Christmas Concert
After the successfully sold out concert Tribute to Vivaldi, Hilaris Chamber Orchestra presents another attractive project – the Christmas Concert. At the concert led by Alan Vizvary, the founder and leader of Hilaris Chamber Orchestra, will resound beautiful and colourful pieces  by prominent music composers such as Johann Sebastian Bach, Antonio Vivaldi, Arcangelo Corelli and Wolfgang Amadeus Mozart. Since it will be a Christmas concert, traditional Slovak and foreign Christmas carols are also included in the programme.
Sunday 16th December 2018 at 6 pm
Mirror Hall of the Primate's Palace in Bratislava
The Christmas Concert of Hilaris Chamber Orchestra at 6 pm is sold out! Due to great interest there will be another Christmas Concert added at the same day 16th December 2018 at 3:30 pm in the Mirror Hall of the Primate's Palace in Bratislava.
Tickets are available at the price of € 15 in the Ticketportal network.
One hour before the concert on site, you can buy tickets at the price of € 17.
The concert was financially supported by the municipality Bratislava – Staré Mesto.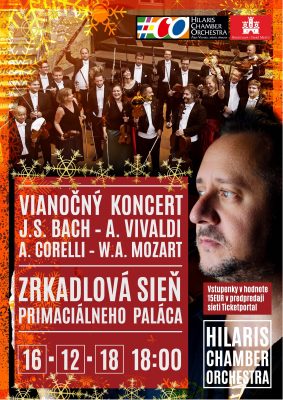 Photo: Julian Veverica