Winemakers in the bounds
The wine comes from the vineyard. This is well known also in a region with great wineries
Wine of Modra NGO has therefore decided to make the Modra bounds available again and thus to point out its uniqueness and irreplaceability. On the first Saturday of July, it prepared an unusual wine tasting with a purely Modran pedigree, which will take place directly in the local bounds.
11 wineries, charming vineyards, local gastronomy and of course unique atmosphere of the region. The viners from the picturesque town of Modra would like to invite you to a tasting of the best of the best of the Little Carpathians. During this tasty event, you can enjoy exquisite wine and specialities prepared by the locals exclusively for this special occasion.
During this traditional summer event, lovely Modra will prepare bounds of its cadastral territory to invite you to the wine festival, where you will have an unique opportunity to taste the wines from Modra's wine makers, offerin the best wines prepared from their vineyards.
Historical tractors, an exhibition of contemporary photographs, a mini wine museum, tasty snacks, a visit to the farm zoo or a tent town for visitors await you at the farm Pod Gaštankou in the Sebrec Valley.
However, not only wine will be served. Thanks to the varied program, drivers, children and even abstinents will also have a great day. Children will enjoy the animation program, photo studio, face painting, concert of the children's band Pánko or riding colourful historical tractors and Mr. Hoblina will come here with his children's theatre Pod hríbikom. And everyone can enjoy a selection of local and exotic gastronomic specialties.
There will be good street food, coffee, lemonades and country cakes. DJ Kinet, DJ Thomas Tracy and DJ Rheinfox will also provide a relaxing atmosphere. Relaxation and picnic areas, hammocks, bean bags and blankets will also be prepared.
"Ingel" over the farm Pod Gaštankou will also offer you an exhibition of functional historical tractors of Modran collectors, but also the current vineyard technology, an exhibition of period photographs from the life of the ancestors of local inhabitants, a painted exhibition of traditional vineyard varieties, a small vineyard museum by the stone shed, the opportunity to visit the farm zoo on the family farm Pod Gaštankou, as well as tasty regional gastro. And don't miss the opportunity to buy wines at discounted prices directly from winemakers.
Come and pleasantly disperse by the wine straight into the bounds of Modra. In this way, you will help to raise the culture of drinking the beverage of kings and at least to a small extent you will reward the winemakers for their difficult work in growing grapes, producing wine and preserving the wine tradition of the Little Carpathians.
See you in the vineyards of Modra, a town with distinctive character, where a peacefulness of a rural area is coupled with good accessibility, ancient history, centuries old pottery traditions, legacy of Ľudovít Štúr, breathtaking scenery and unique atmosphere. The free royal city of Modra that has always been a very influential settlement in the region of Little Carpatians.
Click on the banner to see the Facebook Event Page:
Click on the poster to purchase tickets: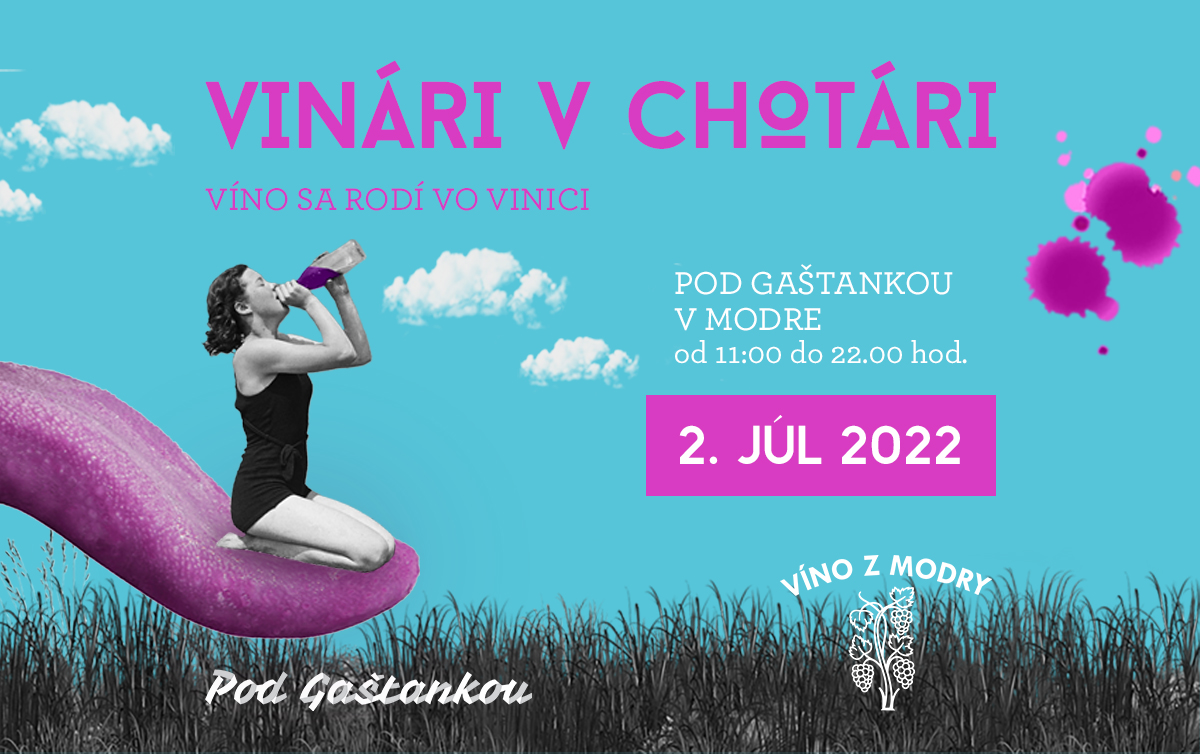 Degustation Ticket (€25) for 1 person includes:
1 x entry fee and wine and wineries catalogue
25 wine tasting tickets for which you can purchase wine samples
Non-degustation Ticket (€5) for 1 person includes:
1 x entry fee
Additional set of tasting samples (€8):
10 wine tasting tickets
For one tasting sample of 0.03 l, 1 or 2 tasting vouchers must be handed over to the winegrower, depending on the type of wine offered. Tasting cup is borrowed for a deposit of €5