5 practical tips for people visiting Bratislava
Bratislava, Pressburg, Pozsony. The capital of Slovakia, is small in size, but when it comes to history it ranks among the largest. There are many reasons to visit the city where Maria Theresa (the ruler of the Habsburg dominions) was crowned, but it is also very important to think about what to do before one goes to the heart of Europe.
1. Plan your trip
Do you want to see the everything beautiful that the capital has to offer? Would you like to visit the best restaurants, attend a cultural event or experience the nightlife? Bratislava has a tool that will show you every important corner of our 1 100-year-old city. Whether you are traveling alone, with your family or with friends, simply choose the type of trip on 72hourcity.com (art, culture, nature, nightlife, etc.) and the number of days you plan to spend in Bratislava. The page will then suggest, together with a map and contact details, how to use your time as efficiently as possible.
However, if you prefer to move more on foot, by bike or segway, it is also possible to plan sightseeing tours. Riding a bike next to where the Iron Curtain was built is as shocking as it is fascinating. Thanks to the diverse offer of the sightseeing tours in the city you also have the opportunity to book a tour at the Museum of Modern Art Danubiana in the morning, and you will still be able to take part in tasting of the original Slovak beer or wine in the evening.
2. Use the Bratislava CARD
Before organizing a tour, it is good to take advantage of discounts which come with the purchase of the Bratislava Card. By the way. Don't forget to go either to Bratislava Castle, where thanks to the Card you will get a 100 percent entrance fee discount, or to Devín Castle, from where you can enjoy an extraordinary view. It is also a very good idea to get lost in the atmosphere of the Old Town. If you are an adventurous type, you can always visit our old World War II military bunker B-S 4-Lány or a forest in the middle of the city called Horský Park.
3. Prepare a list of expenses
Think about how much the journey itself is going to cost you. Are you coming by plane? You will probably need a taxi or rent a car. Will you travel by car? You probably need to buy an e-vignette and find out how much is a liter of petrol/diesel.
It is also good to find out the prices of public transport tickets (with the Bratislava Card, you can use the public transport for free). Don't forget the most obvious expense – food. If you're eating out three meals a day plus snacks, these costs can add up quickly.
4. If you come from a country that does not use the Euro, do not forget to exchange money
Although the time of illicit street moneychangers is long gone, there is no reason for tourists to lose their hard earn money to the unfavorable exchange rate at the airport. Experts advise: "Always carry two payment cards and smaller amount of cash," which you should have exchanged at your bank before going abroad. Your bank usually has a better exchange rate than exchange offices at airports. If you forget to do so, go to the nearest bank, they will definitely help you.
5. Be sure to learn at least the basic phrases
Many people do not speak a foreign language, so it is better to prepare at least for basic communication. The Slovak language is not one of the easiest to learn and that is why we recommend taking some online Slovak lessons from the comfort of your home before visiting Slovakia.
Whether you choose a short course focused on basic phrases or an intensive course in which we will prepare you for a conversation in Slovak language in a very short period, definitely do not underestimate the preparation in this regard.
For more information in English or to prepare a price offer, contact the language school at kurzy@volis.sk.
Residents of Bratislava and Slovakia may seem cold and distant at first glance, but you will quickly find that even with the basic phrase: "Dobrý deň, môžete mi prosím ukázať cestu do bratislavskej Kunsthalle?" (Hello, can you please show me the way to the Bratislava Kunsthalle?) they will not only be happy to show you the way, but they will also be willing to go there with you. Therefore, you need to be prepared for other questions such as: "Odkiaľ ste?" (Where are you from?) or "Čo máte na pláne vidieť?" (What are you going to see?).
Are you a person who enjoys good food and a good view? Go to UFO, a restaurant overseeing the river Danube. From here you can see the entire city and when a waiter comes and asks; "Dobrý večer, čo si dáte na pitie?" (Good evening, anything to drink?) you can answer; "Poprosím minerálku a kávu." (I would like mineral water and coffee). When he brings you the selected items it is always nice to say; "Ďakujem." (Thank you.). If the person offers you anything else you can always say; "Áno/Nie, ďakujem." (Yes / No, thank you.). In case you want to pay it is enough to say; "Účet, prosím." (Check, please.).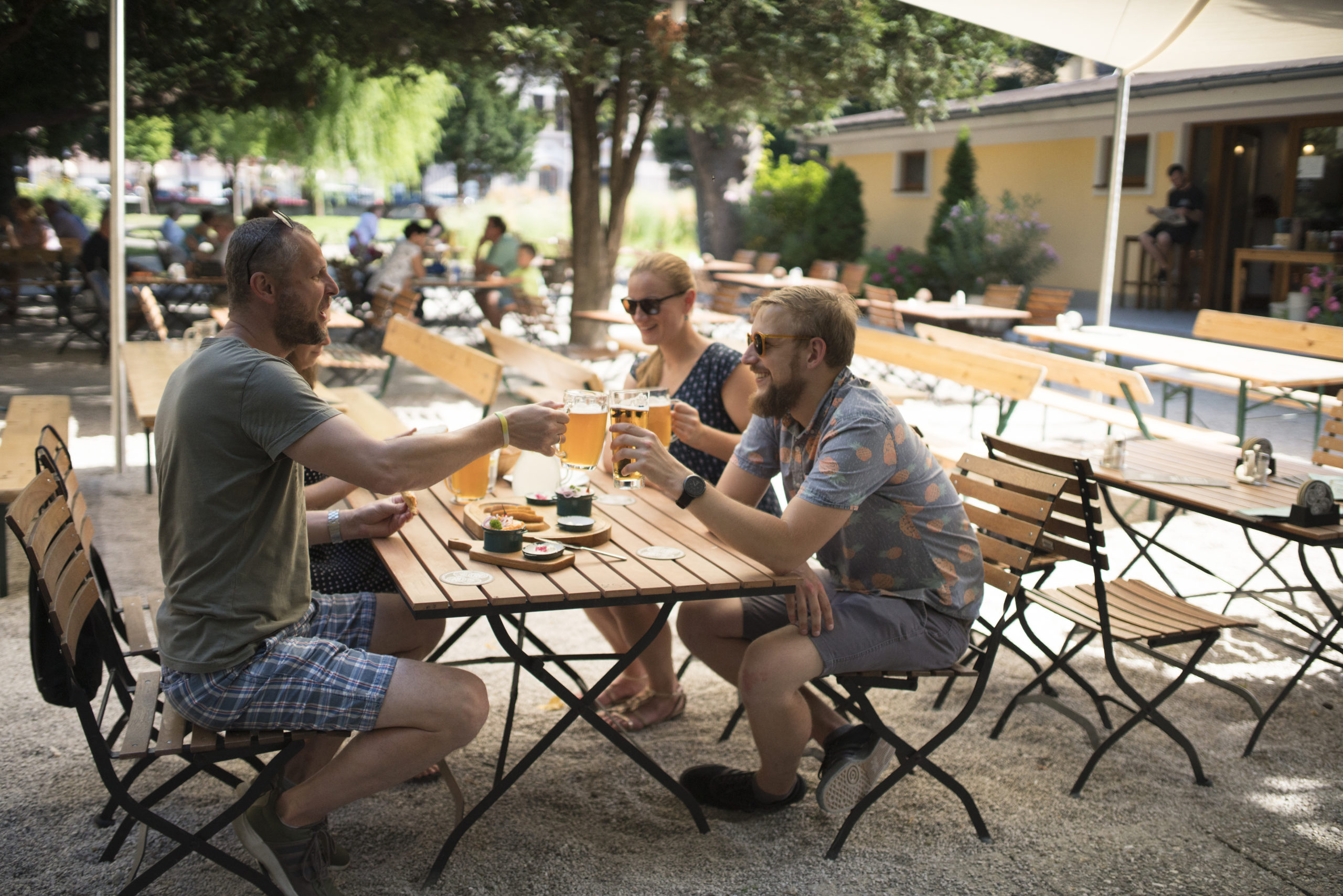 Contact information:
Volis Academy – language school
Štefánikova 19
Bratislava
Tel: +421 902 917 223
Email: kurzy@volis.sk
Web: https://www.volis.sk/