Advent time in Bratislava
Advent begins this Sunday, Christmas is here within a month
Enjoy your Advent season even more. To Bratislava, it brings a calm and welcoming festive atmosphere, which unites and thinks of everyone. The Christmas mood will spread throughout the whole big city, and the spirit of Christmas will take over it already before the first Sunday of Advent.
Advent concerts, Christmas markets, programmes for children, Christmas tram, guided tours and walks or exhibitions, bazaars and quizzes. All this is waiting for you during the pre-Christmas time in Bratislava. The thematic programme, together with the lighting of the Christmas tree, will start at the Main Square on November 25th at 6 p.m.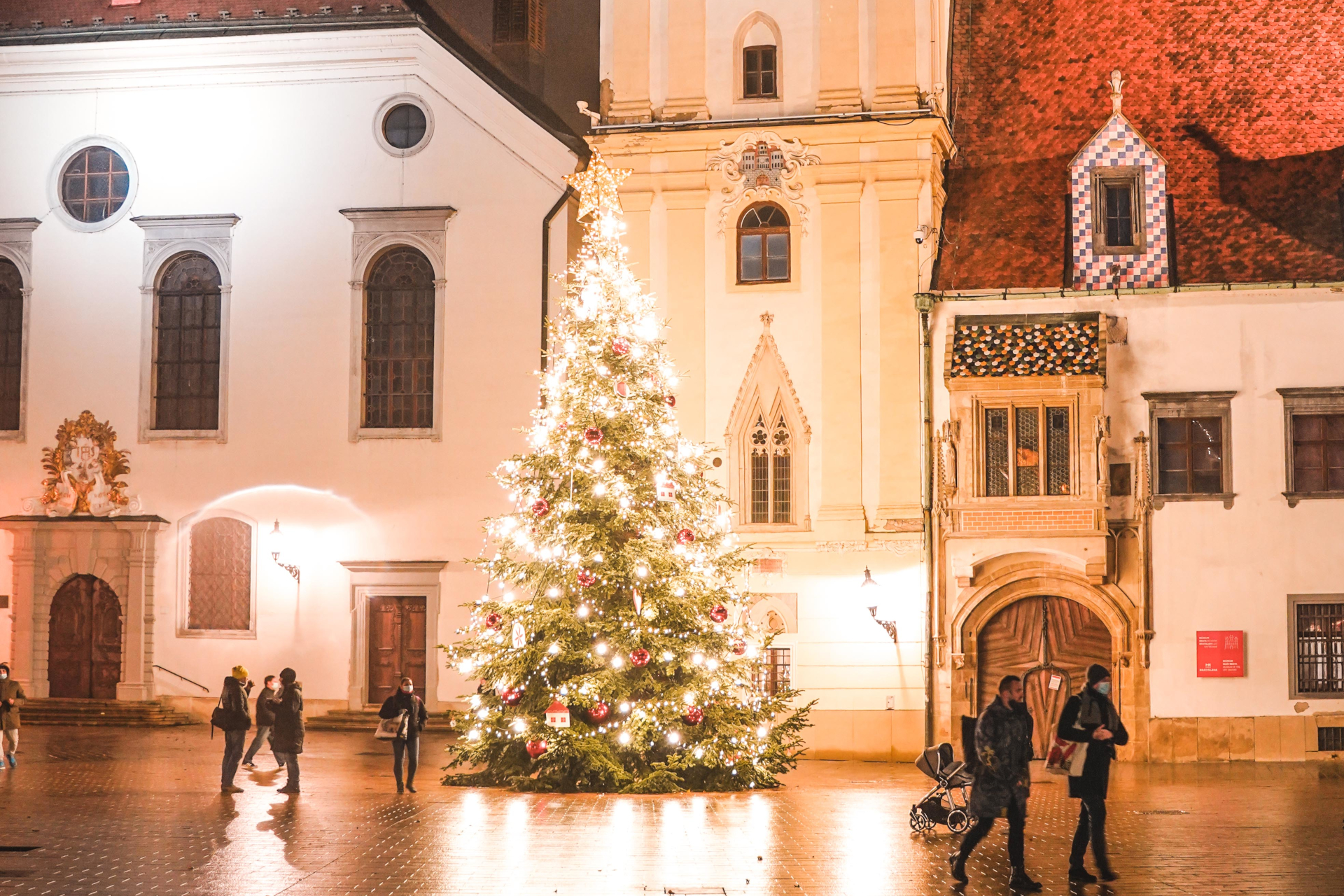 The Bratislava Christmas returns in full force. After two pandemic years, the popular Main Christmas Market with a cultural programme returns to the Main and Franciscan squares. However, Christmas mood will not only be present in the centre of Bratislava. Thanks to the involvement of city districts and metropolitan organizations, you will also find your way to various other places in the Slovak metropolis.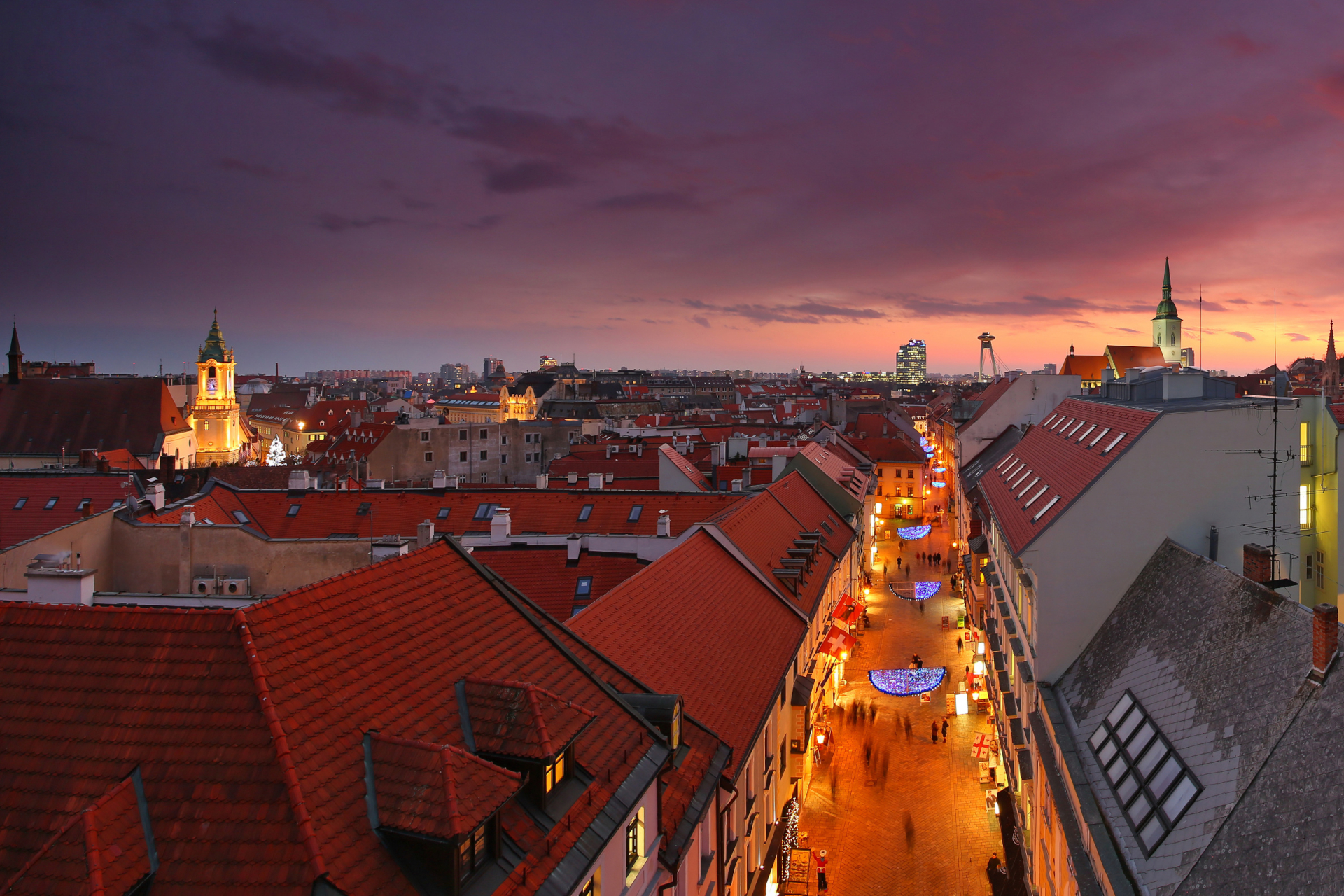 Just like children who open boxes in the Advent calendar day after day, you will also find an everyday programme on the streets of Bratislava that will pleasantly immerse you in the atmosphere of the approaching holidays.
The offer of Christmas amusement will be truly varied. In addition to the indispensable Christmas markets on the Main Square and Franciscan Square, the Bratislava Cultural and Information Centre will also bring you a manifold cultural programme. The stage on Franciscan Square will come alive every Thursday, Friday, Saturday and Sunday.
Thursdays will belong to live reading by Slovak actors translated into sign language. Thanks to the cooperation with the Municipal Library, you can listen to engaging stories every Thursday at 5 p.m. Fridays and Saturdays will be appreciated by music lovers. From 8 p.m. you can enjoy various concerts of Slovak musicians and bands. Sundays will be for little and big ones alike. The Christmas programme for families with children – theatre performances, performances of folk groups, choirs and primary art schools – will start at 2 p.m.
However, the programme will not only be part of the Main Christmas Market. Advent concerts, popular Saturday exchanges of clothes, toys and books, a collection for homeless people or children's creative workshops with Christmas themes await you in the Klarisky Concert and Exhibition Hall.
Swap of children's, women's and men's clothing will be at Klarisky Concert Hall on November 26th. Clothes that remain will go to people in need. At the same time, there will be a special collection of sleeping bags, thermos and cariments for homeless people. In the week of December 3rd, toys (with the exception of plush toys for hygiene reasons), children's books and kits intended for children under 14 years of age will be exchanged. All remaining toys will be afterwards donated to the Municipal Lodginghouse in Kopčany, Fortuna Lodginghouse in Dúbravka as well as to Centre for Children and Families Repuls.
All children will be welcomed in Klarisky the first two Advent Sundays. Creative workshops with ÚĽUV masters will be waiting there for them. Children can thus decorate gingerbread, as well as create Christmas ornaments made of wood, wire or wicker.
Christmas atmosphere will be replenished this year by Christmas Forest on Primate's Square, which will be created in cooperation with ÚĽUV and Bauhaus. Children from Bratislava primary, art and special primary schools will decorate the Christmas trees in the square with their own original decorations made of natural materials. The Christmas trees will later go to various charities, homeless people shelters and families in need. You can admire a decorated Christmas tree together with a nativity scene in the alcove of the Primate's Palace.
Even during Advent, you can get to know the capital with guides as part of the year-round series of thematic walks Dating with the city. In the coming weeks you would learn more about the villas above the Palisades, about the Christmas preparations of old Bratislava, and for families with children there is also a special St. Nicholas guided tour about legends. In addition, every Saturday from November 19th to December 17th, guides will conduct guided tours of the capital with interpreters into the Slovak sign language.
Christmas in Bratislava will also be ecological. The Christmas decoration of the city responds to the need to protect the environment. It uses as many decorations from previous years as possible, from which new items have been created after upcycling. Christmas atmospheric lighting will not contain any new lighting elements, their overall amount is lowered and the lighting time will be significantly reduced. At the Main Christmas Market, the returnable cups and compostable dishes will be used and consistent waste sorting will take place.
Gifts from the unique edition of Bratislava Icons are a novelty of this year. For sale are sweatshirts with a special design of Bratislava tiles inspired by the work of three Slovak artists: Miroslav Cipár, Ľudovít Fulla and Milan Dobeš. In addition, you can choose from three glasses with the design of the iconic Michael's Tower, Salvator pharmacy and Maria Theresa.
Get ready for the most popular holidays of the year with your loved ones, friends and acquaintances on the streets of the metropolitan city. Enjoy Bratislava Christmas and savour the Advent season in the capital from November 24th to December 22nd.