Tailor-made Bratislava
Get to know Slovakia's capital in an alternative way
Guided city tours are no longer just tour guide pedestrian walks following a raised umbrella. A novelty are the tailor-made tours! You can enjoy discovering the still unknown streets of the Old Town and also the beauty of Bratislava peripheral sights in combination with your favorite hobbies.
Bratislava on two wheels
The Cycling Route – Devín Castle in combination with a cruise on the Danube offers the possibility of exploring different images of Bratislava in a very short time. The oldest city park, the largest Slovak housing estates in Petržalka, the Danube embankment, Devín Castle and Most Slobody (Freedom Bridge) at the Slovak-Austrian border, nicknamed Chuck Norris Bridge. The way back to the center of offers the Bratislava skyline from the deck of sightseeing boat.
Price: €39 (guide, bicycle rental, boat ticket)
With the wind in your hair
Go ahead, enjoy the Danube the way you are supposed to – on board a speedboat. During the voyage you will also discover sights neither tourists nor Bratislava citizens usually encounter –  not only its historical parts, but also its new modern "look". The speedboats take you underneath Bratislava bridges up to Devín Castle towering above the Danube. Provided: Flora Tour, TOUR4U, Hot Chilli lode.
Price: from €25 for adults, from €15 for children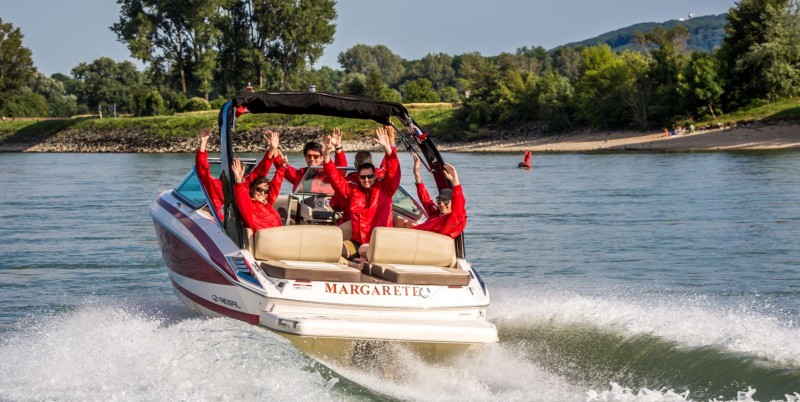 Tribute to the 275th anniversary of Maria Theresa's coronation
At a time when Bratislava was the capital of the Austro-Hungarian Empire, there were 19 kings and queens crowned overall. You will experience the coronation celebrations as they were held in the old day through the Coronation Bratislava tour. The procession progresses in the footsteps of the crowned heads from the Castle to the Old Town up to the Danube, and at the end the king's favorite dessert awaits you in a traditional café.
Price: from €120
Wandering through the world while running
Only you + sneakers + guide. The running routes through the city streets not only offer a discovery of Bratislava but also a pleasant cultural and sports experience. You can enjoy the Old Town, both sides of the Danube, Bratislava Castle, Slavín, the nature of Malé Karpaty (Little Carpathians), along with cultural life on the river bank. There are paths in length from 6 to 18 km, just choose from a varied offer.
Price: €15 – €45
Via a legendary train or small car
A ride on Bratislava's historical vehicle is one of the things you can't miss when visiting Bratislava. During the journey, the secrets hidden in the streets of the historic center will be exposed to you and you will enjoy the atmosphere of old houses, Art Nouveau cafés and small streets. Provided: Flora Tour, TOUR4U.
Price: from €8 adults, from €4 children
Mysterious Bratislava
Do you have the courage to discover the deepest secrets of Bratislava's Old Town? If so, accept an invitation for an evening stroll. You can meet the Roland the knight or Agatha the witch, and you may be lucky enough to see the shadow of the master headsman Hans Schweintz while sharpening an ax. The show ends in the "UFO" scenic tower.
Price: from €30