Konvergencie 2017 – a festival of chamber music
Konvergencie, the international music festival of chamber music is an annual feast in Slovakia. The visitors of the festival can look forward to pieces by classic masters, cross-genre overlaps, as well as film projections spoken word or a concert for children.
After the fantastic Bartok Project in February and a pair of successful concerts during Pohoda festival (Concert for Marián Varga, Uspávanky – Lullabies) comes Convergence, with artistic director and leading violoncellist Jozef Lupták and a program for the festival's autumn season for what is traditionally one of the most watched classical music events in Slovakia.
Monday 18. 9. 2017 / 7 PM / Concert Studio of the Slovak Radio
MILAN LASICA, PETER LIPA & BRATISLAVA HOT SERENADERS 
JURAJ BARTOŠ – BANDLEADER
When Time Stood Still is the title of the most recent of three successful albums (so far) by Milan Lasica and the Bratislava Hot Serenaders. Time will again stand still at Convergences 2017, where you will be able to savour this special encounter: a Slovak legend of the spoken (and sung) word in performance with the outstanding orchestra led by trumpeter Juraj Bartoš, in a repertoire of  sweet dance music of the 1930s and '40s. Charm, noblesse, sentiment, and the energy of the Jazz Age. And Peter Lipa as guest: that'll be "hot"!
Tuesday 19. 9. 2017 / 7 PM / Hotel Carlton
Music & Food in Carlton – MOZART, BEETHOVEN, ROSSINI, SCHUBERT, SAINT-SAËNS
Bread and butter, trout, tea for two, wedding cake, and songs about punch and wine… Convergences, together with the Hotel Carlton have prepared, as one of the festival's accompanying events, a light menu (and not only for the sense of sound) for lovers of music and gastronomy. Rossini as starter and dessert, Schubert as main course, Beethoven drains his glass. And a surprise to follow… The number of places for the concert is limited. INVITATION-ONLY.
Eva ŠUŠKOVÁ – soprano
Matúš ŠIMKO – tenor
Milan PAĽA – violin
Peter BIELY – violin
Martin RUMAN – viola
Jozef LUPTÁK – violoncello
Anton JARO ml. – double bass
Jordana PALOVIČOVÁ – piano
Wednesday 20. 9. 2017 / 8 PM / St. Martin's Cathedral
From Venice to Vienna (and Podolínec) – PERGOLESI, PORPORA, PANKIEWICZ, VIVALDI
In Convergences 2017 the Italian baroque Romina Basso unites her captivating contralto with the sound of the period instruments played by Solamente naturali, led by violinist Miloš Valent. Together, in Bratislava's St. Martin's Cathedral, they will make the music of the 18th century masters live. The concert will feature sacred music by Pergolesi, Porpora and Vivaldi, whose music has elicited a chorus of enthusiastic responses from critics internationally. Also to be included are works by Vivaldi which were preserved in the Piarist monastery in Podolínec and were part of musical culture on our territory in the 18th century (the ensemble, in collaboration with the music historian Ladislav Kačic, has recorded them on CD, Italian Concertos from Podolínec). Mystical, passionate, elevating, breath-taking: such will be the early music at Convergences.
Romina BASSO (Italy) – mezzosoprano
SOLAMENTE NATURALI
Miloš VALENT – violin, artistic leader
Thursday 21. 9. 2017 / 6 PM / design factory
Academy of Chamber Music of the Convergences Festival – ŠIMAI, BRAHMS, RAJTER, HAYDN, ZAGAR, MOZART, SCHUBERT A Ď.
A concert featuring the best graduates' ensembles of the Academy of Chamber Music, which was held in June at an assembly of the Slovak Youth Orchestra in Nitra. The event is being held in collaboration with the Music Centre. Admission is free.
Thursday 21. 9. 2017 / 7.30 PM / design factory
BEETHOVEN, BARTÓK, BRAHMS
Milan PAĽA – violin
Ladislav FANČOVIČ – piano
A recital by the outstanding Slovak violinist Milan Paľa (recently conferred with the Radio_Head Award for his recording of concertos by Szymanowski and Berg) and the versatile pianist Ladislav Fančovič, offers ravishing works by Beethoven and Brahms (in recent years these artists recorded Brahms's complete violin sonatas for Pavlík Records). The third "B" in the programme is Bartók's exacting violin sonata of 1922, which won recognition for the composer among the creators of European musical modernism.
Friday 22. 9. 2017 / 6 PM / design factory
BRATISLAVA CHAMBER MUSIC NIGHT
Famous and less well-known chamber works, performed by highly-reputed musicians from home and abroad during Bratislava's Night of Chamber Music: that is one of the identifying marks of Convergences. This includes a special "birthday recital" in design factory, featuring two renowned Slovak artists who have been associated with Convergences from its inception, the pianist Nora Skuta and the clarinettist Ronald Šebesta. The chamber music marathon will continue with works (rarely played in Slovakia) by iconic authors of European musical modernism, culminating in String Sextet in B Major by a native of Pressburg (old Bratislava), Ernő Dohnány. He composed this work when he was only 17. It'll be well worth holding out to the end!
Ronald ŠEBESTA – clarinet
Nora SKUTA – piano
Ronald ŠEBESTA – clarinet
Marek PASTÍRIK – saxophone
Milan PAĽA – violin
Nora SKUTA – piano
Milan PAĽA, Marián SVETLÍK, violin
Martin RUMAN, Peter BIELY, violas
Jozef LUPTÁK, Andrej GÁL, violoncellos
Saturday 23. 9. 2017 / 3:30 PM / DESIGN FACTORY
MAKROKOZMOS, Concert for kids
Béla Bartók
Sylvia THEREZA (Brazil) – piano
This time round, the traditional Convergences concert for children offers a selection from Bartók's well-known piano cycle Microcosm. These compositions, designed for musicians both small and large, with their unusual rhythms and harmonies offer access to the fascinating universe of 20th century music. In our opinion, "micro" is too weak a word for this experience, so let it be "Macrocosm"!
Saturday 23. 9. 2017 / 7 PM / DESIGN FACTORY
Sylvia THEREZA (Brazil) – piano recital
Heitor Villa-Lobos, Ludwig van Beethoven, Claude Debussy
A piano recital by a prominent Brazilian artist, who was the assistant and close collaborator of the legendary Maria João Pires. Besider her career as a piano teacher and a sought-after solo and chamber player, Sylvia Thereza is also active in educational projects in Brazil and Belgium, which have brought music to thousands of children from underprivileged backgrounds.
Sunday 24. 9. 2017 / 5 PM / Concert Studio of the Slovak Radio
Concert for MARIÁN VARGA – MARIÁN VARGA, VLADIMÍR GODÁR, DMITRIJ ŠOSTAKOVIČ, BÉLA BARTÓK, ARVO PÄRT
In music there's no point in a pretence of immutable borders. That is true of the work of Marián Varga (1947 ‒ 2017) and also of Convergences, which he inspired. A chamber concert of classical works is homage to this conspicuous figure in Slovak art music.
Marián SVETLÍK, Andrej BARAN – violin
Martin RUMAN – viola
Jozef LUPTÁK – violoncello
Katarína MÁLIKOVÁ, Boris LENKO – piano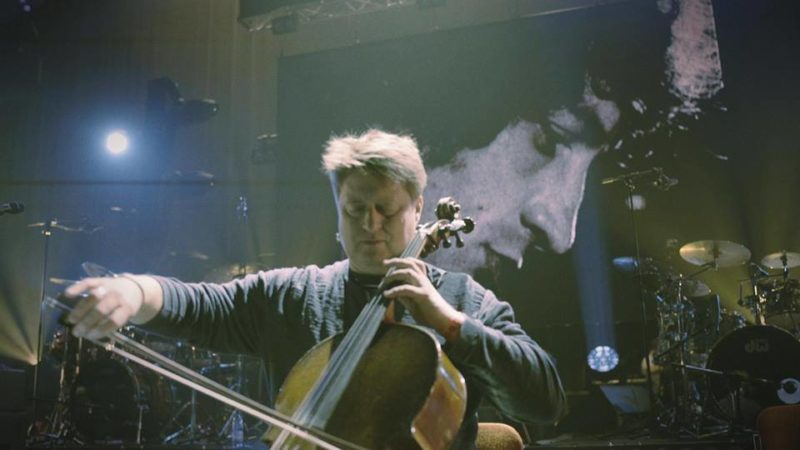 Sunday 24. 9. 2017 / 8 PM / Concert Studio of the Slovak Radio
ANTONIO VIVALDI, PETER BREINER, SULCHAN CINCADZE, BÉLA BARTÓK
Avi AVITAL (Israel), mandolin
CONVERGENCE PLAYERS
Peter BREINER, conductor
After an enthusiastic reception at his Slovak premiere in June, the phenomenal Israeli mandolinist Avi Avital returns once again in September, at Convergences. Following the jazz and worldwide music project Avital meets Avital, this time he exhibits his mastery in the classical repertoire. Accompanied by the festival orchestra Convergence Players, he will present works by Antonio Vivaldi, the Georgian composer Sulkhan Tsintsadze, Romanian Dances by Béla Bartók and InstaConcerto, a concerto for Instagram by the jubilee-making composer, pianist and conductor Peter Breiner, who will also perform in Convergences as a conductor.
Monday 25. 9. 2017 / 7 PM / Moyzes Hall
On an Overgrown Path
CAMERATA ZÜRICH (Switzerland)
Thomas DEMENGA, violoncello
Igor KARŠKO, violin, concertmaster
Boris FARKAŠ, narrator
Maïa Brami, text
Since its formation in 1957, Camerata Zürich has been one of the most important Swiss orchestral bodies in the fields of classical repertoire, contemporary music and various educational and innovative projects. The Camerata has been partnered in performance by world-renowned individuals and ensembles including Maurice Bourge, Ilya Gringolts, Kim Kashkashian, Tabea Zimmermann and The Hilliard Ensemble, among others. Since the 2011/2012 the prominent cellist Thomas Demenga has been the orchestra's artistic leader. During the summer, at the prestigious Luzerne Festival, the ensemble presented a programme combining works by classic Czech composers with a text by the French writer Maïe Brami (translated by Mária Ferenčuhová), which was produced specially for this project. Camerata Zürich will be led by the Swiss-based Slovak violinist Igor Karško, a regular guest at Convergences, and Thomas Demenga, the well-known cellist and artistic leader of the ensemble, will perform as soloist.
Tickets are available here: http://bit.ly/2u5gMEH