Pressburg Advent Calendar
Cross out the days until Christmas and enter the Advent contest on our Facebook page. Every day one of you is going to have your name drawn at random.
It's enough when you like or comment on the Advent message in the given day. We always draw the name one day after publishing the question.
The prize will be related to the question and you can claim it when you arrive in Bratislava. Just tell us the date when you'll be arriving in an e-mail to peterova@visitbratislava.com and we'll take care to see the prize goes straight into your hands. Gifts can be claimed by the end of March 2017.
We wish you a Happy and Merry Christmas!
Cross out the days until Christmas with us!
27) Many visitors ask us what they should try in Bratislava. We tell them that they shouldn't leave Bratislava without tasting Bratislava rolls! Whether with walnuts or poppy seeds, this delicacy from a special dough produced according to a recipe more than 290 years old will take you back to the days of old Pressburg! Bratislava rolls were extremely popular even elsewhere in the world. Although classically made with walnuts or poppy seeds, chestnut roles were also baked. These rolls were exported overseas twice a day in wooden boxes by the Wendler and Schwappach bakeries. Today they are again a part of Bratislava.
26) It just wouldn't be Christmas without Christmas carols, taking you back to your childhood years. This year the "Singing Balconies" will again be ringing in the Christmas season at Primaciálne Námestie. The most beautiful Christmas songs, gospel music and carols will be sung here by Slovak vocal ensembles. If you want to experience the true Christmas atmosphere of Bratislava, this should not be missed.
25) Do you wish to take an original Christmas gift home from Bratislava? Just stop at Slávica, a unique design shop in the center of town where you'll find original and quality items with soul! Come choose from clothes, jewelry, handbags, shoes, porcelain and other small knick-knacks from workshops of Slovak and Czech designers. You'll be charmed by the atmosphere of the shop as your Christmas shopping is handled with care and esthetically packed.
24) Bratislava lives and breathes hockey and this year the city will again be playing host to prestigious matches in the Kontinental Hockey League. During December several exciting matches will be played here between home team HC Slovan Bratislava and Russia rivals. The euphoria of a full hockey stadium, cheering wholeheartedly for "their" team to win is an experience you must see for yourself. Take back home from Bratislava an unforgettable hockey adventure.
23) Christmas without sweets? No way! J Here's an excellent tip about an even better coffeehouse you'll find only in Bratislava. Dobre & Dobré is a café with an incredible story. A beautiful interior in a fantastic location, combined with an exclusive local variety and quality service, it's a throwback to the past but without the meaningless pathos. During the day sip a delicious coffee and a light lunch, while in the evening enjoy luscious wines and craft beers. All this along with a neighborhood staff make Dobre & Dobré a unique place worth a visit. Come and you'll become a part of their story. DOBRE? (OK?)
22) Christmas is the season of love, joy and generosity. It's a time to thank those close to you for the year gone by and to delight in original trifles. At Bratislava's Christmas market you'll find a number of little things that'll put a smile on your face and yet remind you of those pleasant moments spent in Bratislava.
21) Advent is a magic time. The city shines with Christmas lights and the windows of local shops look like something out of a fairy tale. One such place is a flower shop located at Laurinská ulica and Hodžove Námestie – Prešporská Púpava (Pressburg Dandelion), joining the tradition of quality in putting flowers into bouquets with the flexibility of modern times. Stop at Prešporská Púpava to get into the Christmas spirit and light up your home with the most gorgeous Christmas arrangements.
20) Christmas in Bratislava this year is going to be exceptional. Bratislava Castle has opened its gates for the first time this Christmas season and so you can experience a Christmas atmosphere like nowhere else.  Waiting for you here are Christmas markets, a live Nativity scene and a projection of winter landscapes on the castle walls. In addition, you can find one of the most beautiful views of the city from the castle. Enjoy it with a cup of hot punch or mulled wine.
19) There's no doubt Bratislava Christmas is stylish and the Urban Market Winter Edition is truly the place to be for winter fashion, design, jewelry, accessories and creativity in many different forms. The Urban Market is a traditional part of the Christmas season in Bratislava, with unique opportunities to purchase original presents with soul, while supporting the local creative community. Besides the stalls, there are a number of side events including workshops, debates, concerts and post-concert parties.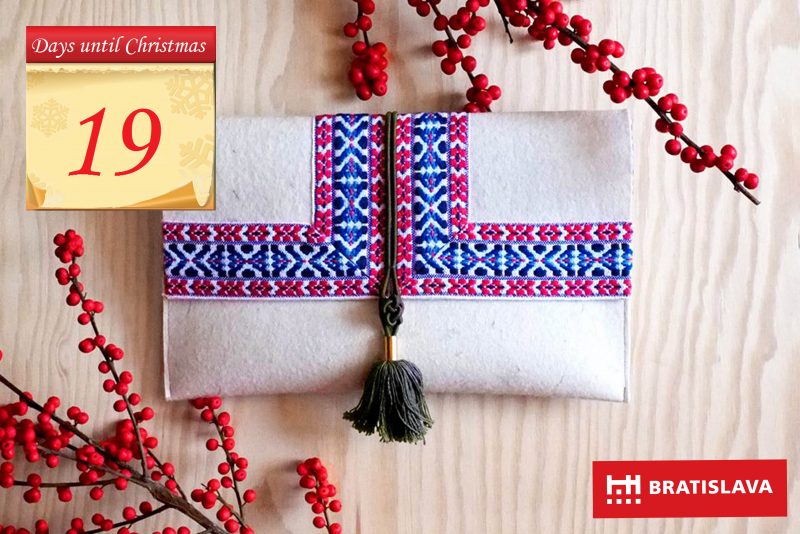 18) Today is St. Nicholas Day, a magnificent reason to please yourself and those you love. Experience the most beautiful Christmas ride ever and let yourself be carried away by the Christmas Tram, which starts gliding the streets of Bratislava right on this day. Watch the city light up from the comfort of inside the tram, which this year will be decked out like a living room. The Christmas Tram will take you along Jesenského Street to SNP Square, then past Obchodná, Radlinského, Vazovova, Špitálska and back to SNP Square, through the Tunnel, across SNP Bridge and back to Jesenského. The tram runs each afternoon and early evening 4:00 -8:00 PM until December 30, and there's free admission! So climb aboard.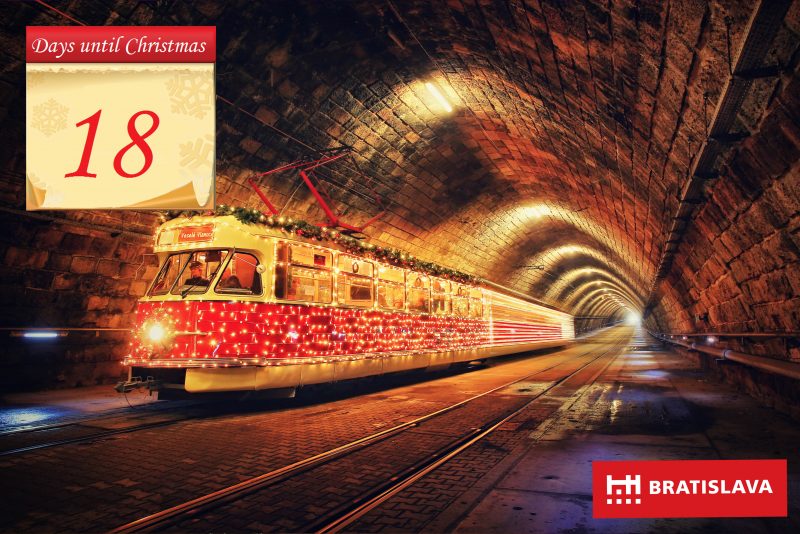 17) If you'd like take a moment to slow down and escape the Christmas rush, the Nedbalka Gallery is the perfect place to get away from it all. Lose yourself in the unexpectedly impressive interior reminiscent of New York City's Guggenheim Museum. Get to know the works of the most important artists in Slovakia from the end of the 19th century to the present. Four floors under a glass dome provide space for permanent exhibitions of Slovakia's modern art. The Nedbalka Gallery draws you into another world. To a world of fantastic modern art.
16) The irresistible scent of gingerbread has long been associated with Christmas and if you just cannot imagine the holiday season without sweets, then you will certainly be pleased for us to reveal to you where the sweetest shop in Bratislava is. Come visit the delightful Medový Obchod (Honey Shop) located in the city center and built on the family's beekeeping tradition. At Medový Obchod you can buy honey in all different flavors, sweet mead, healthy honey snacks and scented candles. Here you'll find gifts that just stick to you.
15) Give a gift made with love. Because true love is the most important ingredient of Christmas and something that can be found in every piece of Renáta Hermysova's hand-made ceramics. A traditional workshop called Majolika–R has operated since 1990 as a place where the human touch, love and wisdom of our ancestors can be seen in every majolica product alongside the many years of experience that goes into making them. Our own favorite is the Christmas edition where each Christmas ball ornament is absolutely unique.
14) A Bratislava Christmas is nothing but charming! J Enjoy the beauty of sightseeing from the warmth of the Prešporáčik (Pressburger Bus) as you tour historical as well as newer parts of Bratislava. Discovering the city in a fun way is something magnificent for both you and your sprouting children, to whom famous Slovak author Ľubomír Feldek dedicated his Detský Okruh (Children's Circle). Comfortably sit back and listen to stories of Old Pressburg in 14 international languages. The sightseeing tour of Bratislava all the way to the castle leaves daily from Eugen Suchoň Square, near the Slovak National Theater on Hviezdoslavovo Square, between 10:00 am and 4:00 pm.
13) Christmas is a season of generosity, love and peace, a time to be humble and accommodating, to celebrate traditions and the special magical atmosphere Christmas creates, as well as a time for sweets and special gifts. And all this can be found in just one coffeehouse in the center of Bratislava. Zeppelin Cafe & Souvenirs is a unique concept that combines "tradition" in the true sense of the word. The true Christmas atmosphere is molded both by how the cafe looks inside and by what it offers. Traditional cakes, pastries and drinks made on the premises with both traditional and unconventional recipes served with a smile and love. Immerse yourself in the holiday spirit, enjoy the true taste of Christmas cookies and buy gifts that cannot be found anywhere else.
12) There's no coffee like Coffee Brothers coffee and they know it well, staking their reputation on good quality coffee, tea and hot chocolate and on the tools they use to produce it. The aroma of their coffee enchants the streets of the Old City, pleasantly warming you in winter wanderings. These tiny 1930s contemporary coffeehouses adorn Bratislava and let you spend a happy moment each and every day.
11) From St. Lucy´s Day until Christmas every night has its own magic. As December 13 is the feast of St. Lucy and, as legend says, also the day when the biggest witches appear, so it is sometimes called "Witches' Day".  In the past, St. Lucy´s Day was celebrated with rich customs and traditions that have today fallen into oblivion. But if you want to get away from the Christmas season stereotypes and experience the demonic atmosphere of the day, we have an excellent tip for you. The Bratislava City Museum has an ongoing exhibition in the basement of the Old Town Hall on "The Barbarity of Torture" to leave shivers running up and down your spine.
10) To get to know the true spirit of Bratislava, come to Dobrý Trh (in English "The Good Market") to see the city in a "different light". Dobrý Trh has local products, original designs, quality food and wonderful people rolled into one! Whether you are a Bratislava native or just visiting the city, you will feel at home here. Christmas lights have been put up, ice sculptures carved and there will be performances by choirs and exhibitions by artists. So visit the Old Market (Stará Tržnica) and surrounding neighborhood this weekend!
9) The winter months are perfect for visiting a gallery, a useful way to spend your leisure time and especially relax your mind. Highly recommended is the Bratislava City Gallery, the second-largest in Slovakia in both space and significance. An interesting fact about the gallery is that it is spread out over two buildings. Both the Mirbach Palace and Pálffy Palace are architectural gems. Give your closest relatives an artistic experience and enjoy the extensive art collections from Slovakia and abroad.
8) Most of us nostalgically remember Christmas as a time your thoughts return to carefree childhood days. And such nostalgic moments can be indulged in Bratislava when you visit the Oldest Shop in Town. Authentic furniture and billboards from the early 20th century leave the impression that you have travelled back in time. And in addition, you can glance at the small museum shop which is a part of the Oldest Shop in Town. Here you can buy the best of what Slovakia has to offer: typical and traditional products ranging from Bratislava rolls and traditional Devin currant wine to "celestial" Slovak chocolates and the nice little things produced by masters of folk art.
7) Christmas is a world of fairy tales, the joy children feel and of wishes come true: all the important ingredients no one could ever imagine Christmas without. And in Bratislava you can find them in one place, at the Bon Manufaktur! Come to this kingdom of confectionaries and see with your own eyes how candies are produced.  Watch the skillful hands of master confectioners and open your eyes to all the secrets hidden in magic caramel. Immerse yourself into the fabulous world of sweets and discover the magical incantation concealed in the Caramel Castle.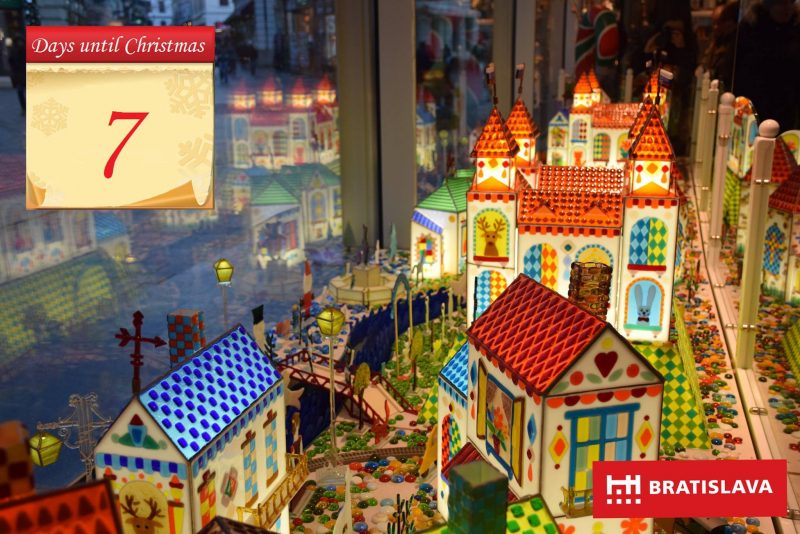 6) There are only six days left until Christmas, but if you still haven't gotten all your gifts, don't panic. There is still somewhere you can go. This yea,r Eurovea has prepared a grand Christmas for you. Purchase a gift and you can have it wrapped, extend parking, get a ride home or even get your car washed. And after shopping, just relax at the delightful Christmas markets over mulled wine or Christmas punch. To have Christmas without the stress is priceless, and Eurovea knows it.  So treat yourself, too to the best shopping on the Danube.
5) Are you running out of ideas for Christmas gifts? Slowatch won't leave you in the lurch. You'll find a great selection of cool things, accessories and fashion from top brands both around the world or right at home. A gift from Slowatch will certainly be the most original under the tree and whoever's going to get it will just go wild. When you purchase more than €100, there'll even be a special flask of Jameson Whiskey put in the cart as our gift to you, while supplies last. So hop to it, there's still time left.
4) Christmas in Bratislava is so charming! And all the more when you have it right at your fingertips. So let yourself be whisked away for a moment by a UFO and enjoy a magical view of Bratislava! UFO WATCH.TASTE.GROOVE incredible sights and two top-flight bars and a fine-dining restaurant are all waiting just for you. Simply the perfect gourmet experience from 95 meters up. The adventurous ones can go outside to the UFO observation deck above the restaurant to enjoy a panorama that will take your breath away.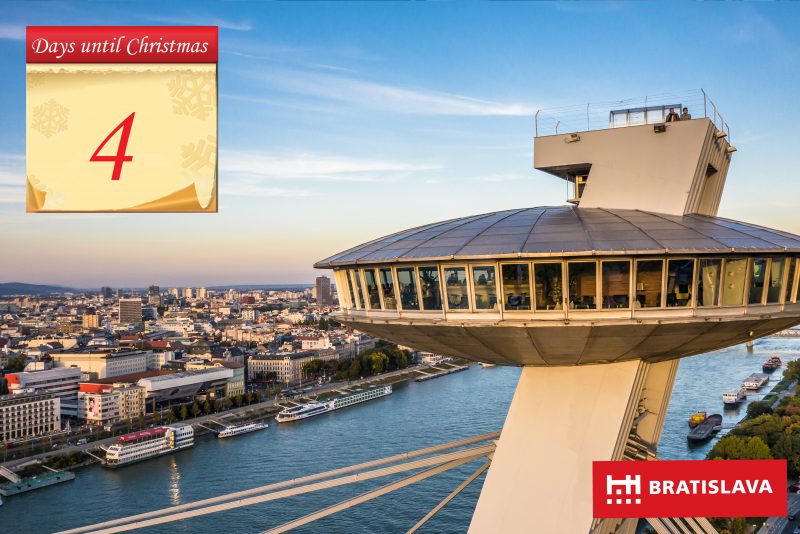 3) We have the recipe for putting a smile on the face of the little ones when they look under the tree. Just visit Pán Medvedík (Mr. Teddy Bear) in the heart of old Bratislava. If you're looking for toys, games, books, designer clothes or accessories, you'll find them here – a selection that leaves you enough room for variety and surprises. At Pán Medvedík you'll find global brand clothing alongside authentic and simple wooden toys; bubble blowers sitting on the shelf next to a collector doll. The shop's desire to create an original selection of Slovak and foreign products reflects a passion for beautiful things, feeling, for quality and also courage and humor.
2) Stop for a while, be together and relax for a while at U Gulky, a special little bakery and sweet shop located in the heart of Bratislava, bringing back the concept of slightly forgotten the classical confectionary to the capital. Gulka & Radka offer you cookies and coffee on the spot, served with love, and they'll even bake a cake to your liking. Here you can have breakfast anytime during the day. U Gulky definitely contributes to the magical experience Bratislava leaves on you.
1) Tomorrow we'll be celebrating the most beautiful day of the year. But today many homes are making the final, big preparations so that the next day everything will be the best. We know that you're cooking, wrapping and decorating right now. But even as you bury yourself in all these obligations, don't forget what the true meaning of Christmas is. To be together, enjoying yourselves and sharing the joy. So hurry out with the children to an open air skating rink or watch a fairy tale together. Remember when you wake up the next morning it's going to be Christmas!