The bulbous yet elegant copper roof of Michael's Gate is one of the symbols of Bratislava.
Of the originally four gates to the original city walls, only the northern Michalská gate has been preserved. It was completed in the 14th century. It was named after the Gothic church of St. Michal, which was located before the fortification and was demolished in the 16th century due to incursions of Turkish troops. Since its creation, it has been extended several times until it got its final appearance in the 18th century, shortly before almost all of the city's fortifications were demolished.
Due to its high onion-shaped roof, the gate tower is one of the landmarks of the Old Town. The balcony offers a panoramic view of the castle hill, the roofs and towers of the city, as well as the villa district in the hills.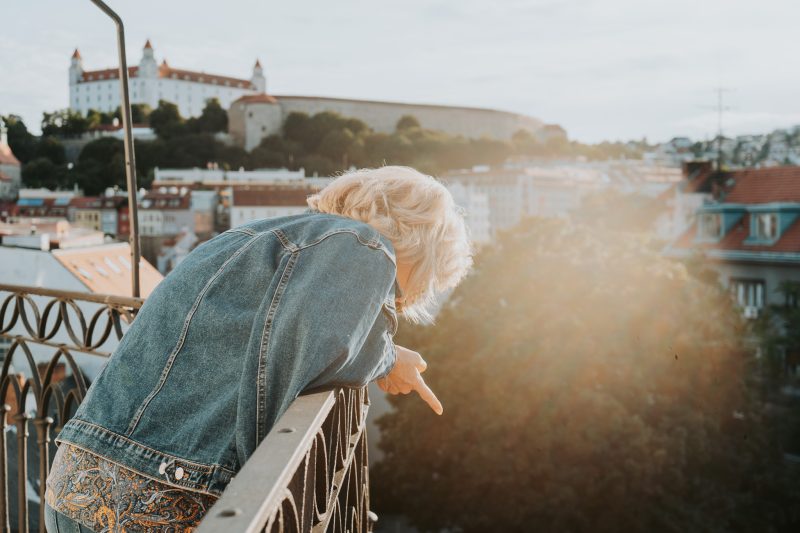 Photo: MMB
Statue of Archangel Michael
In the head of the statue, there is a time box from 1758, which contains documents from the 18th and 19th centuries, period currency or bills of exchange after the devaluation of the currency at that time after the state bankruptcy, a box with the relics of nine saints sealed in sacred wax, but also copper plates, names of members of the so-called of the wider and narrower city council or paper with German text with the names of the makers of the helmet truss together with a message in the form of a request for prayer for their souls. During the renovation in 2023, another item was added to the mailbox, which was chosen by the public.
Photo: MMB
Photo: MMB
Tickets are on sale at the Pharmacy at the Red Crab at Michalská 28 (20m from Michalská veža).
Basic admission: €6, you can find more information about discounted and family admissions HERE.
Kilometer zero
Under the gate there is a zero kilometer with world sides, which shows the distance of European and world capitals from Bratislava.
Extra tip: The narrowest house in Bratislava and Europe
On the right side, next to the Michalská gate, the house number 15 is close to the Michalská veža. It is said to be the narrowest house in Bratislava but also in Europe with a width of only 1.30 meters.