Discover Bratislava with family, friends, or colleagues. Our professional guides will show you around the historical city centre and its close vicinity. If you wish to explore what lies beyond the city limits, set out on a journey to the popular Little Carpathians Region to learn more about its traditions, handicrafts as well as rich wine growing and winemaking history.
Themed Walking Tours
1. Bratislava – Pressburg – Pozsony
Would you like to know when the first settlement was built within the territory of today's Bratislava? Which ruler granted the town the town privileges or what treasures are hidden in the Primate's Palace? All these facts and much more you will learn during the tour of the historical city centre.
Duration: 1,5 – 2 hours
2. Coronation Bratislava
For more than 250 years, Bratislava, was the coronation town of the Hungarian Kingdom. Join us to follow the traces of the coronation procession and breath in the atmosphere of coronations. Each crown cast in the pavement will remind you of one of the Habsburg rulers and their wives who were crowned here.
Duration: 1,5 hours
3. Myths and legends of old Bratislava
Would you like to learn more about an Oathbreaker from the Old Town Hall, ghosts from Zelená Street, Black Lady on the Michael's Tower or Little Taunter in Panská Street? Let yourself be guided through mysterious lanes of Bratislava and immerse yourself in myths and legends, which have been transferred from generation to generation.
Duration: 1,5 hours
4. Famous personalities in Bratislava
During the tour, your guide will introduce you to the life and work of a number of distinguished famous people who were born, lived or worked in the territory of today´s Bratislava. Join us to explore the places connected with the life of Johann Wolfgang Kempelen, Johann Andreas Segner, Johann Nepomuk Hummel, Viktor Tilgner, and many others.
Duration: 1,5 hours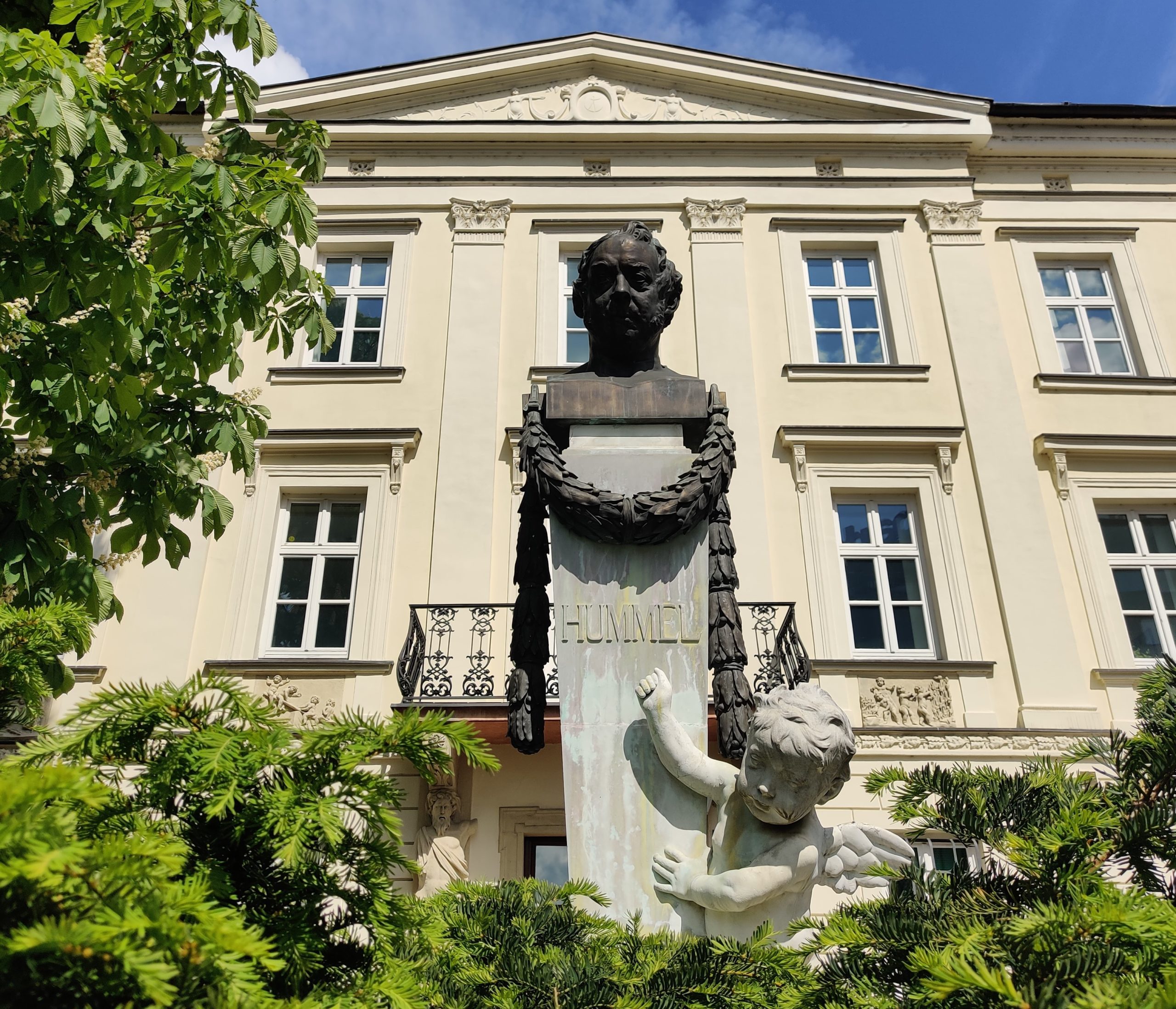 5. Sacral Bratislava
Explore the architectonic and iconographic diversity of churches and monasteries, their historical
contexts and their current use. You will learn which monastic orders still take care of the ill, but also how monastic orders participated and still participate in education of the young.
Duration: 2 hours
6. Jewish Bratislava
This city tour uncovers the centuries-old history of the Jewish community in the town and reveals a great deal about its everyday life, culture and traditions, including the troubled period of the World War II. and the demolition of the Jewish ghetto.
Duration: 2 hours
7. Musical Bratislava
The tour is aimed at places connected with performances or work of famous, as well as lesser-known musicians in our city. To mention just some of them: The prodigy, piano virtuoso and composer J. N. Hummel was born in Bratislava and a museum is dedicated to him. The visits of his teachers W. A. Mozart, J. Haydn and his friend L. van Beethoven are remembered. Not to forget also F. Liszt, the piano virtuoso and "musical patron of Bratislava", his friend the one-handed pianist G. Zichy, his son-in-law H. von Bülow and his rival A. G. Rubinstein.
Duration: 2 hours
Bratislava Roundtrip – walking & bus tour
Do you prefer to enjoy the atmosphere of the town from the comfort of a bus? This combined city tour will allow you to discover the historical pedestrian area of the town as well as some of the more distant places of interest, such as the Presidential Palace, the Bratislava Castle or Slavín – the impressive World War II. monument.
Duration: 3 hours
Note: If you do not have your own bus, we are happy to order it for you.
Little Carpathians Roundtrip
Take a look into the soul of the Little Carpathians Region, and discover its long, though relatively little-known history, preserved local crafts and numerous wine cellars hiding barrels full of light, refreshing wine. A visit to the Červený Kameň Castle and a local factory producing the famous Modra majolica will be followed by tasting some local wine and gastronomy specialities.
Duration: 6 hours
Note: If you do not have your own bus, we are happy to order it for you.
TAILOR-MADE TOURS
We can prepare a special programme in Bratislava and its surroundings upon your individual requirements and needs. We are pleased to adjust our offer of tours also to schools, seniors or the disabled visitors.
HOW TO BOOK THE TOUR
It is necessary to book the tour min. 3 working days in advance. either by e-mail or by a phone call using the contact details listed below. Mandatory orders are accepted in a written form (also by e-mail) only.
In your order, please, mention: 
type of the tour
date and hour of the tour
language of the tour
meeting place
number of persons in the group
method of payment – invoice or payment at the TIC in cash or by credit card
name and phone number of the contact person of the group
Cancellation policy
up to 24 hours before the start of the tour – 50% of the total price of the tour
on the day of the tour – 100% of the total price of the tour
pre-booked transportation – according to the current cancellation policy of our suppliers
Contact
Tourist Information Centre
Klobučnícka 2, 811 01 Bratislava
Tel.: +421 905 848 407
E-mail: guides@visitbratislava.com