*Recommended by Bratislava Tourist Board
Only rarely does the moniker "stylish hotel" so aptly fit a hotel as it does the Falkensteiner Hotel Bratislava. The architecture and design create an atmosphere of peerless modern lifestyle – a refreshing breeze in the city's map of hotels. The extravagant style and top-quality furnishing of all the hotel premises, from the rooms through to the restaurant and bar to the relaxation centre Acquapura City SPA, give incomparable comfort pampering both business guests and holidaymakers.
Pilárikova 5, 

811 03

 Bratislava, Map
+421 2 5923 6100

*Recommended by Bratislava Tourist Board
The Hotel NH Bratislava Gate One has for a number of years ranked among the TOP 10 hotels in Slovakia (TripAdvisor). A modern and smart 4-star hotel with unique architecture offer all a guest may wish for: quality service, modern design and professional staff. It is located near the airport and only a 15-minute drive from the historical centre of Bratislava.
Download the booking form HERE
Please, fill out the form and sent it back to rsvt.nhgateone@nh-hotels.com
Ambrušova 7, 

821 01

  

Bratislava

+421 2 3277 0110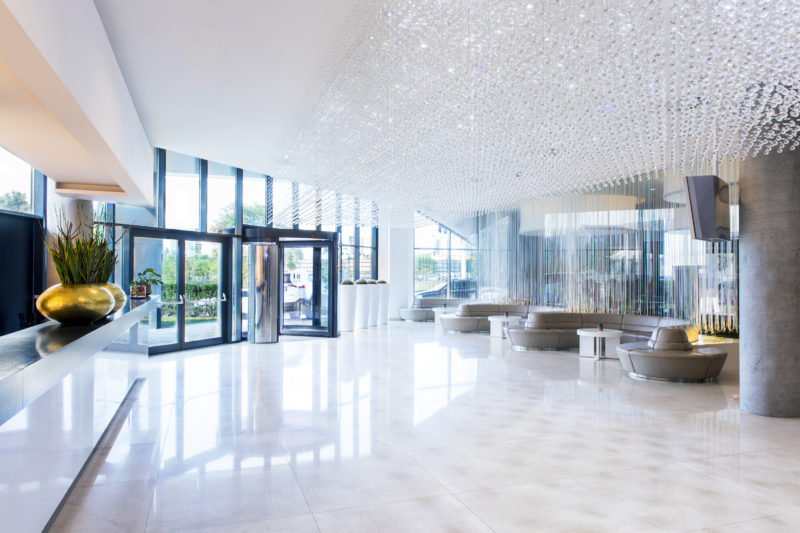 *Recommended by Bratislava Tourist Board
The stylishly casual Lindner Hotel Gallery Central is situated on top of the new shopping center Central, whose rooftop has been designed as a park. Most of the rooms and the bar and lounge offer guests a spectacular view of the historic part of town and Bratislava Castle, the city's landmark. Prominent location in a park located on the roof of a new shopping center. The historic part of the city is within walking distance and public transportation can be found close to the hotel. The hotel is centrally and conveniently located, not far from the airport and the motorway. 222 rooms, suites and corner suites, as well as handicapped accessible double rooms. The Outlook Bar & Lounge on the 13th floor of the hotel can accommodate approximately 60 people and offers a fantastic view of Bratislava Castle. Direct access to the shopping center with more than 150 stores and boutiques, as well as to a fitness center boasting a 25-meter indoor pool that is located in the building complex.
Download the booking form HERE
Please, fill out the form and sent it back to reservations.bratislava@lindnerhotels.com
Metodova 4, 821 08 Bratislava
+421 2 3993 0004/5
*Recommended by Bratislava Tourist Board
Crowne Plaza Bratislava is a first-class hotel in the heart of Bratislava. It combines its excellent location, comfortable accommodation and modern conference premises with perfect cuisine.  The hotel is situated in the city's centre with a view of the Presidential Palace, only a couple of minutes walk from the historical centre and the famous Bratislava Castle.
Download the booking form HERE
Please, fill out the form and sent it back to reservation@cpbratislava.sk
Hodžovo nám. 2, 

816 25

  

Bratislava

 +421 2 5934 8111

*Recommended by Bratislava Tourist Board
A modern renovated hotel with a long history. Since 1974 the hotel has been providing accommodation to demanding business clientele as well as tourist groups.
Download booking form HERE
Please, fill out the form and sent it back to reservation@hotelbratislava.sk
Seberíniho 9, 

821 03

  

Bratislava

+421 2 2060 6100

*Recommended by Bratislava Tourist Board
Discover a contemporary hotel in the historical Slovak capital of Bratislava. Situated at the crossroads of the city´s business, cultural, sport and historical districts, our hotel offers the best solution to both business and leisure travelers. This modern business hotel attached to the Ondrej Nepela ice hockey stadium is 10 minutes from Bratislava's historic city centre, 7 minutes from the Bratislava Airport and only 50 minutes from the Vienna International Airport.
27 A Trnavská cesta, 831 04 Bratislava
+421 2 3234 0111
Saffron Hotel is located just a few steps away from the historical center of Bratislava, which enchants with its landmarks every visitor. The hotel provides customers the highest quality services. Its modern equipment and individual approach to your needs makes it suitable to be the best choice for a unique and memorable stay.
Radlinského 27, 811 07 Bratislava, Map
+421 2 212 99 301
Ideal location in Bratislava city center on Dunajska street. Close to the modern entertainment center Eurovea on the banks of Danube river (5 minute walk). Modern accommodation suitable for every need of a business traveler. It offers well equipped 24/7 fitness centre, DeLuxe rooms with superior comfort (3 LCD TVs – in the living room part of the room, above the bed and in the bathroom, whirlpool), Rich buffet breakfast of breakfast menu prepared by our chef free of charge.
Download the booking form HERE
Please, fill out the form and sent it back to hotel@danubiagate.sk
Dunajská 26, 811 08 Bratislava, Map
+421 2 206 65 500
You can find here comfortable and pleasant accommodation in various types of rooms according to your preferences. The hotel is situated in cosy square with well-known Lovers fountain. There are several types of rooms in the hotel which are classified in two categories Comfort and Deluxe. Several times awarded St. Hubert Restaurant is well-known for its venison dishes and excellent international cuisine. The menu turns back to the traditional and long term successful specialities as Red deer medallions served with chestnut pure, Beef tenderloin steak served with cèpes sauce, Venison goulash or traditional Blackberry turnovers sprinkled by ground nuts.
Make a reservation HERE:
hotel@apollohotel.sk
Promo code: OSCE
Dulovo nám. 1, 821 08 Bratislava, Map
+421 2 55 968 922
The 1st Feng Shui designed hotel in Bratislava. All of our interior are carefully design to align all Feng Shui. The location of our hotel is easily reachable from all major stations, highway or airport. Our wi-fi connection reaches the most accessible speed to allow you solve your business, be touch with your family, or just enjoy a movie late night.
Priekopy 20/A, 821 08 Bratislava, Map
+421 2 4949 1055
Hotel Tatra is proud to its almost ninety-year history, hundreds of satisfied guests, highly qualified staff and an attractive location in the city centre. Hotel offers to the guests 200 comfortable rooms – 58 single rooms, 134 double rooms and 8 luxurious suites. Barrier-free access is possible to all the hotel premises. Thanks to professional approach, exclusive accommodation and congress rooms, Hotel Tatra established itself as one of the top accommodation facilities in Bratislava.
Make a reservation HERE
Pomo code: OSCE
Námestie 1.mája 5, 811 06 Bratislava, Map
+421 2 5927 2111
Unique 4-star Bratislava hotel with 175 designed rooms. The hotel is located in the city centre within 10 minutes walk from the Bratislava castle and the downtown shopping area. With great location, close to business centres and tourist attractions, this hotel will meet your expectations. Chill-out and bar area available for you to relax. Coffee and tea facilities in all rooms, Wi-Fi, fitness and Privilege lounge. Meals and drinks available 24/7. The hotel offers 7 meeting rooms (max. capacity 180 pax).
Žabotova 2, Bratislava 811 04, Map
+421 2 5727 7000
Ibis Bratislava Centrum is ideally located in the heart of the city, at the entrance of the Old Town's pedestrian zone and at the foot of the Castle. The hotel is easily accessible by public transportation and to most attractions. We recently refurbished all rooms and public areas, providing New Generation Ibis rooms with AC, free WIFI, full buffet breakfast and bar with snacks . Facilities for disabled guests are available. We are committed to the environment (ISO 9001/14001 certification).
Zamocká 38, 811 01 Bratislava, Map
+421 2 5929 2000