Witnesses to the Coronation
St. Martin Cathedral
The Cathedral dedicated to St. Martin of Tours and the Holy Savior has never been the most representative of cathedrals in the former Kingdom of Hungary, but its favorable situation inside a city that had not been occupied by the Ottoman Turks and so close to Vienna allowed it to be the Coronation Cathedral for almost three centuries.  The coronation ceremonial hall still resembles to this day how it looked back then, with a gilded replica of the Holy Crown of Hungary at the top of the tower, while an incomplete list of the kings and queens crowned in the hall is painted on the wall to the left of the altar. The numerous bishops and noblemen who took part in the coronation have been laid to rest in the crypts underneath the cathedral.
Bratislava Castle
The symbol of today's Bratislava is the Castle, where the Kings of Hungary had resided since 1536 and in its southwest tower the crown jewels were guarded starting in 1784. Its splendid rooms were often filled with noble guests, especially at coronations. After a fire in 1811, the Primate's Palace and Grassalkovich Palace became the temporary residences of Hungary's rulers.
Main Square
The Main Square is dominated by a fountain with a statue portraying Maximilian, the first king to be crowned in Bratislava. Just a few steps away is the Franciscan Church, where the king dubbed his knights, and the Primate's Palace, the home of the Archbishop and the place where kings would be accommodated and the feast celebrating the coronation would be held.
Michael's Gate
Michael's Gate is the last remaining gate from the city's fortifications. It is named after St. Michael the Archangel. It was through this gate that the coronation procession left the city for an open area outside the city walls where the new ruler would take his solemn oath.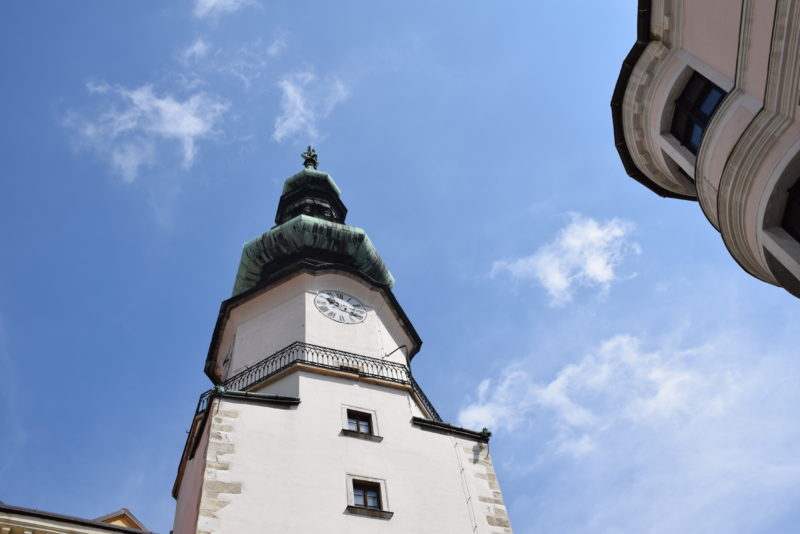 Coronation relics
In addition to these historical buildings and landmarks, religious objects from the coronation period are preserved in St. Martin's Cathedral, while coronation medals, tokens and other coronation associated relics are kept in collections and exhibited at the Slovak National Museum and Bratislava City Museum. In addition, pictures hang at the Bratislava City Gallery and documents from that period are retained in the City Archives.