Festival of tradition handed down
Unlike many folk cultures, Slovakia's is alive and kicking. This is a proof
Still filled with its own poetics and dynamic esprit, traditional culture is popular in Slovakia, its capital not exluding. A lively period of year, May Balls season proves this every single spring. Time in the past known for its boisterousness and gaiety in due of celebrating love and new life now brings a three-day interactive festival of traditional culture to Bratislava.
On the last weekend of April, several venues in Bratislava will host another unique Festival of tradition handed down, a tribute to all those precious traditions preserving and depicting the way of life that have come down to us. Do not miss many interesting and interactive dance, music and creative workshops for children and adults under the leadership of the leading personalities of Slovak folk revival movement from different cultural-historical regions of Slovakia.
Cheerfulness expressed in dance is not enough, therefore you can look forward to engaging demonstrations of various phenomena of the intangible cultural heritage, interactive workshops, traditional puppet theatre or concerts. Do not miss to attend the typical May tradition of putting up the maypoles.
Enjoy the time-proved knowledge and skills in a very pleasant way, join the festival of preserved traditions.
In recent years, folk culture has become more and more popular, and new generations of people has fallen for its various forms. Combining traditions and motion of the dance is one of the most engaging ways to bring the art of the ancestors closer to everyone who likes dancing. In addition, The House of Traditional Dances series of the Dragúni NGO has received a prestigious award. In 2018, it was included in the Register of Best Safeguarding Practices in Slovakia. The House of Traditional Dances is thus officially the best traditional dance in Slovakia.
Rich cultural resources, unique geographic location preserving various shades of temperament, natural communicativeness of music, dance and interactions with the public are the fundamental pillars on which the project The House of Traditional Dances was built. It has been organised in different towns and cities of Slovakia regularly since 2002. The art project applicable in any region of the world makes space for active entertainment – direct enjoyment and development of traditional music-dance art in its entire spectrum. Festival of tradition handed down belongs to chain of events annually organized within The House of Traditional Dances project.
A flexible and well-working concept based on knowing the history and traditions, and respecting it, has the ambition to enable all participants to experience first-hand – and help create – a splendid atmosphere of live music, making it a good prospect for applying the project in local, national, international and inter-genre context. As you see, Dragúni NGO hold Slovak traditions in high esteem.
Come over to celebrate traditions passed down from generation to generation. Spend a big time enjoying superb rhythms, fabulous music, gorgeous people and great atmosphere. All under supervision of leading personalities of Slovak folklore movement, all for pure joy of life shown in music, sing and dance.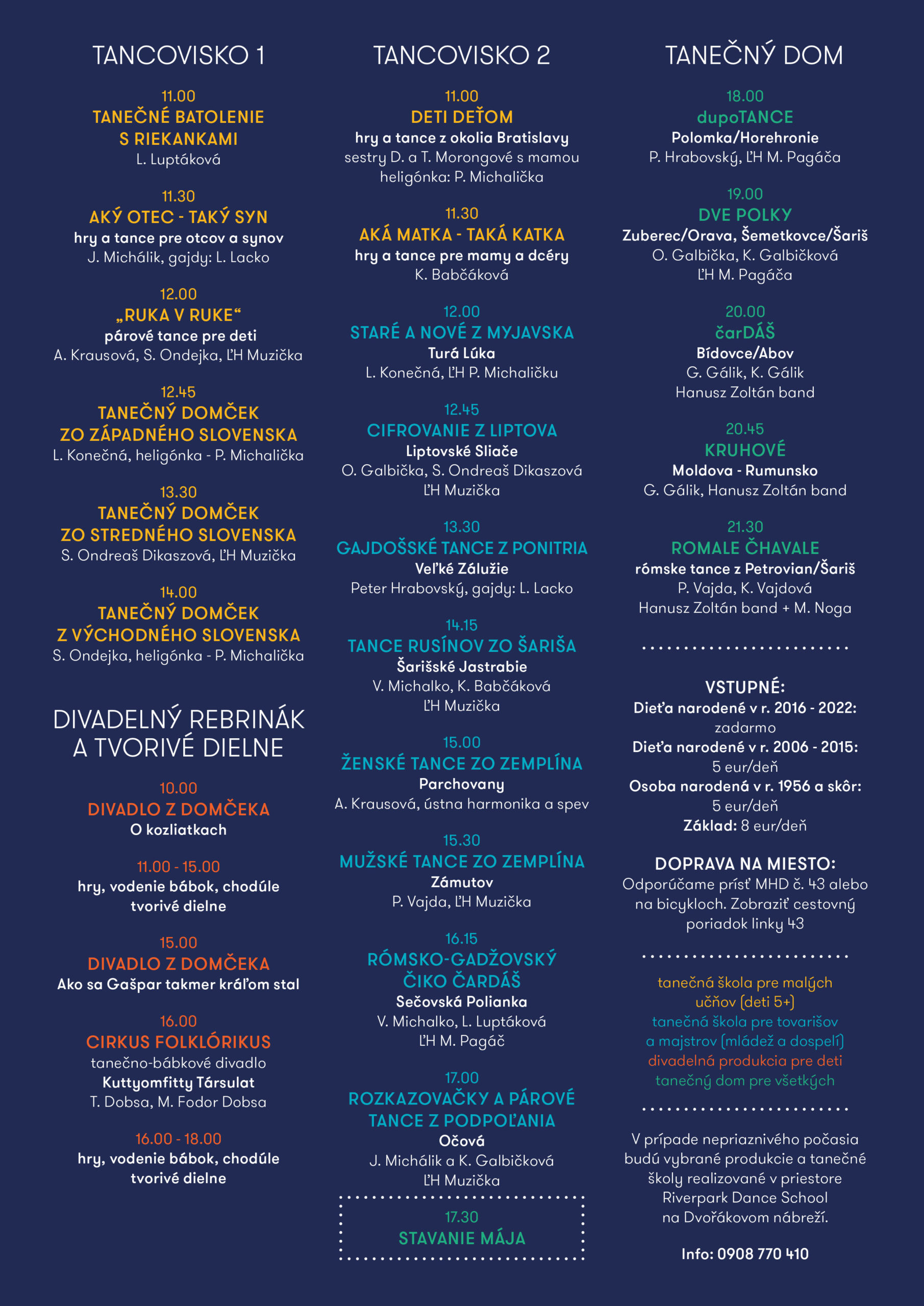 ADMISSIONS
Adult person: €8 / day
Adult person born in 1956 or sooner: €5 / day
Child born 2006 – 2015: €5 / day
Child born 2016 – 2022: free of charge
Tickets are available at particular venue before event
Dance and craft workshops are suitable for children over 5 years of age
Click on the banner to see the Facebook Event Page: