Spring holidays in Bratislava
You don't have to go into the countryside for the true flavour of Slovak Easter, you can enjoy this special time of year in the city, too
Easter is the biggest holiday in the Christian calendar. In Slovakia, it is also the harbinger of Spring as it represents life, strength, and fertility – all symbols associated with the arrival of Spring, rebirth, and renewal since time immemorial.
For Christians, however, Easter is first and foremost a spiritual holiday. It is preceded by 40 days of fasting, which begins on the day after the culmination of Carnival. During this time, Christians are not meant to party and they should abstain from alcohol and avoid eating meat. The fasting period ends at Easter, a holiday of joyful customs and tables laden with traditional delicacies.
Women and girls, in particular, get dizzy when they hear the words "spanking" or "soaking". Bratislava was once awash with the braided willow whips traditionally used for the spanking custom at Easter. Some of them were up to two metres long. If you go to a Bratislava district such as Vajnory, you'll still find traditional whips and you'll even come across locals dressed up in traditional costumes. In the villages surrounding Bratislava, it was also customary to soak the girls with water. The girls would then reward the young men who had done this to them by giving them painted eggs or money. The purpose of this custom was that it would supposedly keep the girls healthy and beautiful until the next Easter.
These days, dishes such as eggs, smoked ham, potato salad, and smoked meats are an Easter classic in Bratislava and across Slovakia. In the past, lamb or goat was also roasted in old Pressburg, and other must-haves were sausages, smoked ham, horseradish, and, for dessert, sponge-cake lamb, strudel, or Bratislava rolls.
Try out some local Easter customs in a more modern, symbolic form. Plait a whip, paint eggs, and make Easter floral decorations out of catkins and golden rain (Laburnum anagyroides). Top it off with a feast of smoked meat and mayonnaise salad, followed by sponge-cake lamb for dessert.
After all that deliciousness, a little exercise wouldn't go amiss. The first warmer days of the year will tempt you out to enjoy the fresh air and recharge your batteries. Explore Bratislava's popular cycling routes and take a bike trip along the Bratislava Dam or to Bishop's Meadows (Biskupické luhy). The city offers cycling tours for all sorts, whether you want to discover the history of Bratislava on a leisurely ride or have a go at more challenging routes. Numerous cycling routes around the Danube link Bratislava to neighbouring Austria, Hungary, and the Czech Republic. Skaters can often be found weaving among the cyclists.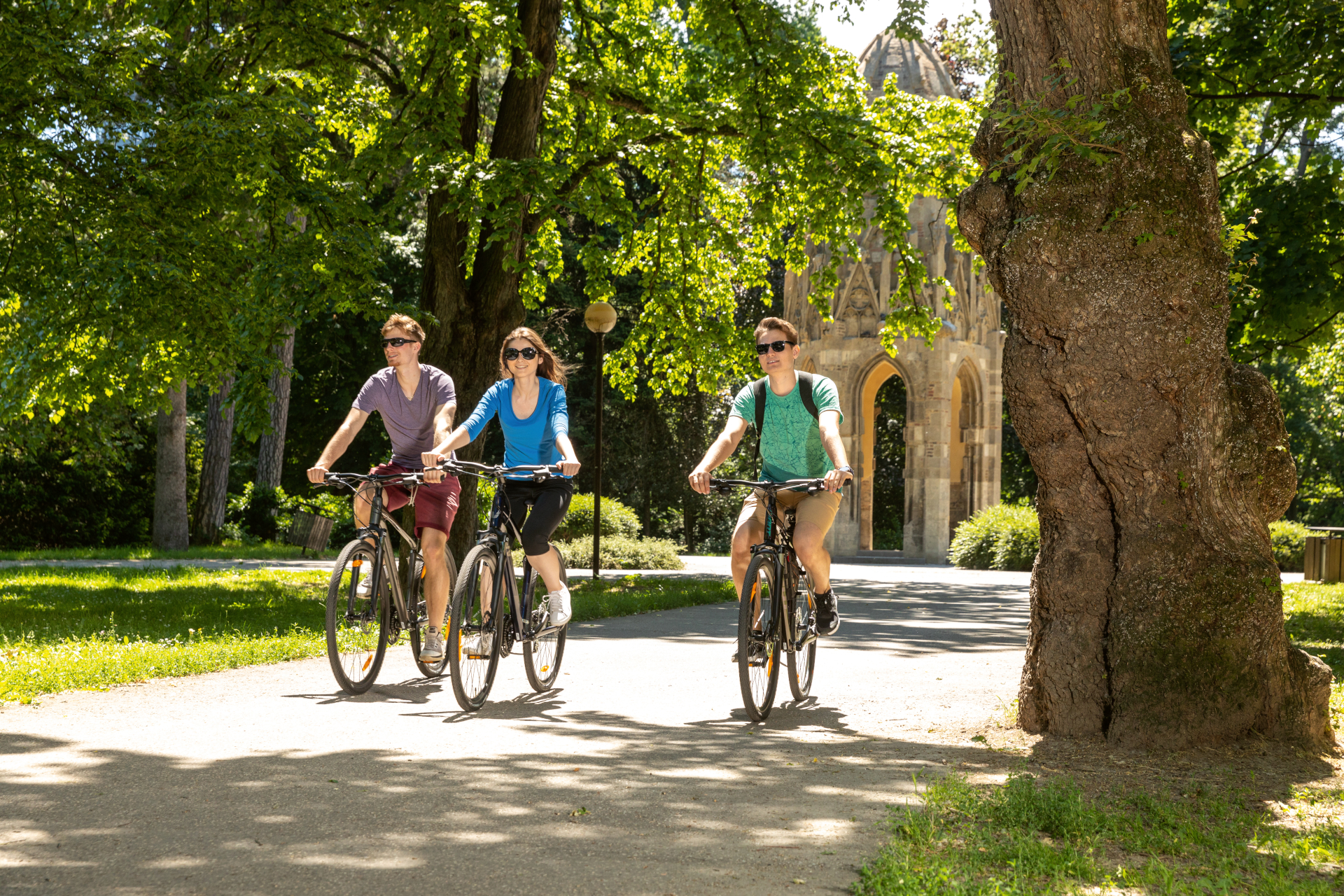 Take an adrenaline-fuelled ride along the forest paths of the Bratislava Forest Park or pluck up the courage to ride down Kamzík Hill on the Rohatka and Driver downhill obstacle courses. Take your bike on the chairlift that runs between Iron Well (Železná studnička) and Kamzík. On this hill, you'll find a television tower at the park's entrance. From here, you can observe the entire surrounding region from all sides. The view is truly breathtaking.
Easter is probably the best time to go to Bratislava Calvary. On the hill above Pražská Street, you will discover what is perhaps the most peaceful place in Bratislava. It was in these parts that they used to shelter from the plague. This Calvary, one of the first in the Kingdom of Hungary, is now mostly commemorated by pictures affixed to the trees. The former military observation post a short distance from the crosses is a great place to enjoy a city view. Below the Calvary, near the Church of Our Lady of the Snows, is the enchanting Lourdes Cave, founded by a local countess in a former quarry after she visited Lourdes in the late 19th century.
During the Easter holidays, many people choose to go into the countryside. On the hills overlooking the city, you will find spots perfect for a pleasant stroll and relaxing in unspoilt nature. In other words, they're not just for joggers and hikers. The ever popular Iron Well and Partisan Meadow (Partizánska lúka) are good places to unwind. There are many playgrounds and gazebos here, and you can kick a ball around, go boating on the lake, or catch a fish or two. This is one of Bratislava's most popular places to get some exercise or relax, and it also happens to be perfect for a picnic.
Budding botanists can visit the Comenius University Botanical Garden, which is usually open to the public from 1 April. Besides enjoying its diverse native and exotic plants, you can forget about the hustle and bustle of the city, at least for a while, by taking a peaceful walk there. Nearby Karlova Ves Cove (Karloveská zátoka), where the small steamer Mark Twain is docked, is a nice out-of-the-way place to relax, though bear in mind that the season does not usually start until May.
If you really want to enjoy Bratislava in the Springtime, you also need to visit its parks. The Medical Garden (Medická záhrada) and Presidential Garden (Prezidentská záhrada), nestled in the Old Town, host numerous interesting events throughout the year. Hopefully this year will be no exception. Take a blanket, a bite to eat, and head for Janko Kráľ Park. Relax on the grass, do a bit of sport, and don't forget to take a stroll along the waterfront, where you can enjoy views of the city centre.
Horský park (Mountain Park) is yet another green oasis. For 150 years this park – just a short walk from the city centre – has been serving the public. You can enjoy the silence of the forest and the almost untouched nature here. It is home to a historic gamekeeper's lodge where you'll find animals, a creative playground, and a café. Nearby, the Slovak National Gallery manages an open-air gallery.
A little further afield, there are several places close to Bratislava where the crowds thin out and you may even find yourself completely alone. Go to the ruins of the lesser-known White Stone (Biely Kameň) Castle towering above the wine-growing town of Svätý Jur, or to the charming Jarovce Pheasantry (Jarovská bažantnica) and Malý Slavín.
And what would Spring be without the lively markets that take place daily at several sites across the city? You can buy fresh home-made products directly from the people that made them and browse all sorts of other goods. Then there is the Old Market Hall (Stará tržnica), home to large markets, and the renowned Miletička, a classic market definitely worth a visit as it will surprise you with its authentic atmosphere and many stalls teeming with fresh vegetables and fruit. Much the same ambience can be found at the smaller Žilinská market. If you can't get enough of the festive treats or, on the contrary, want to take a break from them, check out the wide-ranging street food that Bratislava offers.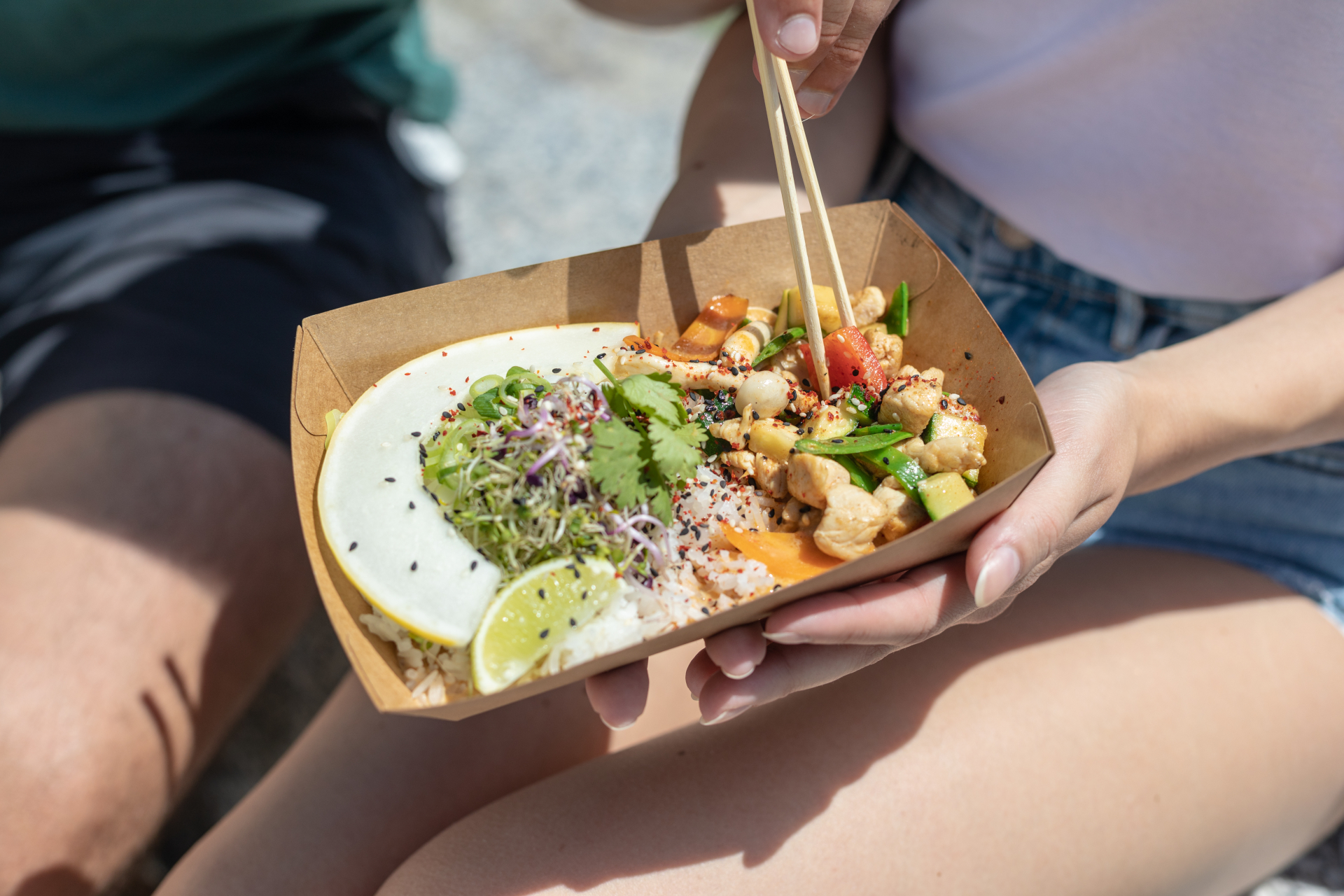 The capital of Slovakia is a 72-hour city. Plan your time there, find inspiration, and discover interesting places. Pick out what you enjoy and savour Bratislava to your heart's content.