Dragon Days at the Red Stone Castle
A dragon will come to Red Stone Castle in the summer! He who does not believe should go there
The big castle in the Little Carpathians will become the scene of the fight for the little dragon Arnošt and the whole kingdom during the weekend of July 2 and 3. Will the evil Zloboj take over, or will Prince Markus win? Go to the world of dragons, fairies and brave knights, in which the most beautiful legends come to life. Step into the fairy tale…
Valiant knight needs your help. Come rescue little Arnošt, who will be kidnapped by the villain, the Zloboj. You can also look forward to puppet theatre, fencing training for children, children's dance school and also to period attractions, such as bow and crossbow shooting.
The mighty Red Stone Castle will be in jeopardy thanks to the cunning of the Zloboj. Right at the beginning of the summer holidays, there are two unique Dragon Days in the castle. Under the guidance of the good King Marko Igonda, you will experience a thrilling story of finding and rescuing the young dragon Arnošt. A diverse range of medieval fragrances, flavors, stalls and accompanying activities will entertain both, the little as well as the big ones during a pleasant July weekend.
A fairy tale festival for the whole family will travel through a great deal of Slovakia and this year again brings an original dragon fairy tale with an acting cast. But it won't just be for looking at. In order for good to prevail in it, it is necessary to participate in it. Become a part of the story and come to the aid of fairy tale heroes. Save the little dragon Arnold together from the plot of Zloboj, the villain.
During the summer holidays, the popular festival will visit five magical castles and chateaux. Its first stop will be the proud Red Stone Castle. Take a family trip and experience the atmosphere of a famous Slovak monument, as not savoured before. The dragon fairy tale will be accompanied by a varied offer of entertainment and activities of the Castle Games and the stalls of the Castle Market craftsmen. Of course, with something tasty to eat.
The royal ceremony will be opened by a pair of castle clowns. They can juggle, march on Tom walkers and conjure up smiles with funny stories. Among the dragon fairy tales, the performance "How the Clown Rescued the Princess" by the ZáBaVKa Theatre is waiting for you. As it is not enough to watch, a dance school will be a part of theatrical performance. Knights of the Schatmansdorf NGO will take care of the following portion of entertainment. When they do not defend King Mark, they will provide archery, face painting, but above all training of little knights. Not in vain, because it will be needed in the fairy tale. In order for good to triumph over evil, fairy tale heroes will need the help of all children.
Throughout the day you can also look forward to a wide range of games and activities prepared for you by the civic association POP Academy. For example, they have prepared a tunnel of courage, maxi board games, maxi dragon pexeso, bubble rain or the biggest plush heart in the world. You can develop your imagination in a creative workshop with a dragon theme. And because a good ceremony is not complete without music, the program will be accompanied by the Renaissance folk group Gailard.
The Dragon Days traditionally include a castle fair, where Slovak handmade craftsmen and manufacturers will showcase their products. This year you will find an interesting offer of toys – wooden, knitted and rag, but there will also be tin knights. Traditional Slovak crafts will be performed by a blacksmith, casserole maker, fruit maker and ceramist. From the range of handmade products you can look forward to jewelry made of mineral stones, flower headbands or textile accessories.
As the summer festival includes, everything will be accompanied by scents of delicious dishes and refreshing drinks. This year, there will be a choice of varied main courses, including vegetarian ones, for both small and large starters. Desserts come in handy, too. There will be pancakes, gelato, Wallachian frgál cakes and traditional spa wafers to choose from. There will also be quality coffee or natural fruit juices. If you prefer a proven drink classic, a detached drink stand will be here at your disposal.
Since there is never enough of dragon, there will also be a photo corner with a faithful life-size model of Arnošt. And because even little knights cannot be better off without their own armour, you will also find an offer of handmade toy swords and shields as tradition requires on Dragon Days. During this season, a special edition with the coat of arms of the dragon kingdom awaits you.
Spice up your summer, come over to Red Stone Castle and experience the true fairy tale adventure with your offsprings.
Click on the picture to see the Facebook Event Page: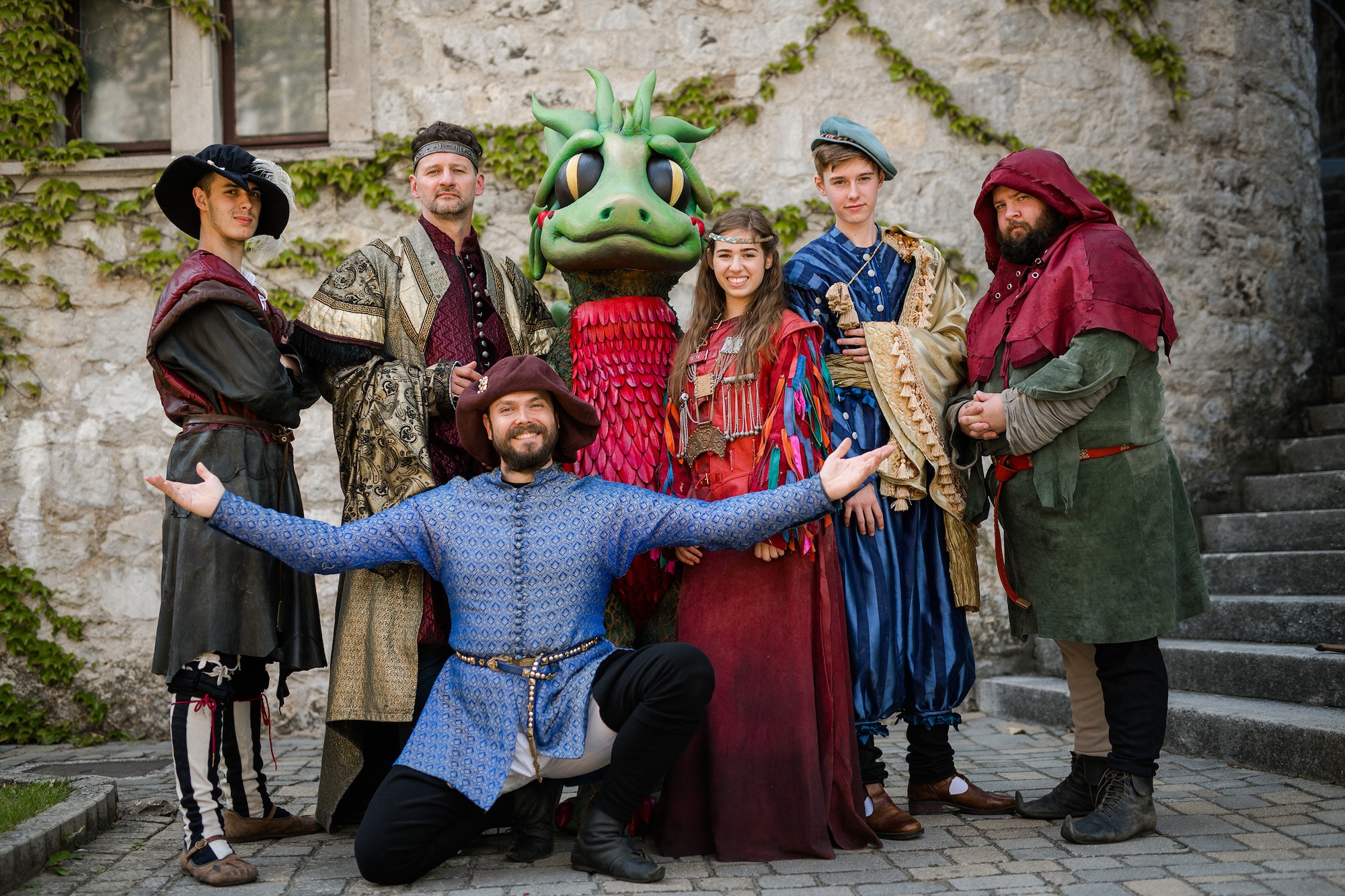 Click on the banner to purchase tickets: