Back to the time of the Knights
Return to your childhood or enrich it to your children
Each of us wanted to be a knight or a princess. When we were little, we used to chase sticks and fight for our child's honour with deadly enemies, which were our best friends from the street. These days are long gone for many of us, but none of us have forgotten that joy.
Around the International Children's Day, historical themed events make the little ones their lives even more eventful. This period of year is the right time for festivals that turn fantasy stories into reality. All this in the right medieval and fairy-tale atmosphere where the fun will be provided by puppeteers, children will be attracted by period attractions and you will lose your breath during the famous knight tournament on horses.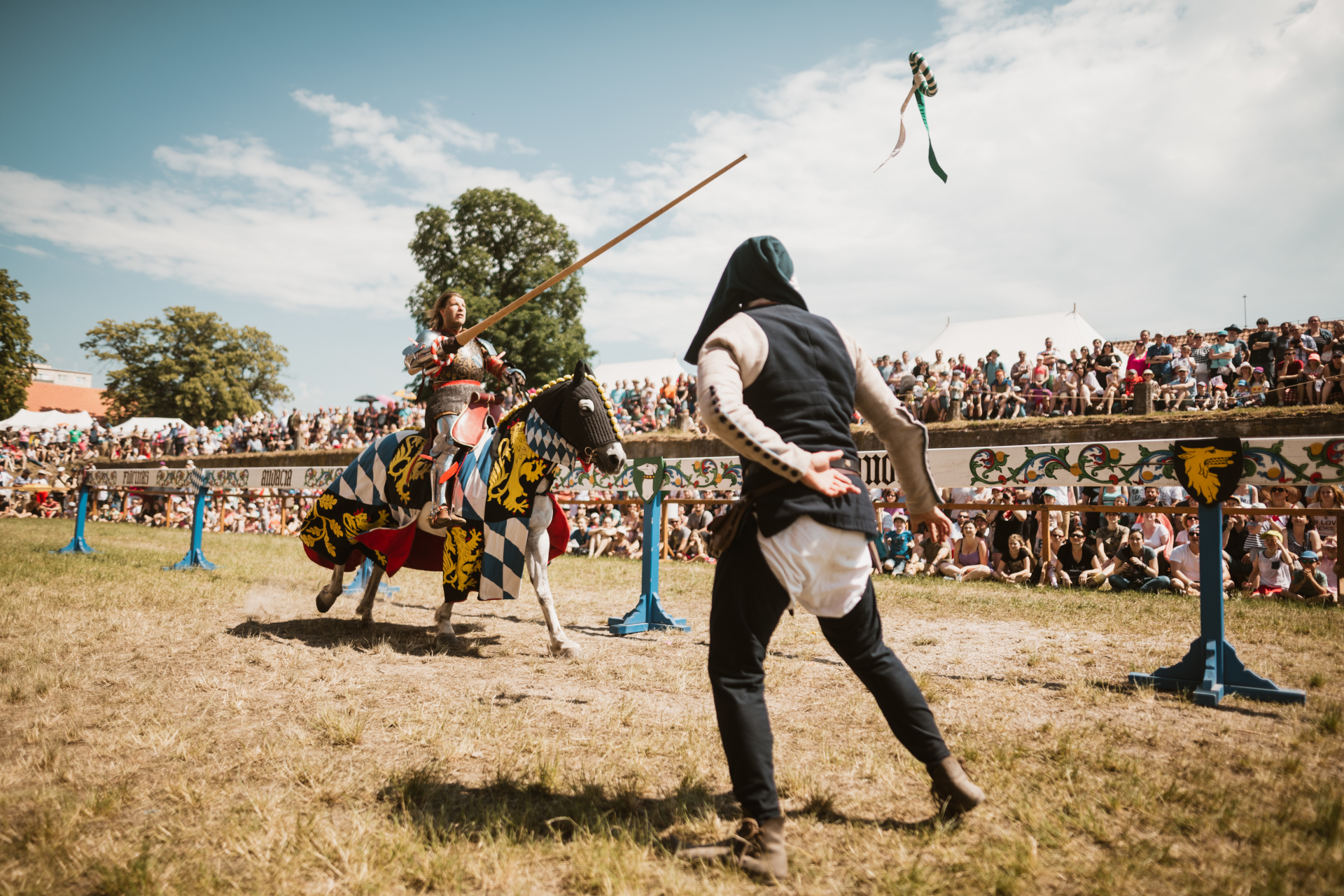 The time of the valour and knightly skills is comming again. Look forward to knightly adventures and engaging fencing shows in fairytale-like sceneries. Here ancient art of jugglers comes alive, smells the medieval cuisine and marketeers belaud their goods to the skies.
Meet crazy jugglers, brave acrobats or comedians on stilts. Experience the atmosphere of fragrant medieval cuisine and historical camps. Take a look at forgotten crafts coming to life at a busy market. Admire medieval mercaneries and colourful Landsknechts in large military formations.
Try a knights' simulator, archery, crossbow shooting, axe throwing, Tom walkers, cutting with sharp swords or even catapult shooting. And enjoy the fabulous horseback knights' tournament or a royal parade.
Slovakia's largest historical and knighthood festival will take place on May 28th to 29th at the Red Stone Castle. It will feature an extensive historical programme and a large number of horse riders in period costumes. If you're a fan of knights and historical tournaments, don't miss out on Rotenstein festival near Bratislava.
This year's event will again feature different stages with a non-stop programme, including horse and foot tournaments, period music, swordsmen, reenactors, conjurers, jugglers, falconers and dog trick performers plus an excellent performance featuring horses and ponies from different countries. Children are sure to be smiling all day long. A medieval drum show will also be in the programme.
Go to the world of dragons, fairies and brave knights, in which the most beautiful legends come to life the first weekend of July. The big castle in the Little Carpathians will become the scene of the dragon tale, accompied by a varied offer of entertainment and activities of the Castle Games, the stalls of the Castle Market craftsmen and goodies from a castle kitchen. You can also look forward to puppet theatre, fencing training for children, children's dance school and also to period attractions, such as bow and crossbow shooting.
You can also enjoy the knightly atmosphere directly in Bratislava. From June 4th to September 3rd, the knights will camp in the majestic Devín Castle. Together with them, you will be able to move into the Renaissance or the Middle Ages.
Every hour an interesting program set for a given period, which will take you back to a long time ago will take place here. You will see and experience fencing, theatre, period dances, but especially the main afternoon program, in which the main role is played by the knights with their steeds.
Immerse yourselves into the glorious past times, in the era of brave knights, gallant heroes and proper ladies at the places full of stories, heritage and traditions and spend a nice time with your family and friends in beautiful surroundings.
Enjoy an engaging program full of real knighthood tournaments on horses, old crafts and camps, animal or sword shows and lots of interactive fun for kids. Travel back to times when the knights were playing tournaments, the princesses were walking behind the castle walls and troops camped in the meadows.
Squires fasten plate armor to their masters, noble ladies meet on the grandstand, knights are competing for favour. Can you already feel the atmosphere?