Autumn at Danubiana
WALASSE TING – THE FASCINATING WORLD OF WALASSE TING'S COLORS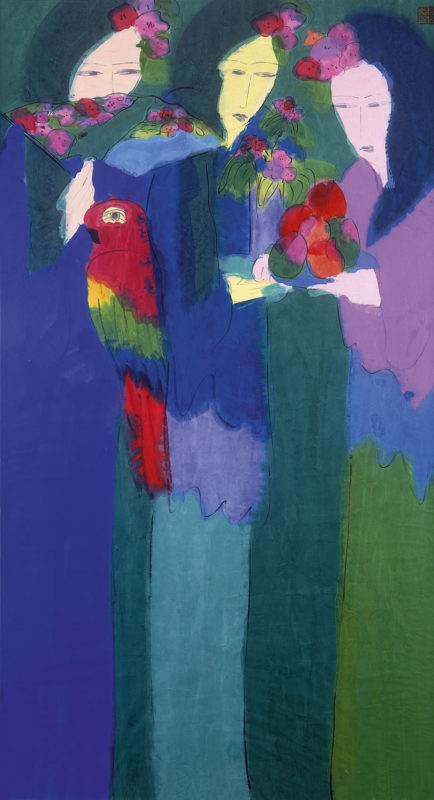 Walasse Ting's work today belongs to both Chinese and Western cultures. The modernity of his style builds on the differences between Chinese and Western art, even though he was considered a "modern Chinese artist" when he arrived to Paris. His traditions of Chinese inkjet calligraphy found a response in his abstraction – both in tachisme and abstract expressionism. He established close contacts with artists from the CoBrA group (especially Pierre Alechinsky) and associated himself with their aesthetic affinity, interaction between painting and calligraphy, poetry writing and collective initiatives. In addition, Ting shared with CoBrA their improvisation as a basis for creativity. Even in a new cultural environment, Ting never abandoned the traditional techniques and elements of Chinese art, but rather joined them as he experimented with his own Western artistic thinking.
While Ting was living in the United States, he encountered both pop art and abstract expressionism and this was decisive to his career. These opposing artistic styles in Ting's work were syncretized into a unique concept united by the origins of his culture. His artistic growth was influenced by contacts with other artists, especially Sam Francis. He was instrumental in the release of a set of poems called 1¢ Life, which includes lithographs from such prominent artists and abstractionists like Andy Warhol, James Rosenquist, Roy Lichtenstein, Tom Wesselmann, Pierre Alechinsky, Karel Appel, Asger Jorn, Sam Francis, Kiki Kogelnik and Joan Mitchell.
The nature of Walasse Ting's painting transformed itself from early monochrome gesticulate expressions to the color compositions that characterize figurative art from Eastern and Western sources. The series multiplication of motif, the brilliant colorfulness associated with traditional airiness and the clarity seen in Chinese paintings, all of them take his work beyond the limits of his own culture. The series of flowers and birds painted by him achieve such a brilliant luminous effect that they have become legendary.
The exhibition will also present important works from the collections of Meulensteen, Nico Delaive and Frech..
MICHAEL RITTSTEIN – WITH A LIGHTNESS IN MY STEP
Michael Rittstein (born 1949) is an outstanding artist with his own painting style. In the themes expressed in his pictures, he observes people and the social interaction between living beings. By imagining how they interact, Rittstein seeks to penetrate the verbal and even more into the non-verbal nature of the situation unfolding between them. Michael Rittstein has accumulated over his life many observations, staging them in his paintings. The result is an image that captures the ontological principles of humans in the world: their efforts; winning and losing; moral grotesqueness and also inner individual integrity. The animalism in both human and animal movement fascinates him and that is why his scenes from the life of human beings and animals are so active and dynamic, often following either the Baroque perspective or the crowding and interweaving of scenes found in Hieronymus Bosch's paintings. Notwithstanding, Rittstein sees himself rooted to the present and does not try to impose any moralizing meaning upon his audience. The story of mankind and their efforts is something that captivates him. Nevertheless, his pictures are the essence of sight. For that reason, the exhibition is called "With a Lightness in My Step" because everything swings merrily and in perspective. He concentrates his view on today's world, with it representing the culmination of what he has done over the past fifteen years. The expression and dynamics of his spectacles underscore an unmistakable handwriting. In the way he paints, he does not spare distinctive colors, but rather he puts them in dense layers so his paintings have a relief, shine and plasticity.
The exhibition includes Sports Epopee (2011), a series of twenty-two paintings of different Olympic Sports that was created for the Czech Olympic Committee to celebrate the Games of the XXX Olympiad in London. Also featured is According to the Script (2009), a large-scale work painted at the request of prominent Czech director Jan Němec for his film Heart Beat 3D. More than sixty paintings can be seen at the exhibition and it coincides with the release of a book written by Michael Rittstein especially for this occasion, where he explains in his own words what several of his paintings mean and the circumstances behind their creation.
JÁN KELEMEN – BALANCE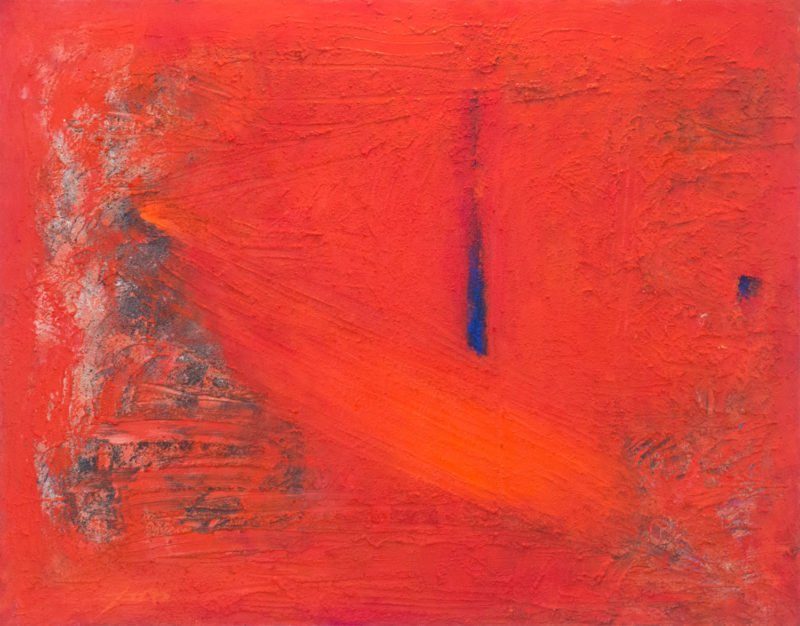 The possibilities from artistic searching all too often seem to join seemingly opposing artistic and technological aspects. Ján Kelemen has tested different technological processes and procedures in his creative experiments, never considering the predominant abstract nature of a painting to be the only artistic form. His exploratory nature emerged from the emotional relationship he has had with nature, natural materials, structures and figurative art. This foundation forms his unconventional thinking and his use of different materials and creative shapes. Other media such as ceramics, sculpture, creating objects and performing have over time been added to his original interest in graphics and painting. Space has become an integral part of his work, adding a new dimension to his repooussoir catalogue. Space where to put a statue or piece of art, as a place to intervene directly, going beyond what nature itself protects.
The current exhibition features a selection of his latest paintings and sculptures, aiming in the space offered by the exhibition to create a synthesis of colors and forms within the context of the spatial shapes of the sculptures. The action painting from earlier periods has receded to color spaces and disciplined lines that sometimes approach geometry. The language of art does not rely on a calligraphic gesture, but rather builds upon the monumentalities of shapes and expanding color. Glass has opened up new frontiers for Kelemen to experiment. The material itself gives him not just different modeling options, but also lets him work with yet another element – light. This exhibit marks the premier of his structured fused glass panels combined with shiny glass balls and composed ceramics. A set of ceramic statues derived from figures completes the scene. Here the artist opted for a geometrizing shape based on conical and cylindrical formations. What exists among the paintings and spatial artwork is the expression of Kelemen's basic artistic idea of the search for balance between natural and abstract shapes.
PETER UCHNÁR – ILLUSTRATIONS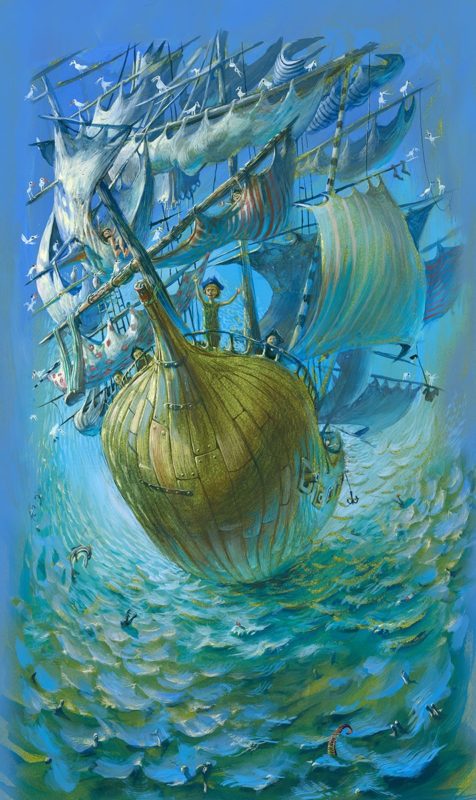 Peter Uchnár expresses here the basic characteristic of his work, as an artist who has generally painted illustrations. Both free creation and illustration overlap combining the essence of artistic adaptation. Illustrations are themselves based on drawings where the use of color in itself has a rather colorful function. Peter Uchnár does not use linearism to express himself, even though he draws fantastically. He perceives color as a pure painting tool and works with it that way. He builds an image as deep spaces on the canvas where figures and objects are shaped plastically on the canvas as deep spaces with esthetic tonal values like bringing quality to a space. He chooses his colors in indirect and mixed tones unified by a light haze. As a rule, he avoids contrasting and sharp colors, maintaining the color tone inside a surreal context. This is likewise underscored in his concept of space. It is rather the air in which the compositions become lighter, free of gravity and often levitating in a swirling motion. The bird's eye view is a perspective as if someone from out of this world were peeking at it. The fantasy-like imagination can be attributed to contemporary visual constructions of illusive science fiction worlds.
The many titles at the center of this inspection include selections from Truhlica najkrajších rozprávok (The Treasure Chest of the Most Beautiful Fairy Tales), published in 2014, and the iconic Peter Pan (2009, 2015), where Uchnár fully applies his principle of painting with light brush strokes, hatching, spots and color nuances. His ingenious manipulation of perspective draws upon an arbitrary relationship between the sizes of objects and figures, impressive contracts in magnification and rotating compositions. His free graphic art comprises a selection of poetry collections from Juraj Žember, V rukavičkách z vlastnej kože (In Gloves Made from His Own Skin) (2013) and Rana po štepárskom noži (Wound Made by a Grafting Knife) (2016) and a collection written by Katarína Mikolášová, Sonáta pre zem (Sonata for the Earth) (2017); poems which have inspired his abstract thoughts about the relationship between the micro-world and the macro-world. It is these worlds he has created through his own innovative technological engraving on plastic panels that resemble woodcuts.
Exhibition dates:
9 September –29 October 2017 (Ján Kelemen, Peter Uchnár)
9 September – 12 November 2017 (Walasse Ting, Michael Rittstein)