Bratislava Coronation Days 2019
We shall commemorate the glourious past of Bratislava this year with a series of events. Residents and visitors to the city will be able to enjoy the coronation atmosphere through cultural events, theater performances, concerts of sacred music, worship, period music and games.
Those interested in finding out more about the history of the coronation will be able to receive regular guided tours in English, German and Hungarian organized by the Bratislava Tourist Board's Tourist Information Center.
Under the auspices of the Municipality of the Capital City of Bratislava, and in cooperation with municipal institutions Bratislava Culture and Information Center (BKIS), Bratislava Tourist Board, Bratislava City Gallery, Bratislava City Museum, The Bratislava City Library, Bratislava City Archive, the city of Bratislava prepares varied programme of different genres for diverse audiences with the coronation theme.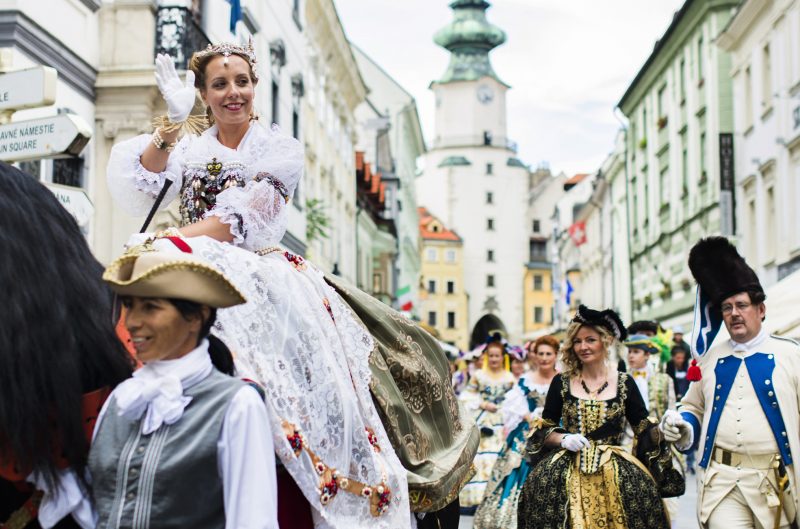 Take part in period coronations and "Become a Royal" yourself at the Coronation Photo Video Point at the ground floor of Michael's Gate. Michael's Gate was an integral part of the coronation route followed by the kings who were crowned in Pressburg as they left the city to where they would take their oath. The Coronation Photo Video Point is where you will find rooms with period furnishings and an authentic 3D model of the historical city marking the route coronation processions took. You can make an image and upload a video of yourself in period costume with the coronation insignia and become a part of a historical exposition. You can record both a photograph and video displaying a scene from the coronation and then print or share it with your friends through e-mail.
Program
FRIDAY, SEPTEMBER 13 2019
Children's Coronation Parade
Rudnay Square at 3:00 PM
Route: St. Martin's Cathedral – Rudnay Square, Vydrická Gate, Panská Street, Ventúrska Street, Michalska Street, Michael's Gate, Biela Street, Franciscan Church, Old Town Hall Courtyard
In cooperation with the Bratislava City Museum.
Coronation Holy Mass for Bratislava People
St. Martin's Cathedral at 7:00 PM
In cooperation with the Archdiocese of Bratislava.
Holy Mass will be celebrated by Mons. Stanislav Zvolenský, Metropolitan Archbishop of Bratislava.
Performance: Cathedral choir and orchestra of St. Martin.
SATURDAY, SEPTEMBER 14, 2019
Coronation Parade
Bratislava Castle at 1:00 PM
Route: Bratislava Castle – Vienna Gate, Palisady, Zámocká Street, Kapucinska Street, Župné Square, Michael's Gate, Michalska Street, Venturska Street, Panska Street, Rudnay Square, under SNP Bridge, Židovská Street, Zamocka Street, Palisady, Bratislava Castle – Vienna Gate.
Coronation period fair
Bratislava Castle at 1 PM
Demonstration of birds of prey training, fashion show of period clothing, bow shooting, historical fencing, historical fairy tale program for children, tasting of medieval food, bunk pub, demonstration of period crafts.
SUNDAY, SEPTEMBER 15, 2019
Coronation Concert
Primate's Squareat 5:00 PM
Performance: Bratislava Choir.