Get to ÚĽUV Craftsmen Days
Traditions don't sleep. Not even in the heart of the modern metropolis
Brought here annually by ÚĽUV, Bratislava will beatify thanks to folk culture and crafts from all cultural-historical regions of Slovakia. As usual, the first weekend of September.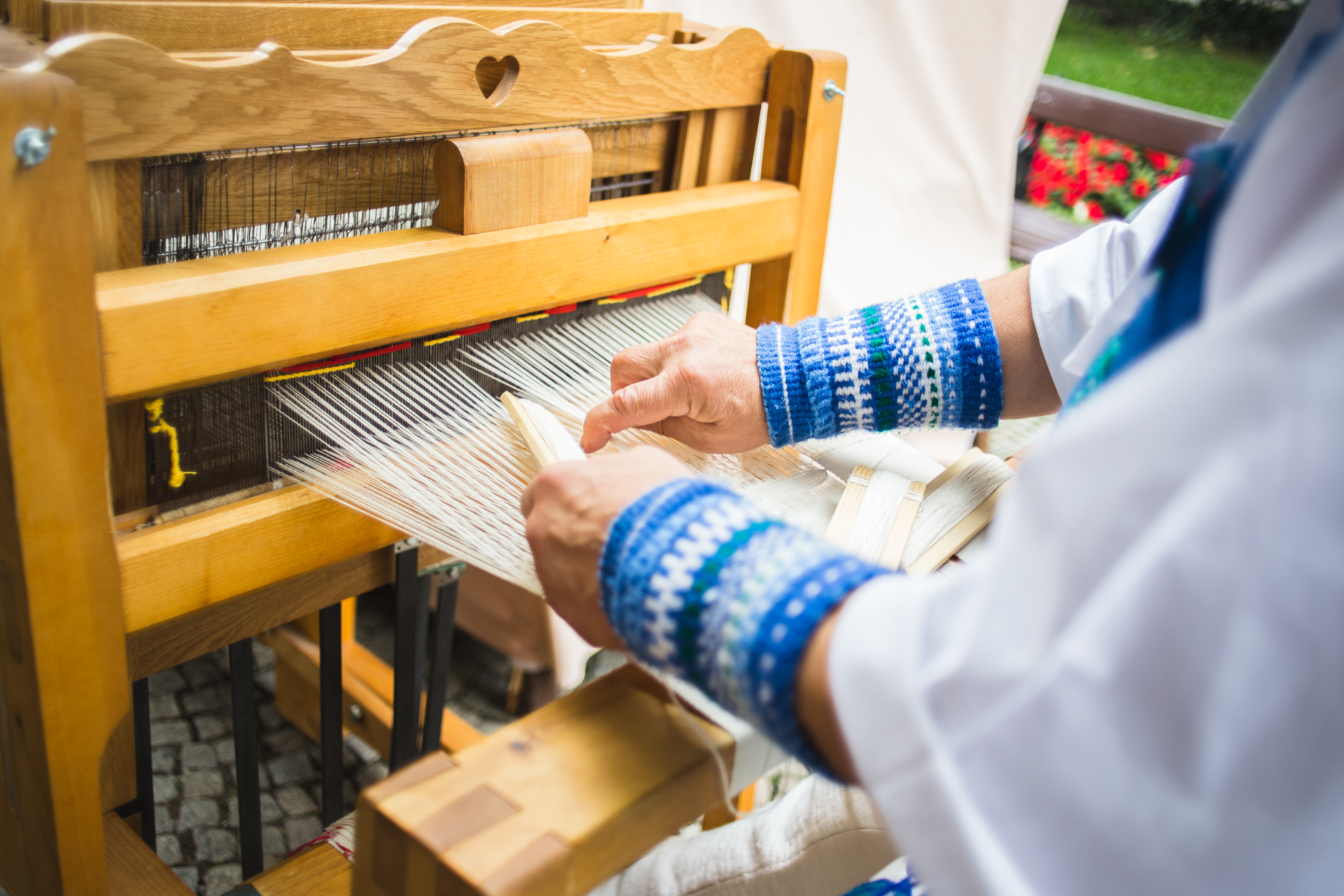 So come enjoy the mastery of folk artists who will showcase their crafts in the historical heart of the city. Come with your children to the School of Crafts to try pottery, tinkering, textile techniques, carving or painting on glass. And let yourselves be carried away by the phenomenal heritage of the ancestors in the form of music and dance.
At the festival, ÚĽUV presents mainly the variety of traditional Slovak crafts, the beauty of folk clothing or traditional cuisine and adds to them a musical cultural programme and a practical school of crafts for children. Master craftsmen from all regions of Slovakia present their work here and visitors have the opportunity to be in direct contact with traditions, whether by trying out particular crafts, communicating with producers or interacting in a cultural programme.
For the 32nd time, you will be able to convince yourself that useful trade pays dividends in Bratislava. More than one hundred of the best craft masters from all over Slovakia will introduce you tinkering, carving, pottery, blacksmithing, weaving, lace-making, decorating of Easter eggs, painting on glass, production of musical instruments or production of husk and straw and other unique crafts such as fur crafting, production of shingles and baskets from wooden strips and other natural nets.
This time, the main theme of the festival is wood and a Toy of Kyjatice. It also got into the visual presentation of this edition of the Craftsmen Days. The central motif are wooden figures of the Kyjatice toys and they are accompanied by a nice, funny and playful campaign.
Since the end of the 19th century, the village of Kyjatice in the Malohont subregion has been one of the most famous centres producing wooden toys. In their production, the masters of toys followed the technological and decorative principles of local production of wooden granaries and furniture. They were made of beech wood, to which the old masters applied an engraved ornament after pickling with the help of a modified compasses.
Toys from Kyjatice had a plate shape and decoration on both sides. The ornamentation was primarily geometric in nature, its elements were taken from old cultures and had mostly protective character. The most used decorative element was the sun rosette in various variations. A circular ornament or an ellipse was typical. Individual parts of the toy were connected using fitted pin connections without the use of metal fasteners. Some pieces were up to a meter high so that children could even try them.
The most common motifs of toys are horses, cockerals, various other animals, such as a piglet, a hare, a hedgehog, as well as small furniture and work tools, e.g. a chair, a table, a wheelbarrow, a cradle, a crib, and also shelves or cassettes of various sizes. Such beautiful toys in the colors brown, red, blue and rachel made the generations of children in Austria-Hungary and Czechoslovakia happy. And they are still doing so today thanks to the skilful hands of the masters who preserve and develop their 150-year tradition.
The Kyjatice toys are the main motif of this year's graphics of the ÚĽUV Craftsmen Days. Overall, the visual has a fresh, playful character. It is tastefully complemented by slogans characterized by copywriting originality. The campaign has a positive, encouraging character and is a pleasant combination of traditional craft products, children's joy and the message of timelessness. Just take a look at these toys, and you will immediately be in a better mood. Let's see, who hasn't smiled now?
The festival can be found both weekend days in several places in the historical centre of Bratislava. Hviezdoslav Square will be enliven with a fair of masters of traditional crafts, on Panská Street in front of Bibiana International House of Art for Children will learn in the School of Crafts and in the gazebo on Hviezdoslav Square will perform various folk musicians and bearers of traditions. The programme with the folklorist Igor Hraško as a host, will also offer singing, discussions and competitions.
Hviezdoslav Square will be home to folk art from all over Slovakia on Saturday and Sunday from 10 a.m. to 6 p.m. The fairs will present a number of traditional crafts, some also in a new way. The atmosphere will be complemented by a music and dance programme in the gazebo.
The ÚĽUV School of Crafts in front of Bibiana will offer both weekend days from 11 a.m. to 6 p.m. creative workshops for children and at 3:30 p.m. the traditional street theatre Teatro Carnevalo will present a performance Merry Andrew and the Miracle Box. There will also be a relaxing gaming area with wooden games for parents with children.
Many folk artists will perform on Hviezdoslav Square during the weekend, thanks to which you will get to know or refresh the intangible cultural heritage of various ethnographic areas of Slovakia.
The fujara trombita players from village of Lúky will come from Púchov Valley area, folk ensembles Očovan and Liptov will perform, as well as children's folk ensembles Čečinka and Vienok, Očovan Folk Band and Marián Kováč on helicon accordion.
Ladislav Hedvigi will present the history and production of the Toy of Kyjatice, Florián Šavrtka will present the tradition of making wooden baskets and children will compete as little craftsmen and try the school of dance for the little ones. You will also learn something about maintaining traditional production from experts from ÚĽUV. You can also look forward to talks about crafts and production, musical interpretations, fujara players or other soloists.
Come to Bratislava on 3rd and 4th September to please yourselves with the tangible and intangible cultural heritage of Slovakia. Make yourselves happy and enjoy the beauty of traditional folk culture in the centre of the city.