The Spring taste and smell of Bratislava
The Slovak capital is coming back to life this Spring. After a period of numerous restrictions, the whole country is coming back to life and the streets of Bratislava are becoming busier with the weather getting warmer. The pandemic measures have actually been reduced to only the obligation to wear face masks so there is practically nothing to prevent you from enjoying Bratislava as you wish.
The unique experience you will have in Bratislava will be enhanced by the local gastronomy. Having spent a pleasant time strolling around the historical streets of the Old Town, you may try some of the typical Pressburg specialities in an Austro-Hungarian style or popular street food in dozens of other ways. You may also choose from a range of products made by local coffee shops, wineries or breweries.
Bratislava has always been a cosmopolitan city, a meeting point of numerous nationalities, mainly Germans, Hungarians, Austrians, Turks and Czechs with their cultural influences. Traditional Bratislava cuisine has its foundation in the period of the Austro-Hungarian Monarchy and contains meals from the period of Turkish incursions or meals prepared traditionally more or less throughout the entire territory of the current Slovak Republic. Spicy Hungarian food, Wienerschnitzel and cakes, German game and sausages, as well as traditional Slovak meals – all may be found in most restaurants.
If you want to try the taste of Pressburg from the Imperial times, you should come to Zylinder, a restaurant located on Hviezdoslavovo Square. You will travel back in time to the famous Pressburg and taste the most traditional delicacies from the Imperial era. The most typical ones certainly include beef Tafelspitz, Pressburg schnitzel or Kaiserschmarrn. But you will definitely like their soups, salads and local potato meals as well. Thanks to the restaurant's location, interior and non-traditional way of serving meals, you will experience the true atmosphere of the old Bratislava here.
Leberfinger located on the Petržalka bank of the River Danube is another traditional restaurant which you may find in Bratislava. Close to the city centre, it offers home-made Pressburg meals. The history of this place dates back to the era of Maria Theresa. The cosy restaurant memorialises the Napoleonic wars as well the establishment of Czechoslovakia in 1918. In one of the oldest restaurants in Bratislava you may now find delicate traditional meals prepared in a modern fashion, which you will see when you try the local goose plate, veal schnitzel with potato salad, steak tartare or veal stew with apples.
You will have an excellent view of Bratislava from UFO.watch.taste.groove, a restaurant located at the top of a pylon of the Bridge of the Slovak National Uprising. With its breath-taking view and amazing meals, this city landmark is an ideal place for you to enjoy the Slovak metropolis from a great height. Its guests may expect an exceptional interplay of tastes and smells in the restaurant, chill out in the UFO bar and enjoy amazing views of the city from the viewing platform. As one of only two Slovak restaurants, UFO with its excellent service has recently been included in La Liste, a gastronomic ranking of the 1,000 top restaurants in the world. The unique view in combination with first-class gastronomy makes a strong impression and will create numerous good memories.
DIY, i.e. "do it yourself", is a restaurant concept owned by Makery. It is the first restaurant of this type in the world. Its main ingredient is a creative social experience. From the ingredients prepared and using a video app on a tablet, everyone may prepare the meal of their choice with their family, friends, colleagues or their partner. You may have heard the old adage that the way to a man's heart is through his stomach, but you may also have great fun cooking together. So, if you want to prepare something really outstanding for your partner, you are at the right place. Such an unusual dinner is therefore an ideal choice also for a date with your love.
Horský Park, the green heart of the capital, has a calm atmosphere without any street noise or bustle. The local historical gamekeeper's lodge houses a cosy café. Surrounded by a beautiful park, it offers typical Bratislava delicacies, such as Bratislava rolls, as well as a wide range of cakes, fantastic bacon delicacies, delicious bio coffee, a wide range of teas, draught beer and selected wines. In this place popular with the citizens of Bratislava and families with children, you will also find a community centre, a little ZOO and playgrounds, and not far away there is also an outdoor gallery of modern art managed by the Slovak National Gallery.
In addition to the Museum of Viticulture, Apponyi Palace, at the heart of Bratislava Old Town, also boasts the Slovak National Collection of Wines, which is unique in Europe. The Slovak National Collection of Wines is an exceptional representative space focused on promoting top-quality Slovak wines and organizing wine-tasting events for enthusiastic wine connoisseurs. The Slovak National Collection of Wines features the top tier of wines made in the Slovak Republic where 100 exquisite wines from Slovakia are selected in an elegant environment in the Museum of Viticulture from the 18th Century. High-quality Slovak wine from the 21st Century is recognised at international competitions worldwide. Wine-tasting events are also open for the public. 2, 4 or 8 types of wines are usually tasted; the most popular wine-tasting programme is "72 wines in 100 minutes".
You may have a giant portion of authentic and irresistible Italian ice-cream in the popular Koun gelateria on Panská Street. Ice-cream love is obvious in each piece of the charming store. When making their ice-cream, they do not use any artificial ingredients and work only with the best-quality materials. They offer a wide range of delicious and sometimes non-traditional flavours, from vanilla to strange matcha, to excellent forest fruit with rocket. Sorbets are also served in addition to ice-cream. Their cold delicacies may also be enjoyed in the form of sweet buns and, when it is cold, also as hot waffles filled with cold ice-cream.
French charm may be found in the Bistro St. Germain which offers fantastic burgers with avocado sauce, home-made cakes, special lemonades, delicate wine and craft beer. The menu contains delicacies prepared with meticulous care and love and served in generous portions. St. Germain will look after lovers of good food, wine and beer.
When strolling around the town or walking along the riverbank, looking at Bratislava's landmarks, the green right riverbank of the Danube or Bratislava's bridges, you may also enjoy great coffee, also as a take away from e.g. Pán Králiček (translated as Mr. Bunny). You may discover their mobile stalls at several locations around the city centre. You may also stop to have something nice in the new Bratislava centre on the riverbank promenade in front of the Eurovea shopping centre.
A cosy pub with interesting decoration called U Čerta beneath Bratislava Castle has a pleasant atmosphere. Everyone who loves the liquid gold will choose something they like from a wide range of beers made by both small and large breweries. You will feel like you're in your friend´s living room. Mainly Friday nights are very busy; the adjacent street is full of people going from one pub to another, enjoying the unique and vivid atmosphere. This "pub trio" on Beblavého Street therefore has the reputation of being Bratislava's Bermuda Triangle – you can get lost there, easily…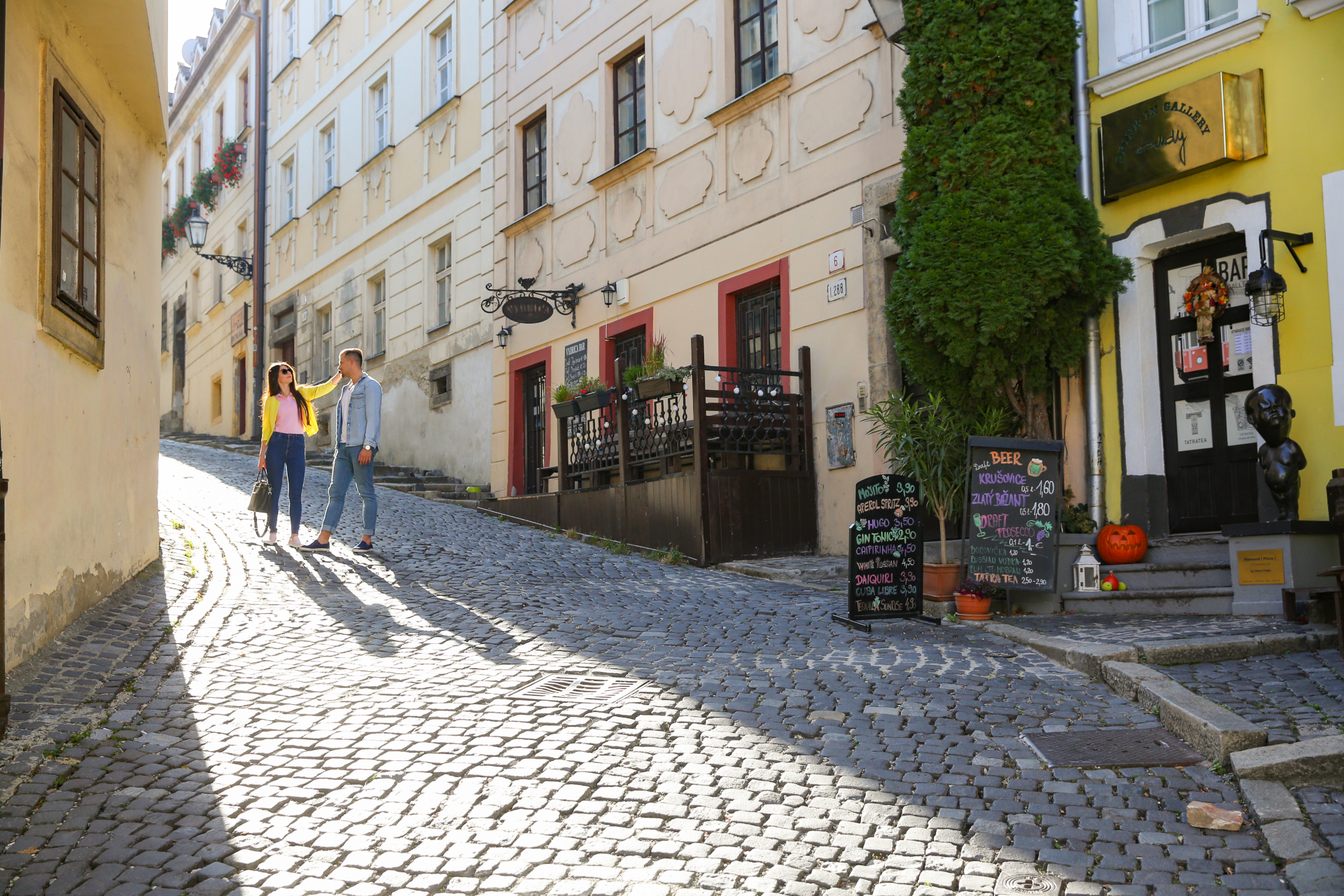 One day is simply not enough for Bratislava. In order to try as much of it as possible, plan a 72-hour trip here and enjoy it to the fullest just as you like.