Top 10 Winter Experiences
1. Views from the Bratislava Castle and SLAVÍN
If you're a fan of great views, do not miss the Bratislava Castle and Slavín War Memorial. The majestic Castle, standing on a hill 80 meters above the Danube, has been a symbol of Bratislava for centuries. Slavín is the largest war memorial in Central Europe and its location and height of 52 metres make it one of the city landmarks. Both offer unbeatable views over winter Bratislava.
2. GALleries and Museums
Winter time is considered one of the best seasons to pay a visit to a museum or a gallery that will satisfy even the most demanding art buffs. If you're into contemporary art, do no skip places such as Danubiana, Kunsthalle and Nedbalka Gallery. Bratislava City Gallery and exhibits in Bratislava City Museum are rather for fans of classical art.
3. Have fun at HANGAIR action sports academy
Hangair Action Sports Academy is one of a kind in Slovakia. It has been designed mostly for fans of skateboarding, snowboarding, free skiing, BMX, scooters, trampolines, gymnastics and workout in general. You can jump on freestyle trampolines, train ski jumping on kickers, do snowboarding or cycling, or ride a snowtube. Hangair really is for everybody! You can exercise either by yourself of hire a professional coach.
4. Go for a walk through a forest park
Whether covered by snow or not, Bratislava parks and gardens are enchanting in winter time. Pay a visit to Bratislava Forest Park to ride a cable car between Železná studnička and Kamzík or enjoy a sleigh ride with views over winter landscape. Only a few minutes away from the town centre, Horský park is the right place for a winter activity or relaxation.
5. Automobile tour by ŠKODa
This tour offers not only an automobile ride, it will also bring you back into socialist era: think old Czechoslovak banknotes, pins and books, Kofola (a Czechoslovak answer to Coca-Cola) or Vinea drinks and a Horalka cracker in your hand. As Bratislava offers quite a few unique structures with an interesting history, the tour is heavy on architecture.
6. LOcal shopping
Christmas and New Year mean shopping for family and friends. The best gifts are to be found in small local shops that offer original products and individual approach. For unique designs, check out Slávica, Kompót and Slowatch directly in the centre. Just before Christmas you can support local sellers at the Christmas Market Hall Vianočná tržnica so Slovenskou sporiteľnou in the Old Market Hall.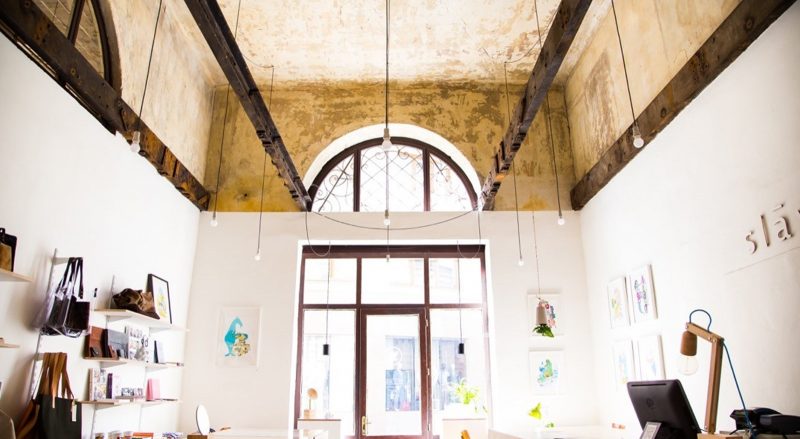 7. CITY GAME & ESCAPE ROOM
Get to know Bratislava and its nooks in an enjoyable way. City game Brainteaslava will bring you interactive urban tasks while enjoying new views and learning new facts about the town. If you like puzzles and solving mysterious tasks, visit any of the popular escape rooms. Various topics will bring a unique experience and are a guaranteed fun for the entire group of friends.
8. Local cuisine
Winter cuisine in Bratislava is something special. This is the right time to feast on traditional meals such as goose, veal schnitzel or a thick goulash soup, which will make you full and warm in cold weather. You can go either to Zylinder Reasturant with a winter terrace that serves mulled wine and a punch, or to Leberfinger Restaurant. The latter is now available for delivery only, yet the food is as tasty as ever.
9. Christmas mood
You can tune into Christmas mood this year at several events that will take place in the streets of Bratislava. Visit Zimný Tyršák, usually a city summer beach, which will now offer mulled wine or cigánska, a quintessential street food. A small Christmas market will also have designers' gifts for sale. More products made by local artists are to be found in the Old Market Hall at a Christmas event that goes by the name of Vianočná tržnica so Slovenskou sporiteľňou. Bratislava streets will glitter by the Winter Edition of White Night.
10. ONLINE christmas concerts
When you can't attend a cultural event, let the event come to you! Bratislava IV boroughs have prepared a small Christmas surprise for all Bratislava citizens – Neighbourhood Advent 2020. In December you will have a chance to enjoy a rich cultural programme from your home. Tune in to the right Christmas mood and enjoy concerts, dance shows, theatre performances and authors' readings online available via this LINK.