Top 10 Winter Experiences
1. Views from the Bratislava Castle and SLAVÍN
If you're a fan of great views, do not miss the Bratislava Castle and Slavín War Memorial. The majestic Castle, standing on a hill 80 meters above the Danube, has been a symbol of Bratislava for centuries. Slavín is the largest war memorial in Central Europe and its location and height of 52 metres make it one of the city landmarks. Both offer unbeatable views over winter Bratislava.
---
2. Galleries
Winter time is considered one of the best seasons to pay a visit to a gallery that will satisfy even the most demanding art buffs. If you're into contemporary art, do no skip places such as Danubiana, Kunsthalle and Nedbalka Gallery. Bratislava City Gallery exhibitions are rather for fans of classical art.
---
3. Have fun at HANGAIR action sports academy
Hangair Action Sports Academy is one of a kind in Slovakia. It has been designed mostly for fans of skateboarding, snowboarding, free skiing, BMX, scooters, trampolines, gymnastics and workout in general. You can jump on freestyle trampolines, train ski jumping on kickers, do snowboarding or cycling, or ride a snowtube. Hangair really is for everybody! You can exercise either by yourself of hire a professional coach.
---
4. Go for a walk through a forest park
Whether covered by snow or not, Bratislava parks and gardens are enchanting in winter time. Pay a visit to Bratislava Forest Park to ride a cable car between Železná studnička and Kamzík or enjoy a sleigh ride with views over winter landscape. Only a few minutes away from the town centre, Horský park is the right place for a winter activity or relaxation.
---
5. Theatres
A visit to the theater – opera, ballet or drama – is an inseparable part of the winter season. At the Slovak National Theater awaits you a rich and diverse program. The full program as well as the entry conditions with regard to the current measures can be found on its official webpage.
---
6. Local shopping
Warm up in the pleasant warmth of cozy local shops – this is exactly what local shopping in the center of Bratislava offers. The most beautiful little things await you in the shops, which offer original products and a pleasant individual approach. In design shops such as Slávica, Kompót, Slowatch or Place Store, you will definitely not miss it.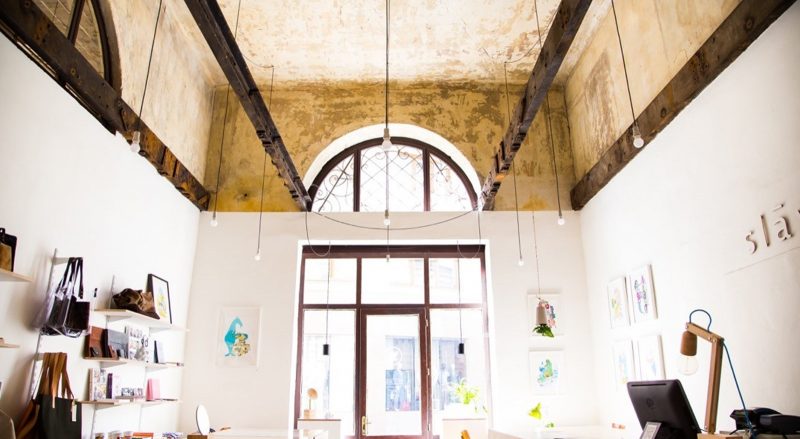 ---
7. Bratislava Craft Beer Tour
Bratislava takes its beer just as seriously as its more famous neighbor Prague, and a new wave of independent microbreweries and pubs is putting the city on the beer drinkers map. Craft Beer Tour offers a beer experience where you will learn about local brewing and develop your own preferences while tasting and identifying flavors in different beer styles, from crisp golden Pilsner and hoppy bitter India Pale Ale to dry American Stout.
---
8. Local cuisine
Winter cuisine in Bratislava is something special. This is the right time to feast on traditional meals such as goose, veal schnitzel or a thick goulash soup, which will make you full and warm in cold weather. You can go either to Zylinder Reasturant with a winter terrace that serves mulled wine and a punch, or to Leberfinger Restaurant. For a homemade cake and coffee stop at Zeppelin Café.
---
9. Museums
Do you know the history of Bratislava? Do you know that discovering it doesn't have to be boring? Visit one of the ongoing exhibitions at the Museum of the City of Bratislava or the Slovak National Museum and be sure not to take your children with you!
---
10. Concerts in the Slovak Philharmonic
In the capital, the cultural program in the Slovak Philharmonic is full even in winter. In the February repertoire you will find concerts by Shostakovich, Prokofiev, Tchaikovsky, Moyzes or Mozart and many others.