Bratislava's life and entertainment pulsate, and yet the city provides green places to relax right in the middle of the rush.
Discover its best known city parks and gardens, where you can take a break while discovering the sights that attract tourists to Bratislava. Their history dates back to the 18th century, and it is Bratislava that can be proud of having the oldest public park in Central Europe. It is the Janko Kráľ Park, the oldest public park in Central Europe. It is a popular place for athletes but also for families with children. Near the park there is the Danube riverbank, a venue for various cultural events.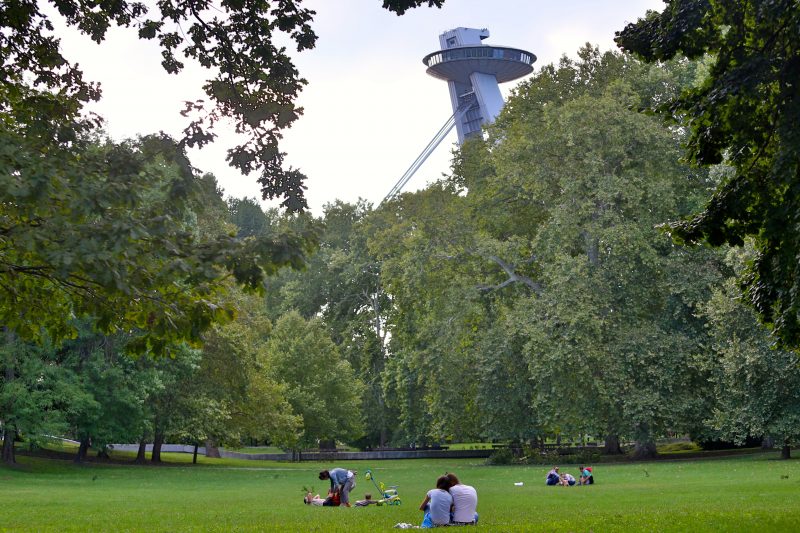 The most recently built green space is the Baroque Garden of the Bratislava Castle, built according to the design of the Maria Theresa's architect. Looking for active relaxation or some quality time spent with children or friends? Look no further. Železná studienka is the place you are looking for. It is one of the most popular sites to spend free time. Visitors can also use a chairlift an enjoy with beautiful views. Exotic plants or fragrant rosaries with dozens of roses can be found in the Botanical Garden.
Slovakia's capital is surrounded by forest landscapes,
with Horský park ("Mountain Park") and popular places for leisure in the city's forests that are quickly and easily accessible from the city center. Select from the tips offered here for spending free time outdoors with your family or friends. Try something new, like the panorama you can enjoy from the new outlook tower.
The city on the Danube offers a place to relax by the water.
Take a stroll along the banks of the Danube or admire the river panorama from either the deck of a boat or the seat of a bicycle riding on Eurovelo 6, an international cycling route. And when the temperature rises, get yourself refreshed on that hot day having fun in one of the recreational areas around the lakes right in the city.
Neighborhoods in Bratislava all have protected destinations for flora and fauna enthusiasts to enjoy. Nature lovers can enjoy hiking, biking, bird watching and exploring the countryside along the nature trails of the Danube floodplains, Devínska Kobyla Mountain and the Morava River.
Tip: A new unique experience in the capital city! A night spent in a tree house.
Download the map of Bratislava's green areas – available soon, please check back later
Download the Green Bratislava brochure for information in brief (PDF, 2 MB)