Manifold flavours of autumn Bratislava
Autumn is rich in gastronomic allurements in Bratislava
It is this time of year, when nature is full of colours, also the variety, so characteristic of Bratislava cuisine, stands out. Even with a little nostalgia and a bit of melancholy.
The city has always benefited from the fact that three neighbouring cultural and historical regions converge on its territory, which is why the Pressburg and later Bratislava cuisine combines their typical elements. In addition to fruits and game, Záhorie region contributed to it e.g. excellent stupava cabbage, Little Carpathian region wines, fruit or poultry and Danubeland fish, cereals and later also quality vegetables and fruits.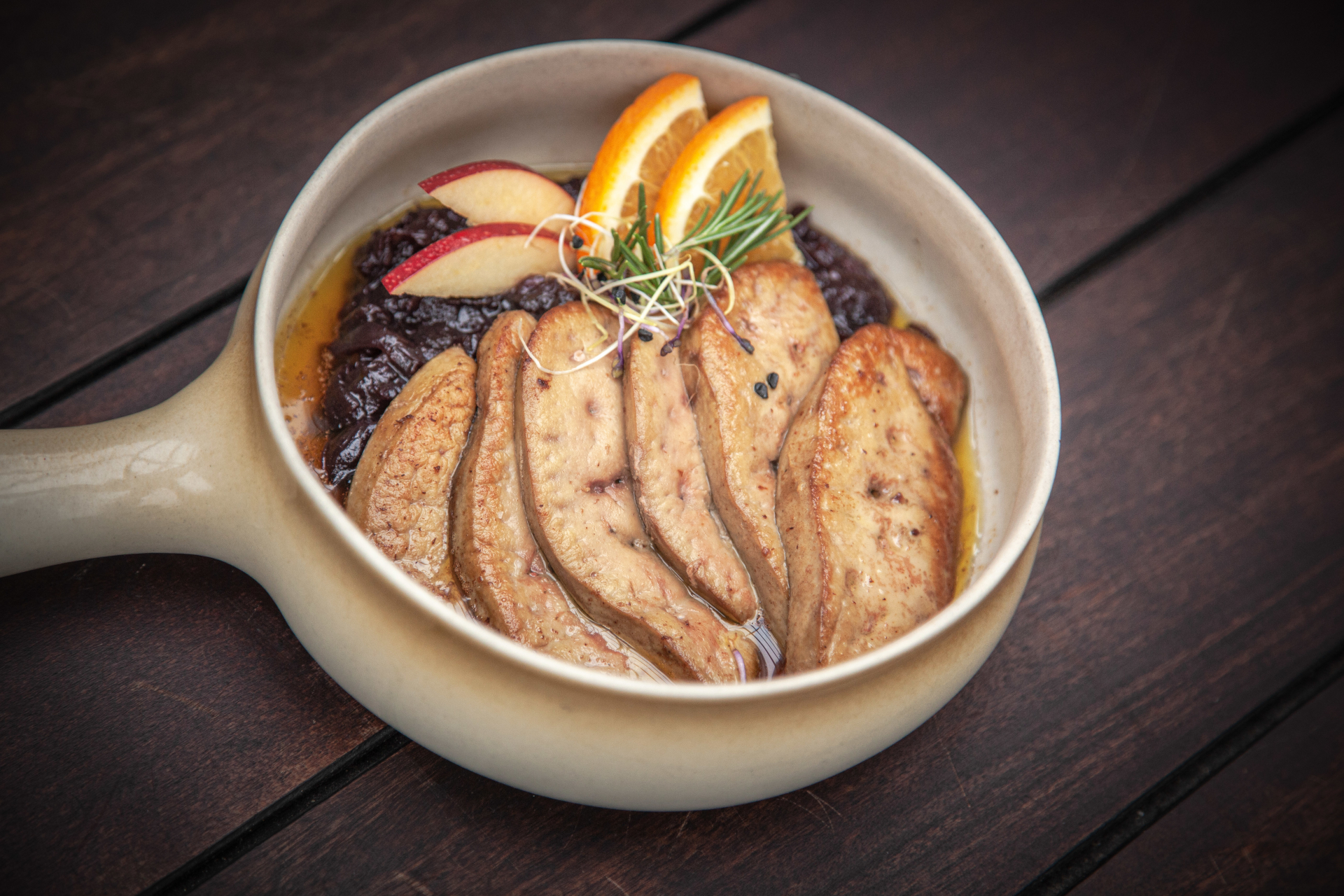 Autumn since ancient times belongs in Bratislava and its surroundings to grape harvesting and the first wines of the new vintage. In addition, there is a harvest of other various fruits and vegetables, the most important of which are perhaps apples, currants, plums, cabbage and sunflower. These are the seasonal ingrediences of the Pressburg cuisine. Typical autumn dishes include mainly goose, but also duck specialties, later developed into a cultural and social phenomenon of poultry feasts.
You do not necessarily have to go outside Bratislava for a good goose or duck. The crispy roasted geese or ducks, delicious liver, and also delicate and yet crispy cabbage, and especially for the Little Carpathians typical lokshas, along with local wine, can also be well enjoyed in the capital.
Far-famed goose feast is offered by one of the oldest restaurants in Bratislava, the legendary Leberfinger. The goose feast there is also a legend. In the pleasant environment of the restaurant on the Petržalka side of the River Danube, you can choose from a wide range of goose and duck specialties, such as duck and goose skillet, mulard with caramelized red cabbage or braised sauerkraut with bacon, or a popular goose liver.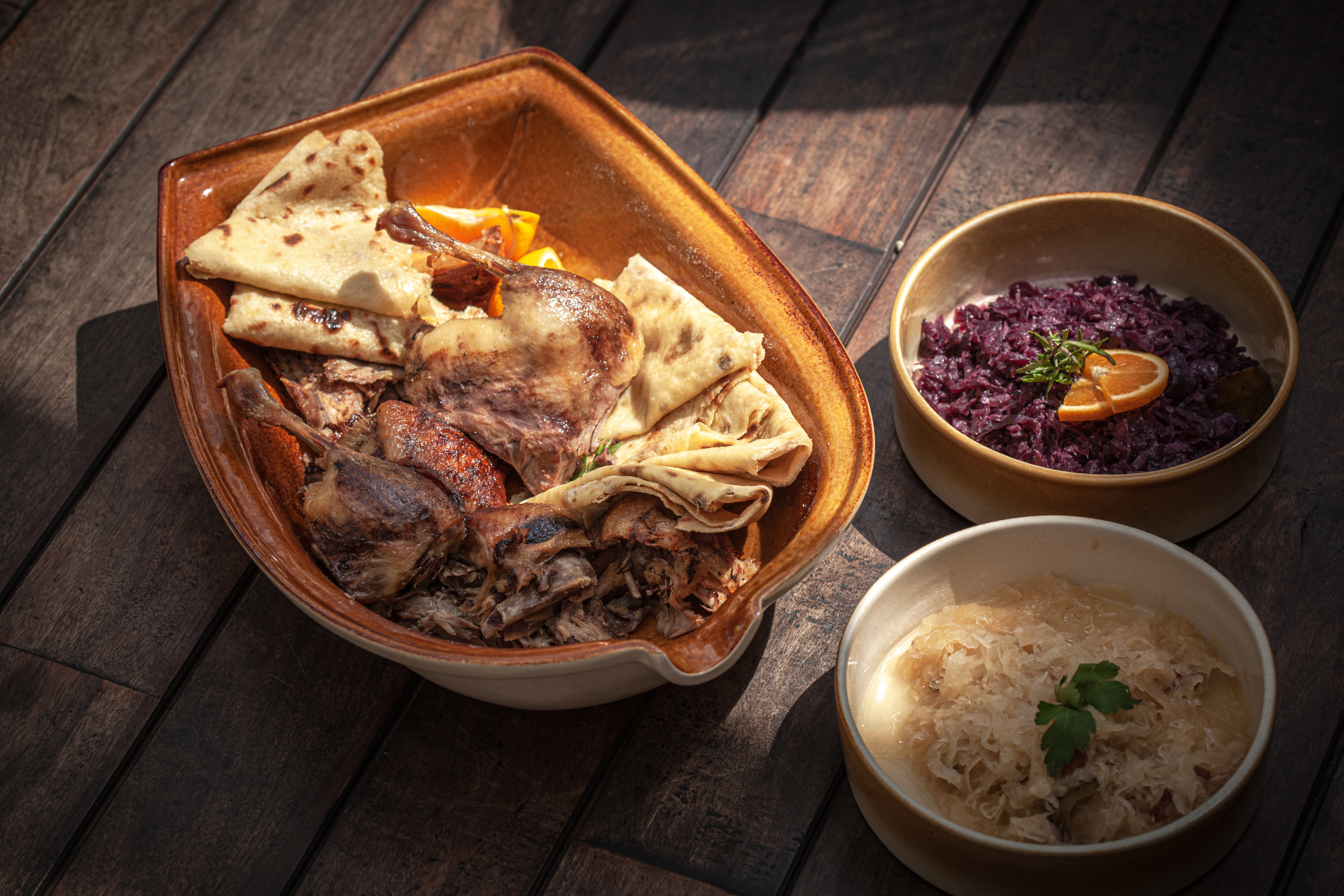 You can, however, also enjoy a golden-roasted goose in Bratislava directly on the Danube. An unforgettable experience is offered by river boats while cruising the river with the tones of live music. Duck and goose specialties are also offered in the autumn and pre-Christmas period by the period restaurants Štefánka and Zylinder, which would surely also be savoured by the famous Bratislava figure Schöne Náci, whose statue can be found on the corner of the Main Square.
Schöne Náci loved desserts, so he would also like another interesting place. Historic patisserie Konditorei Kormuth brings experience gastronomy by combining exceptional flavours and elegance with an impressive interior that captivates with its magical atmosphere at first sight. It offers a guaranteed artistic and gastronomic experience for real gourmets and history lovers. Cakes and desserts produced in this unique pastry shop are a work of art. They are prepared exclusively from honest and the highest quality ingredients according to original, old recipes, following the traditions of the former monarchy, without the addition of artificial colours, aromas or preservatives.
A top culinary experience combined with an unforgettable view of the Slovak capital is available in the restaurant Hradná on the gounds of the Bratislava Castle. The combination of romance, style and elegance, along with great cuisine, beautiful interior and, above all, a generous terrace above the city is an ideal place for a gastronomic experience after admiring the landmark of Bratislava.
When wandering the autumn streets, try, for example, pancakes by Petite Crêperie with the hallmark of French gourmetism, served in a typical triangle shape. They are prepared from buckwheat dough and offer both sweet and salt pancakes.
Also a tea can warm up and put you in a good mood in autumn time. You can have an excellent one in the Literary Tearoom and Café. You can relax pleasantly in its cozy, informal environment not only over a cup of exceptional tea from varieties from different parts of the world, but also with a great book.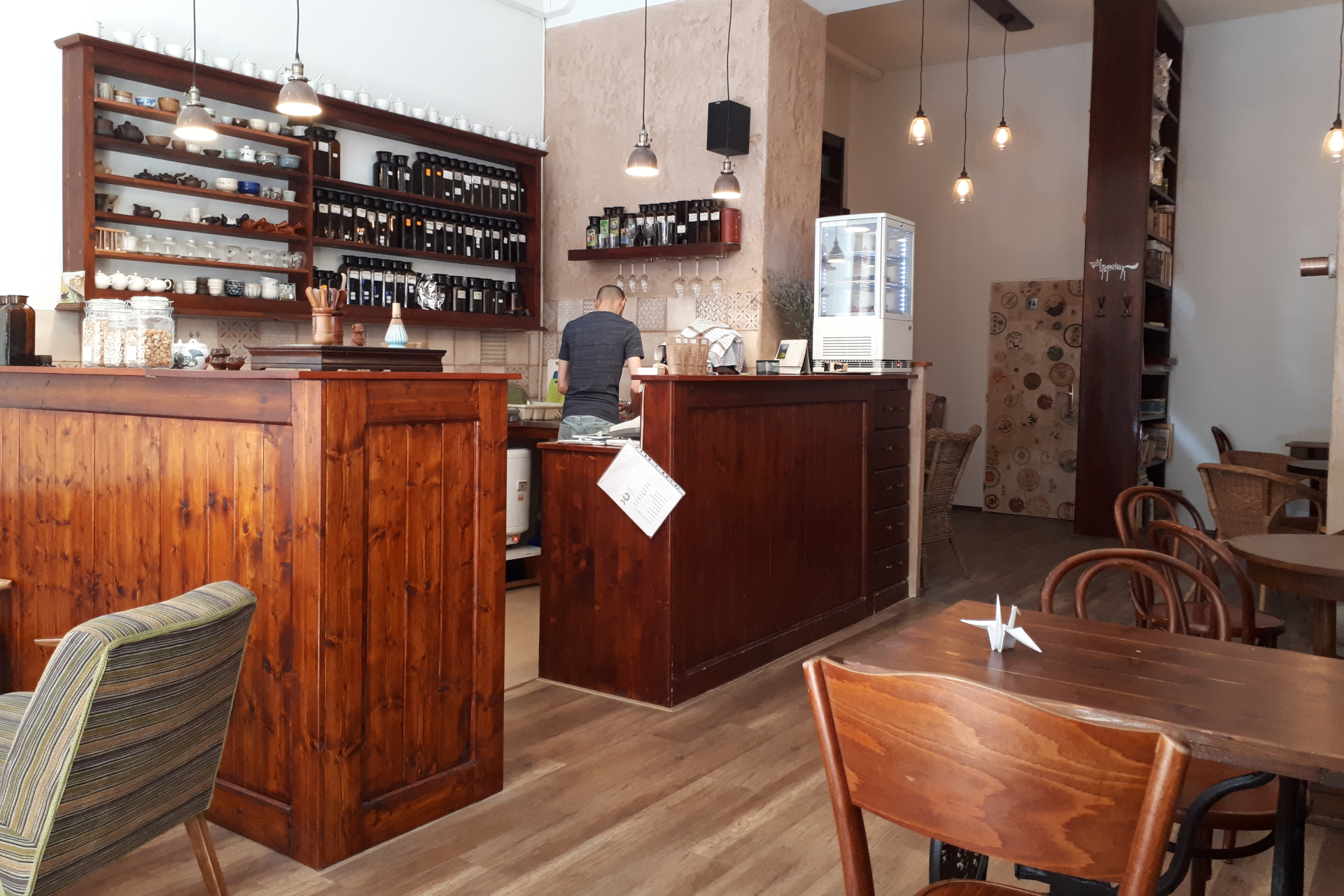 Colder days are made for soup as well. These can be found e.g. in the unusual place of Soupculture. Various types of crème soups from all around the world prepared according to a number of original recipes are served in freshly baked edible cups. Several flavours are available, so you can eat not only the soup, but also the cup itself.
Also the wine can put you in a mood, especially if it is good. The best wines can be found in the heart of Bratislava's Old Town in the Slovak National Collection of Wine. This wine collection is a European unicum. In the elegant environment of the 18th century Exposition of Viticulture you will find a collection of selected 100 top wines from all over Slovakia and you can choose from a varied range of tasting programs. The most popular one contains 72 wines in 100 minutes. Ready to make it?
Even during the autumn, you can dine at the popular Street Food Park in the historic centre of the city. Every month, during four days, it brings the opportunity to enjoy in a unique atmosphere a great street food to the square in front of the Old Market Hall and into its interior. In a pleasant atmosphere and "standing" you can enjoy lunch, late snack or strengthen yourselves in front of the evening program in the city. In addition, Street Food Park has a Zero Waste philosophy.
A unique restaurant, Jump Street, serves street food in style. It will convince you that black does not have to bring bad luck at all. And it tastes great. The restaurant is characterized not only by a selection of quality Slovak ingredients, elaborate preparation of food, prompt and positive staff, interior design or a sense of detail, but also an unconventional colour adjustment of dishes.
The beer parlor Bokovka remains loyal to good beer and tasty food even during the autumn. In addition to a wide selection of beer and classic beer dishes, they offer e.g. good pizza, salads, but also meat specialties from their own oven, as well as traditional and tasty meals as made by the grannies. The thematic events of various world cuisines are also popular.
Home-cooked food is something that can never be enough. Handmade steamed stuffed dumplings like prepared by your grandmother are on the menu in Buchtáreň. It offers not only sweet variations proven by generations of gluttons, but also salty dumplings with bryndza melted sheep cheese, roasted bacon and spring onions.
The autumn and especially the time of Advent also crowds the spaces of markets and marketplaces. The Fresh Market is an ideal place for lovers of good food and a healthy lifestyle. Under one roof you will find shops with Slovak and foreign delicacies as well as local farmers offering fruit and vegetables. And you can choose from a number of restaurants focused on Slovak, foreign and vegetarian cuisine.
The UFO.watch.taste.groove restaurant at the top of the Bridge of the Slovak National Uprising pylon offers a view of autumn Bratislava at your hand. As one of only two Slovak restaurants, this experiential restaurant with impeccable service was included in the La Liste gastronomic ranking of 1,000 top restaurants in the world. The breathtaking view as well as first-class gastronomy are a combination that is guaranteed to make a strong impression and leave many memories of how beautiful the Slovak metropolis is in the autumn.